A toolbox created by real SurveyCTO users helps you learn our advanced features–in English or French
People learn, master skill-sets, and get inspired in many different ways. For feature-rich tools like SurveyCTO, we know that it's important to provide users with a variety of strategies to become proficient at the platform. This has led to the creation of sample workflows for hands-on learning, support center articles for those that love to read, and a Youtube channel for those that learn visually. We're also keenly interested in ways that SurveyCTO users teach themselves how to use the platform, and what resources different organizations have created for learning SurveyCTO. And we know that many SurveyCTO want to learn from their peers, too. That's why we frequently share user-created resources here on the blog, and are always looking for new ones to share.
One such user resource came to our attention recently: The SurveyCTO Toolbox created by CartONG, with close collaboration and editing support from Terre des hommes (TDH), and from the French Development Agency (AFD). The team at Dobility met with some of the toolbox's creators and collaborators, Anaïs Duchâtel of CartONG and Nicolas Lachance-Bernard and Damien Heritier of Terre des hommes, to learn more about why and how they put the toolbox together, and what it can help you learn about SurveyCTO.
About CartONG and Terre de homes
CartONG is a French Non-Governmental Organization (NGO) based in Chambéry, France. Founded in 2006, its focus is in Information Management for the humanitarian and development space. It specializes in GIS, Mobile Data Collection, data processing and Information Management (IM). CartONG values responsible data practices, open data, and sharing resources across the humanitarian and development sector. They are also the hosts of GeOnG, a conference on mapping, information management and new technology in the development sector. 
Terre des hommes is the leading Swiss organization dedicated to children's aid. It was established more than 60 years ago. TDH works through its offices in 30 countries to create change for millions of vulnerable children and their families all over the world. Their areas of impact are healthcare, safe migration, and access to justice.
What is the SurveyCTO Toolbox?
SurveyCTO is an ODK-based mobile data collection tool that CartONG recommends for being remarkable in three key areas: responsible data management, case management (a feature for tracking data on individual cases over time), and data quality.  
The SurveyCTO toolbox is an open access resource that was developed as one of many resources for Information Management (IM) from CartONG, as part of its Learning Corner, a section of their Information Management Resource Portal. Their goal for the Learning Corner was to provide support for field practitioners in the development sector, helping them master Information Management on a variety of digital tools. To date, the Learning Corner contains over 20 tools and toolboxes.
What does the SurveyCTO Toolbox cover, and why?
The toolbox is centered around the three aspects mentioned above: Data security, case management, and data quality. These are important areas of focus for both CartONG and TDH. Both organizations value high-quality data and know it is fundamental to organizational decision-making for effective humanitarian work. Helping humanitarian organizations improve their data quality is one of CartONG's main purposes. Data security is also integral to both organizations. TDH noted that because their beneficiaries are children, data protection is critical to their work. SurveyCTO's ability to accommodate GDPR regulations (for users who request this) was also important to them, as is the ability to restrict access to forms by teams. Finally, the toolbox creators noted that case management is not offered by all mobile data collection tools. They cited case management as a distinguishing feature, given its ability to reduce tedious data-related work in Excel for NGO teams. 
While the tutorials within the toolbox are extensive, CartONG noted that they are not meant to be an exhaustive resource for learning the entire SurveyCTO platform, and encouraged new users to make use of the product documentation and other SurveyCTO resources for general learning.
Inside the SurveyCTO Toolbox, and how it can help you learn

In the toolbox, you'll find detailed guides and tutorials. The three main focuses–security, case management, and data quality–are broken down into the following sections:
1) Access management, project management, data protection: This is the security section. It covers how to organize your survey forms on your SurveyCTO server with user roles, teams and workspaces to restrict survey form access and data to the appropriate team members. It also covers how to set up security settings on the device you'll use SurveyCTO Collect on, and options for encrypting forms.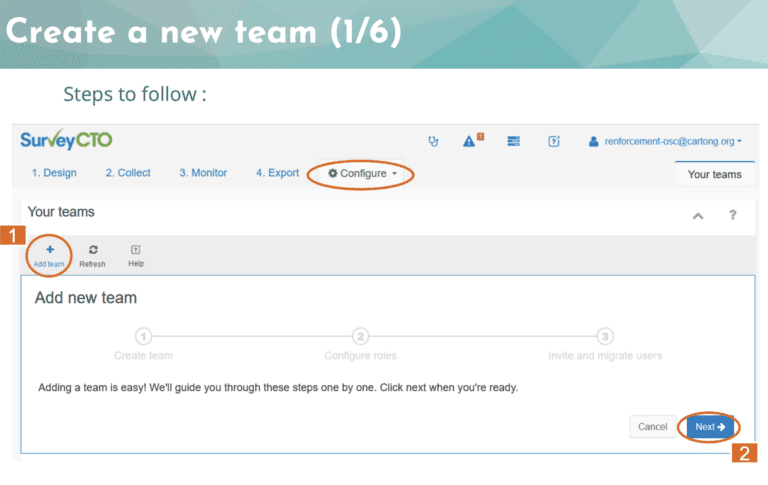 2) Case management: This is a tutorial that explains case management, and breaks down how and where you can use it. It describes how to create a cases dataset, load data from a form to the cases dataset, and then how to load data from the cases dataset to a new form. It also goes over how to modify, rewrite, and close cases.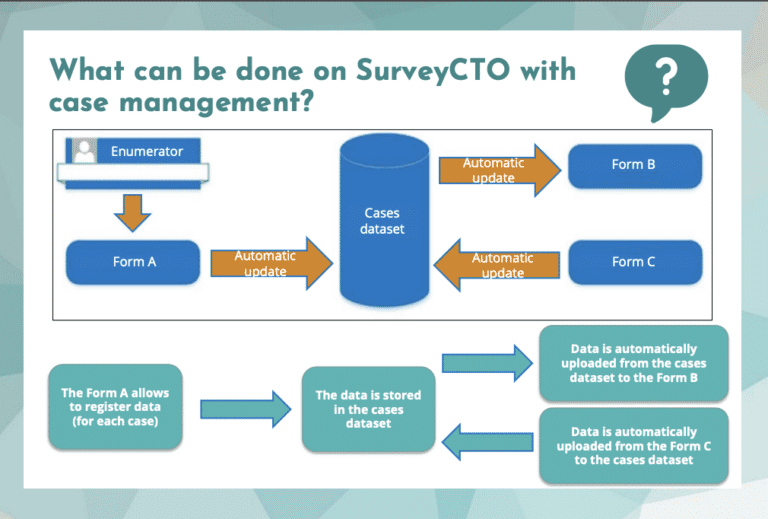 3) Data quality: This section explains how to control and improve your data. It includes tutorials on automated quality checks, how to set up your workflow for best quality, safely purging data from your server, ways to hold data for review, and importing data to your SurveyCTO server.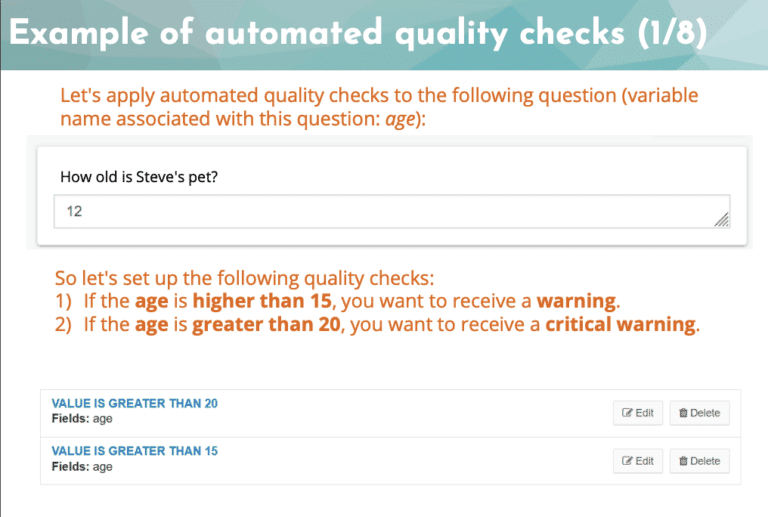 If you've wanted to know how to set things up for best data security, use SurveyCTO for longitudinal data collection, or learn more about our specific features for data quality, the toolbox will have information and tutorials for you. If you're simply exploring SurveyCTO as an option, this is a great way to see the platform through current users' eyes and find out what they recommend as best practices.
Who should use the SurveyCTO toolbox?
The toolbox was designed with newer SurveyCTO users in mind who have not fully mastered the more advanced parts of the tool. Its step-by-step instructions for learning features and setting them up on your SurveyCTO server are meant to make the process of becoming a SurveyCTO expert easier. We also think it contains information that could be helpful to more experienced users who want to better learn the covered features, or get new ideas of ways to teach colleagues how to use them. 

One very exciting part of this toolbox? It's available in both English and French, making it a particularly good resource for Francophone SurveyCTO users. It's simple to change from one language to another in the toolbox–just click the language button in the top right corner.

Finally, as an open access resource, the toolbox is completely free and open to all who might benefit from it. Want to learn more? Visit the SurveyCTO Toolbox today and get started.

Better data, better decision making, better world.