Written in collaboration with Kevin Dunne. Special thanks to Andrés Felipe Rodríguez and Naasey Addoba Kanko Arthur of IPA for their significant contributions to the data pipelines described here.

Learn how IPA helped get candidates on ballots and increased participation in local politics across Sierra Leone
Innovations for Poverty Action (IPA) is a global nonprofit organization that works to solve global poverty with evidence. Founded in 2002, IPA has worked in 52 countries and conducted hundreds of evaluations. They have established a long-term presence in 20 countries in Africa, Asia, Latin America, and the Caribbean, building relationships with key decision-makers in those areas to drive their research.

Kevin Dunne recently connected with SurveyCTO during his time as an IPA Research Associate in Sierra Leone to host an in-depth webinar and provide background for this case study. Kevin described IPA's wide-ranging project around political candidate selection that led up to the June 25th election for president and parliament in Sierra Leone, and discussed how he integrated SurveyCTO's advanced offline features into this project.
Offline data collection in rural Sierra Leone meant time-consuming manual data cleaning
IPA has operated in Sierra Leone since 2009, working in a range of sectors from agriculture to women's empowerment to governance and more. In 2023, they undertook an important effort to impact the political process at a local level by empowering rural people to directly nominate political candidates. 
This project aimed to improve the quality of candidates running for local council office, and expand opportunities for people from rural underrepresented areas to be involved in their local government. 
SurveyCTO was used for data collection, which was based on a computer-assisted personal interviewing (CAPI) model. Enumerators visited households and asked respondents to nominate someone in their community for provincial council, a position comparable to state senate or state house of representatives in the United States.

IPA would then keep track of these nominations, and nominees with the highest number of votes in a given ward would receive a follow-up survey to assess their qualifications for office across a variety of critical metrics. These metrics covered education and work experience, but also evaluated nominees on their background in development and local leadership, and on their overall standing in the community based on testimonials from community members. Results from this candidate quality survey were used to provide an assessment of the top nominees' suitability as a potential candidate to Sierra Leone's political parties. As in many countries, support from a political party is essential to winning an election in Sierra Leone. 
Prior to officially launching this project, IPA conducted a round of piloting, where they encountered serious challenges. To gather nominations from rural areas, 50 IPA data collectors traveled across large distances to gather nominations from 157 wards in Sierra Leone. Sampling occurred in the field, with households being selected at random to participate in the candidate nomination process. The Internet in most wards was unreliable, making this an offline data collection process. In the pilot workflow, each candidate's name would be entered into the nomination form every time they were nominated. Since popular candidates would receive multiple nominations, some candidates would be entered many, many times into the same form, which created an incredible amount of downstream work for the team. Hours were spent manually cleaning and consolidating this data to be able to accurately assess how many votes each candidate truly received, and to determine who would move on to the next part of the project and take the candidate quality interview. This all changed with the adoption of the advanced offline features from SurveyCTO's 2.80 release.
Using offline dataset publishing to streamline the candidate nomination process 
If you're an experienced user of SurveyCTO, you might be familiar with using server datasets and dataset publishing. If you're not, it's pretty simple: Server datasets are essentially "spreadsheets" that live on your server and store data for you. Dataset publishing is the process of getting data gathered by a form on your server into a server dataset. From there, you can then stream data from the dataset into other forms if you want. This allows you to set up a project where you collect an initial round of data–in this case, a screening form to ask questions that determine eligibility for a longer, more in-depth interview–and then pull data from that screening form into the longer questionnaire. 
Offline dataset publishing expands on this functionality by making dataset publishing available without any connection to a server. This means that a local copy of a server dataset can live on the individual devices used for data collection in the field, and the process of collecting data in one form, like a screening form, and pulling data from that form into a dataset and then into other forms is now possible without an internet connection.
This opened up a new workflow for IPA's Sierra Leone project. With offline dataset publishing, the IPA team was able to program their workflow to provide enumerators with a list of already-nominated individuals to choose from each time they started a new nomination survey. Enumerators no longer needed to re-enter a nominee's name and contact details every time they were nominated. This made data collection more user-friendly for enumerators. It also meant that data was of much higher quality since there were fewer opportunities in the workflow for human error.
As Kevin explains,
"When we started, our data flow wasn't amazing. Every household could provide up to six names to nominate, and we could end up with 500 or more names per ward – but many would be duplicates…With the offline publishing features, we were able to really actually simplify this data flow. Instead of having to re-enter information every time, we were able to have a list of the pre-existing candidates, update that dataset locally on every phone, and then, when a previously-nominated candidate came up again, you just had to select their name from a selectable field instead of re-entering their name again."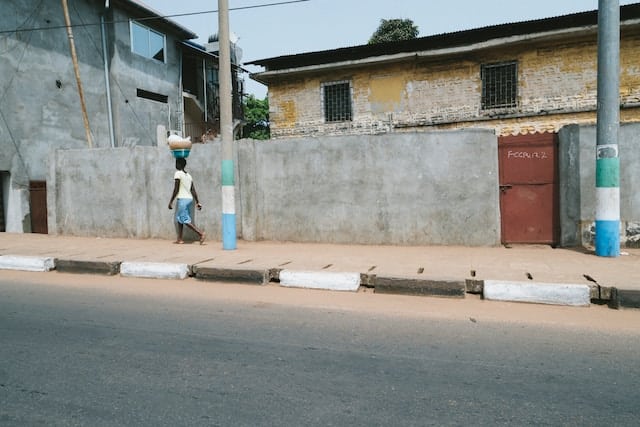 To illustrate how the new data flow works, IPA provided a sample image of an enumerator's view of the form on their device once offline dataset publishing was being used: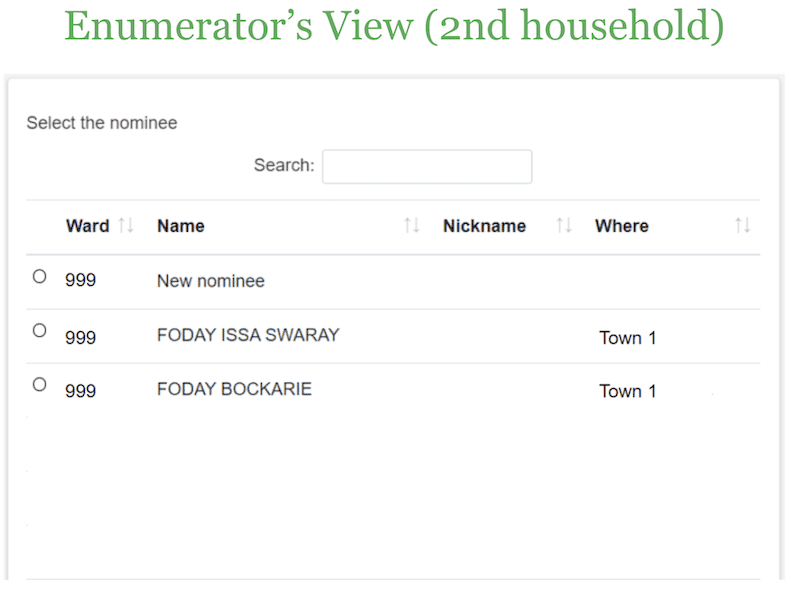 The results from changing the data flow to incorporate advanced offline features were dramatic for IPA's Sierra Leone team. The data collection project was smoother from start to finish. Enumerators had a more streamlined experience conducting interviews without needing to re-enter the same data over and over again. Data quality was improved by greatly reducing duplication and avoiding confusion about how many nominations someone had received. Decreasing the time spent matching up names and nominations in the data had other positive effects for the entire project, too:
The average survey time was reduced from

15 minutes

to

7 minutes
There was a 50%

increase in number of surveys per community, which increased the opportunity for more candidates to be nominated and for more people to participate in the political process

50% reduction in respondent-related costs
The challenges IPA experienced will be familiar to many readers. Working in offline settings, sampling in the field, needing data to be immediately available for further use while data collection is still ongoing: Social impact organizations know all too well how these issues can impact a project and affect data quality. IPA's experience in Sierra Leone highlights one creative way to use the advanced offline features to solve common problems many researchers experience.

If you've also experienced success with the advanced offline features, we would love to know more! You can get in touch with our team at info@surveycto.com.
If you haven't tried these features, but think they could help streamline your own workflows, we want to learn more and help set you on the right path for success. Start a trial or request a demo today.