Aureolin Research, Consultancy and Expertise Development (ARCED) Foundation is a long-time SurveyCTO user based in Dhaka, Bangladesh that works with teams from Plan International, Oxfam, BRAC Institute of Governance and Development, MIT, National University of Singapore, and many others. We connected with Md. Zahirul Islam about his work at ARCED, their research on the Ready Made Garments (RMG) sector, and how their organization has used SurveyCTO to improve the quality of the data they collect.
What is ARCED working on now?
One of our ongoing studies is related to the "Global Research Project on Purchasing Practices in Garment Sector" commissioned by the International Labour Organization. ARCED is carrying out the second phase in Bangladesh. We are trying to identify and assess major challenges and opportunities by conducting an in-depth qualitative survey with several major RMG companies in the country.
The study intends to explore the procurement process of domestic RMG factories to identify if prevailing procurement practices affect workers, and, if so, how and to what extent. Objectives of the study also include identifying and measuring the challenges and opportunities for major stakeholders.
Another study that I am currently involved in is the baseline survey for Plan International's "Born on Time Project," focusing on maternal, newborn, and child health.
What are some of the innovative ways you're using SurveyCTO?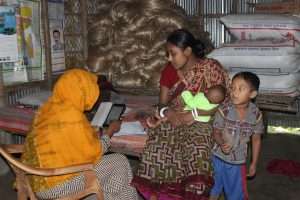 Quite often ARCED puts "speed limits" on certain questions, which prohibits interviewers from progressing in the survey until a minimum amount of time has passed. We want to ensure that we maintain the type of delicacy, sensitivity, and authenticity those particular questions demand.
The ability to make some questions mandatory or conditionally mandatory is another big plus for SurveyCTO, especially as compared to conventional paper-based data collection. And the hassle-free option to record audio has often been a lifesaver. It's much easier than traditional pen and paper or even using a separate recorder.
In our projects, audio auditing has improved data collection quality significantly. For this, we employ a dedicated trained audio auditor who listens to all the audio tracks that come in and reports back to the survey manager. The survey manager takes immediate steps based on the audio audits – as well as the high frequency checks and backchecks – to improve the quality of the survey.
Is there anything else you'd like to share about the project or survey design in general? Any advice for others?
SurveyCTO is a great platform for tablet-based data collection, and it provides not only a secure server with great encryption, but also many additional features built on the ODK platform. It is essential to allocate additional time upfront for coding and testing the forms, especially if there is complicated logic. There are some logistical know-hows about the tablets, especially the security of the tablets, which one should definitely study before going to the field.
Additionally, the SurveyCTO documentation and blog posts have numerous suggestions, which are always very helpful.