SurveyCTO 2.41 is out – and our best version yet! If you're an existing user, you can update (free!) at the top of your manage subscription page for new features like:
Likert appearance styles
Review & correction options
Data Explorer import and export
Data Explorer dataset links
Stata and Excel links to Data Explorer
And much more!
2.41 is a particularly important release. A key goal of ours at Dobility has always been to create technology that improves the trustworthiness and quality of data collected by our users. We aim to do this by simplifying aspects of the data collection and research process that are currently time-consuming (such as running statistical checks on data) and enabling others that were not possible before (such as capturing unique meta-data to audit the work of field teams).
The improvements in 2.41 squarely focus on this goal by tying together and improving upon several data quality features we have rolled out over the last few years while also adding the features that you, our users, have asked for. While there are dozens, some exciting highlights from the release include:
The Likert appearance styles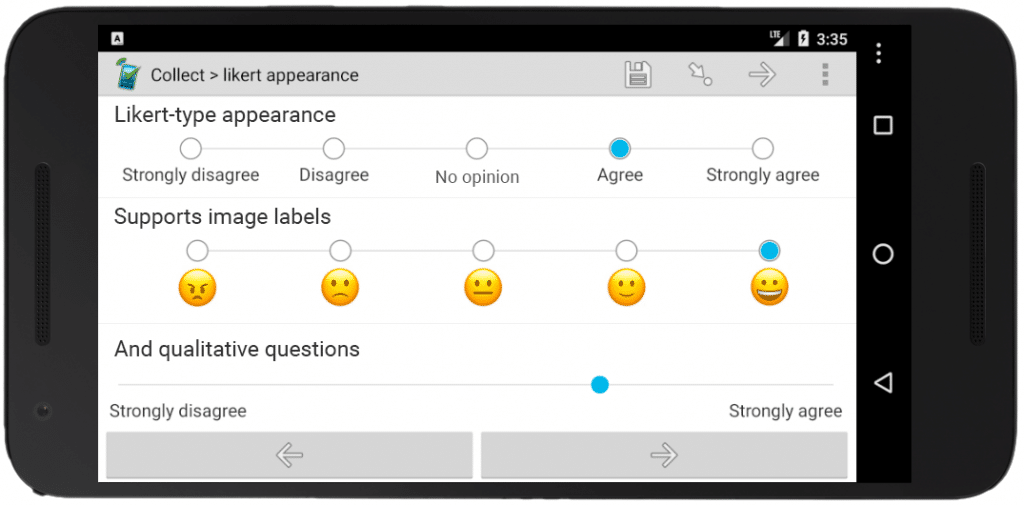 Our most-voted-for feature in the feature request forum! The "likert" appearance option for select_one fields now allows you to display image or text answer options along a horizontal scale. Additional appearance options include "likert-min" and "likert-mid" for answer labels at the ends-only or middle+ends of the scale.
Correct data anytime by revisiting previously-approved submissions

In this new review-and-correction workflow feature, you can now improve your quality-control processes by correcting data anytime. Once this workflow is enabled, you can un-approve or un-reject submissions that were previously reviewed, and add them back into the queue for review and correction.
Classify the quality of your data, and review more selectively

You asked for a better way to identify potential data-quality issues so you and your team can direct scarce QC resources where you need them most. We're on the case! With 2.41's new rating system, you can categorize your submissions to keep tabs on team performance over time. In the future, we hope to train machine-learning systems to identify similar submissions and flag them automatically, to help you better focus your QC resources.
To further conserve your QC time and resources, we've also included flexible options to review and correct data based on random selection, statistical check violations, or even flags raised in outside systems.

You can now choose to have the SurveyCTO server automatically select a random subset of individual submissions for review and/or automatically flag a subset of submissions that have fields with quality-check warnings. For example, if you set up a quality check to flag any 'age' field responses that are outliers, any submissions where the answer to 'age' is an outlier will be flagged for review.
New, flexible ways to manage Data Explorer workbooks

You can now create multiple Data Explorer workbooks for the same survey form and even export, edit, import, and backup Data Explorer workbook definitions just like you do form definitions. You also have the option to attach server datasets to workbooks so outside data – like linked datasets from earlier survey rounds, listing data, or district-level information – can be visualized and explored alongside any form's incoming data.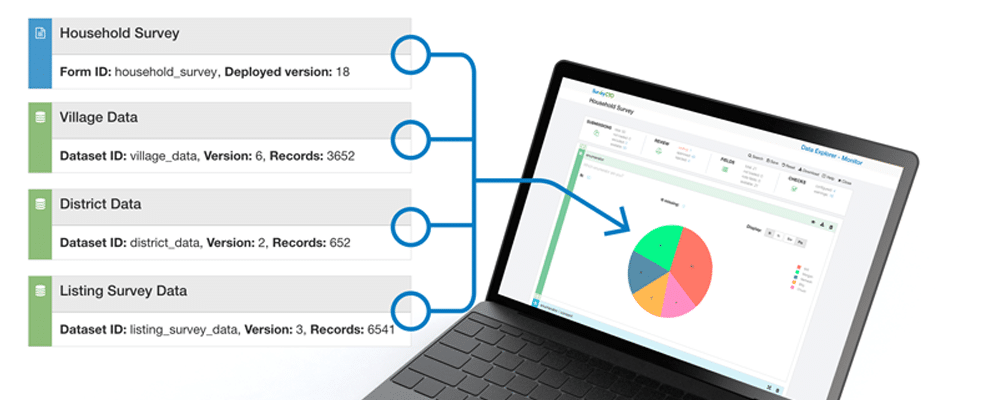 And we didn't stop there with our improvements to Data Explorer workbooks. Knowing many of you use different tools for analysis, visualization, and storage, with 2.41 you can easily hyperlink directly from outside systems – like Stata and Excel – to individual submissions in the Data Explorer.

This feature, like all improvements in 2.41, is designed to not only improve the quality of your data, but make the quality-control process more collaborative, seamless, and less time-consuming.
But don't take our word for it. Log in and update to 2.41 today. There are dozens of additional improvements to explore: everything from quality check warnings to form version history to enterprise identity management. Read the full release notes, learn more about our guiding principles, or suggest a new feature in our community forum. But, most importantly:
Thank you!
We're able to support you and your work only because you support us and our work. Thank you for all of your ideas and support, and for using SurveyCTO.