SurveyCTO 2.60 introduces new features and key improvements that enhance the look, functionality, and accessibility of the SurveyCTO platform and resources. Here's what 2.60 can do:
Collecting data? Brand new look and feel for SurveyCTO Collect and launch of iOS app.
Managing data? Introduction of SurveyCTO Desktop, the most powerful way to export data and manage projects, as well as the ability to generate .sav files for SPSS.
Overseeing projects? High-level export reports that contextualize data for managers and downstream consumers.
Designing forms? Strengthened form testing interface and improved workflow for managing spreadsheet form definitions and uploading from Google Sheets.
There's more! Publicly-accessible product documentation and Support Center content, complete release of the online training course, and quicker setup for Google single-sign-on (SSO) support.
Explore more below, and see the 2.60 video overview and release notes for more information.
Update to 2.60 now!
New look for SurveyCTO Collect and iOS app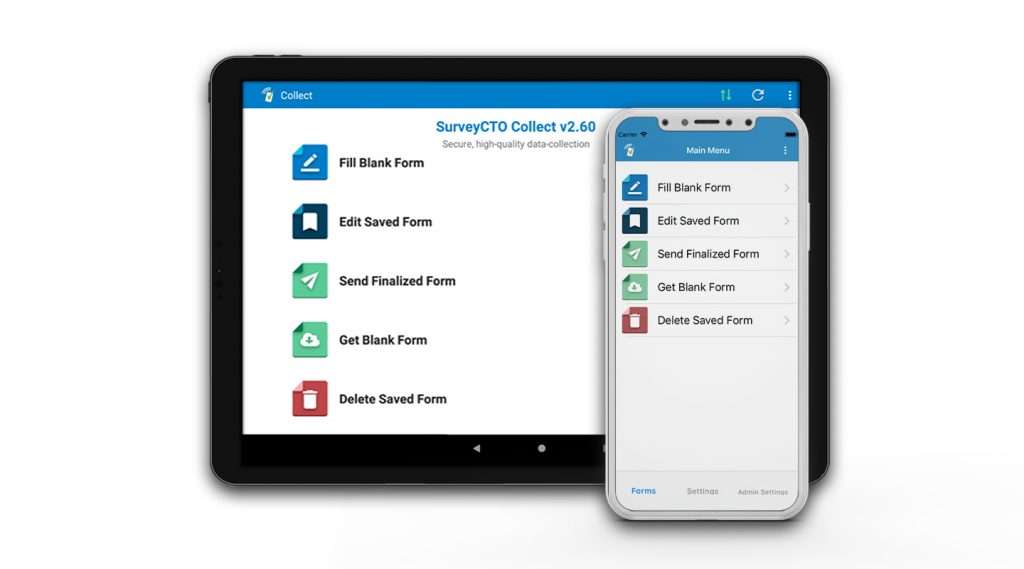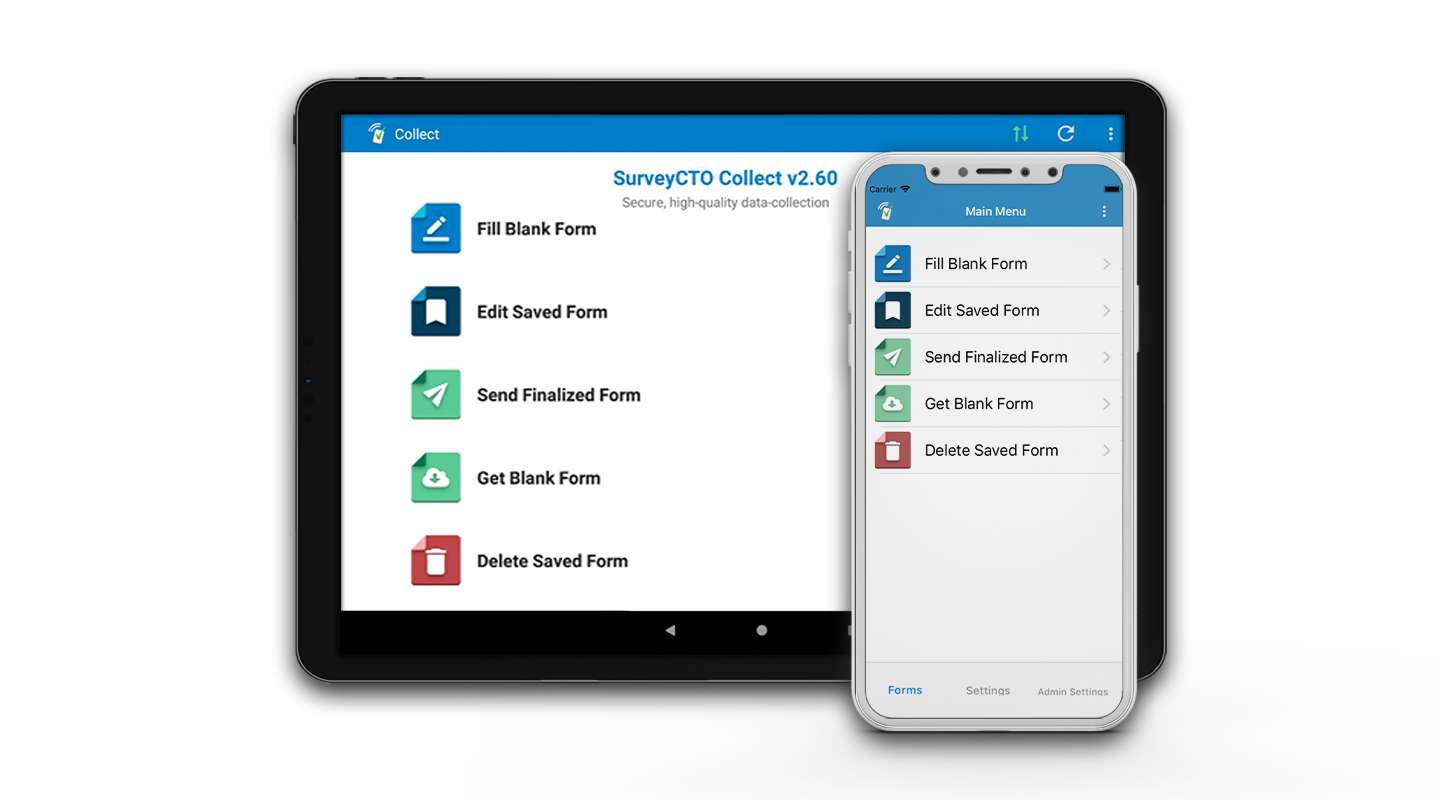 SurveyCTO Collect has a new look and feel! Our mobile app, which enables you to conduct mobile data collection in offline settings, now has an updated design, including a new icon, title bar, color scheme, and more.
We're also pleased to announce our brand new iOS app! For the first time, you'll be able to run SurveyCTO Collect on an iPhone or iPad. This is the first version of our iOS app, so please email us at info@surveycto.com with feedback to help us improve your experience! Our goal is to match the experience you have on Android devices. Learn more about how to use SurveyCTO Collect and download the iOS app.
Goodbye, SurveyCTO Sync. Hello, SurveyCTO Desktop!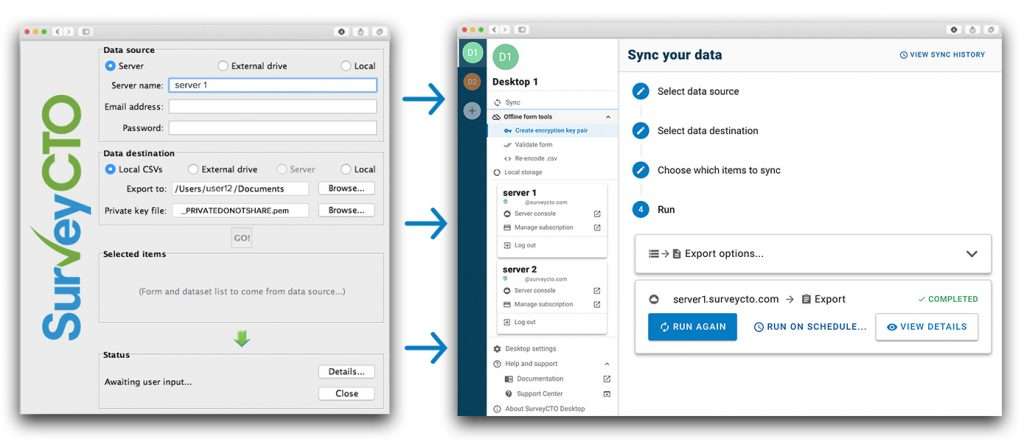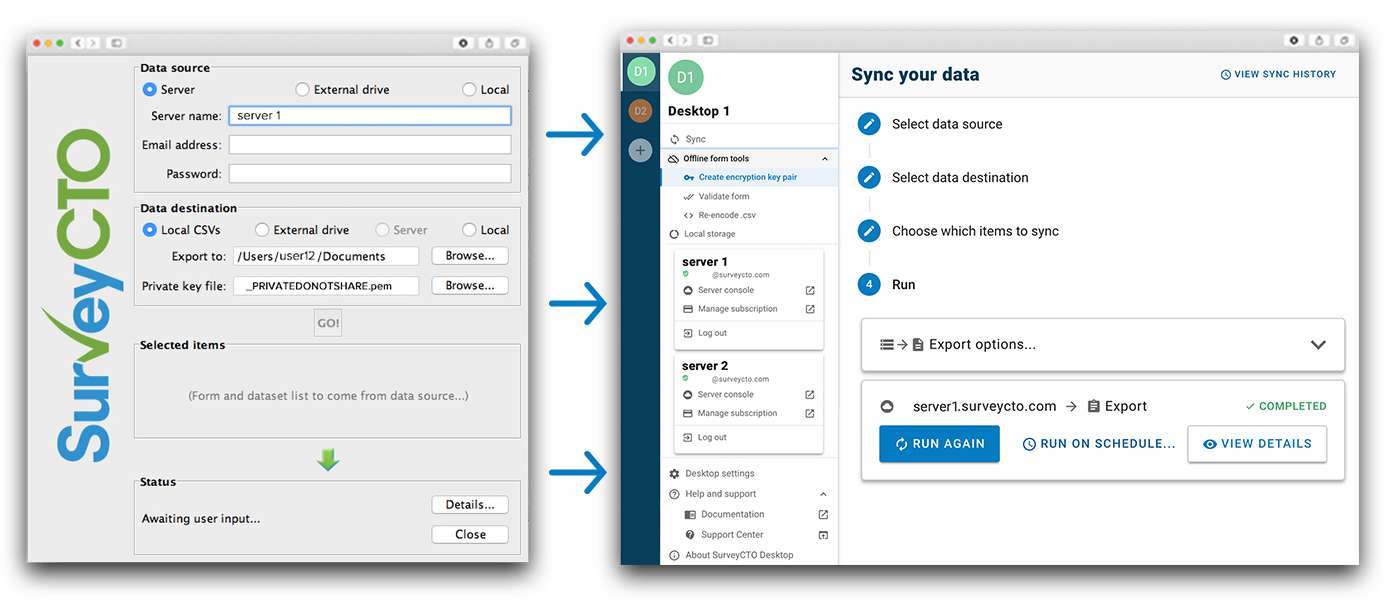 SurveyCTO Desktop is the most flexible and powerful way to centralize your work, export your data, manage projects, and work offline. Once installed, Desktop will allow you to synchronize data between your computer and one or more SurveyCTO servers, as well as between your computer and other computers or mobile devices. With Desktop, you'll keep what you loved about SurveyCTO Sync and gain so much more:
Centralized workspace. User-specific command center with the ability to save multiple account logins and quickly access the server console, Support Center, and product documentation.
Easy project management. Create multiple desktops for different servers or projects with their own local storage, export settings, and workflows.
Better performance. Dramatically faster speeds, ability to exclude attachments, and ability to sync more easily with intermittent connectivity.
Powerful tools for working offline. Offline product documentation, local WiFi data syncs, and support for cold-room computers.
Sleek design. Modern interface that enhances the user experience and improves the installation process.
Browse our product documentation for guidance on how to install and use Desktop. You can also check the top of your server console's Export tab for instructions relevant to your version of SurveyCTO.
Update to experience SurveyCTO Desktop!
No login? No problem!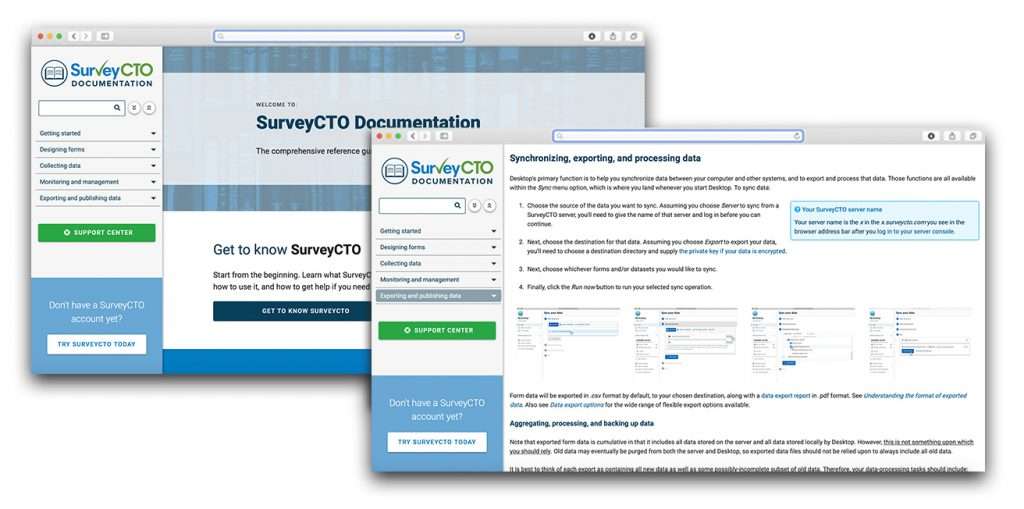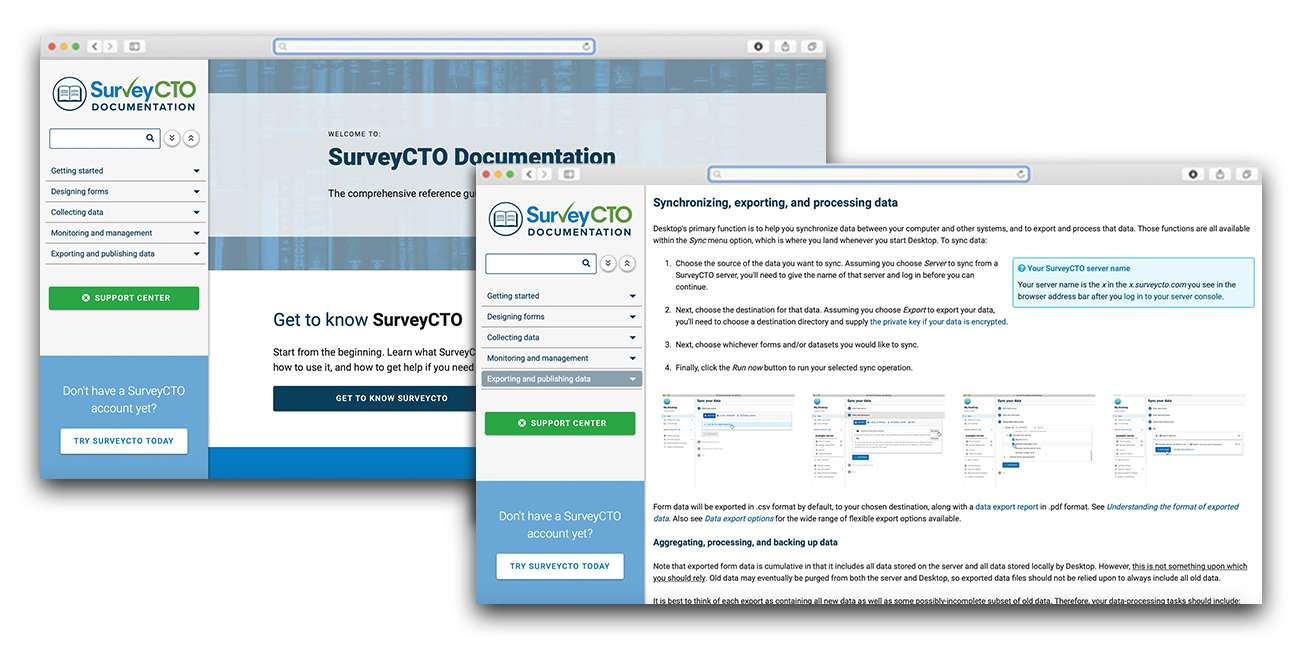 SurveyCTO documentation and the Support Center are now open to the public! You won't have to log in to access our product documentation, which serves as the comprehensive reference guide for every component of the SurveyCTO platform and includes over 230 articles. You'll also be able to view our extensive library of support articles, including feature guides, reference materials, tips and tricks, and troubleshooting advice. You'll still need to log in to submit a support request and participate in our forums.
With improved design, these publicly-accessible resources make it easier for you to search for information you need, share our resources with colleagues and partners, and easily translate our resources in your web browser. You'll also be able to more easily navigate between our primary resource centers: the website, Support Center, and product documentation.
Check out the first complete set of modules in SurveyCTO's online training course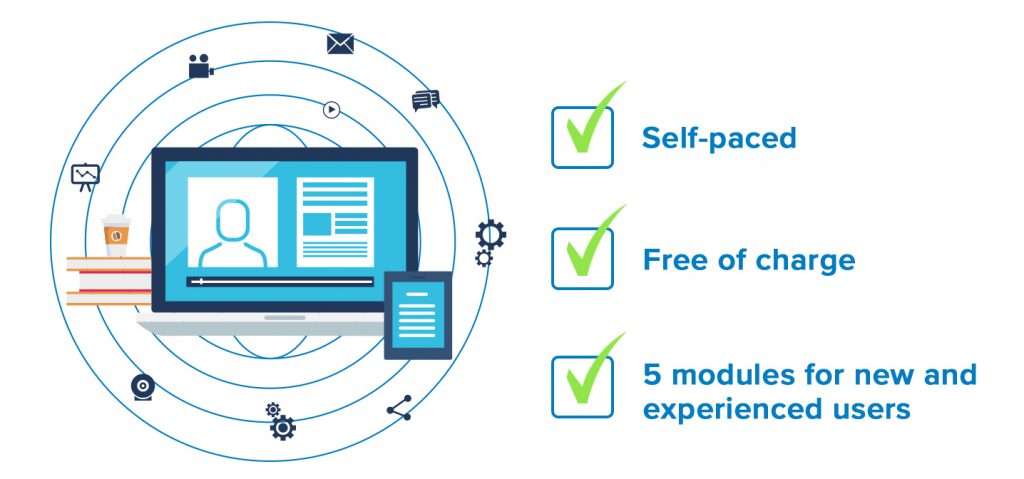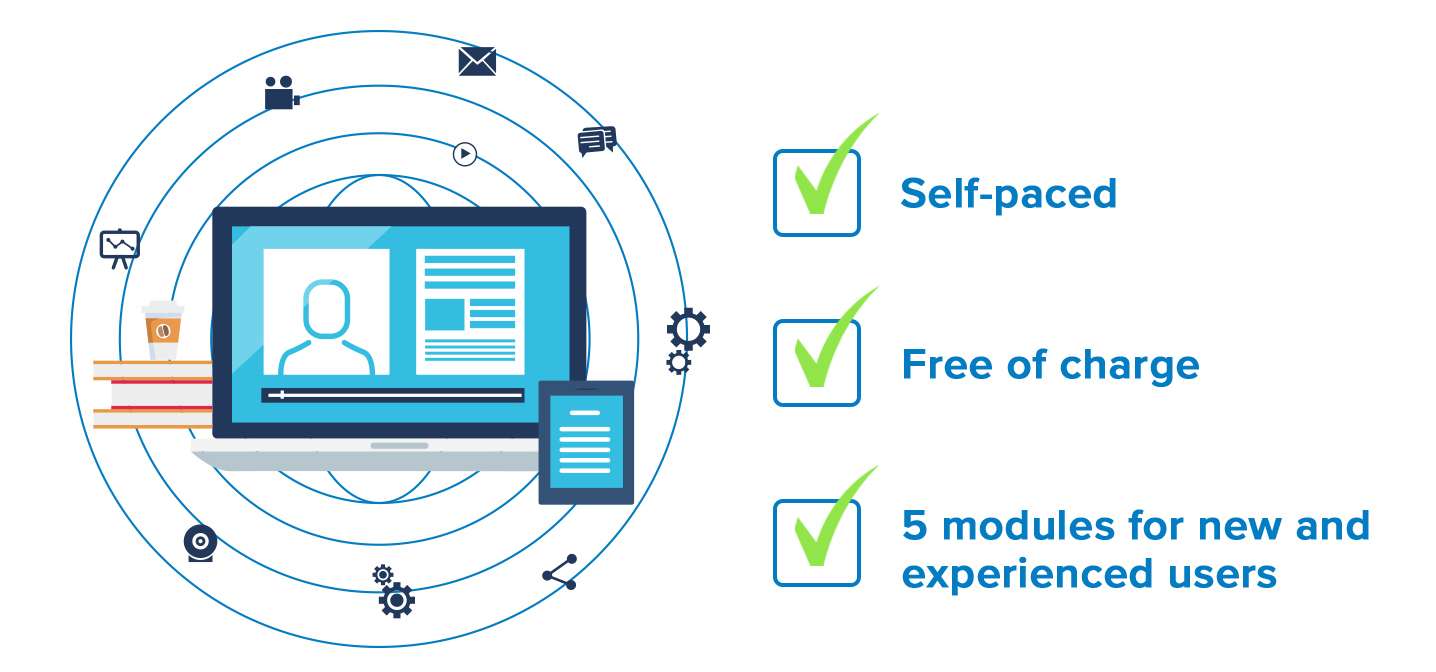 SurveyCTO's free, self-paced online training course now features a complete set of five modules that introduces new users to the SurveyCTO platform and helps experienced users refresh their skills. Module 5: Exporting and Publishing Collected Data covers how to directly export data, as well as publish data to Google Sheets and to other platforms via Zapier, a web automation tool.
If you haven't already, also explore the earlier modules listed below. With your feedback, we intend to improve the current offerings, as well as expand the range of modules available in the future.
Module 1 features a quick-start video, overviews of SurveyCTO features, and exclusive insights from Dobility's founder and CEO, Dr. Chris Robert.
Module 2 delves deeper into form design.
Module 3 offers in-depth instruction for data collection in both online and offline settings.
Module 4 shows how to monitor data in near real-time and deploy quality control features.
Download your data directly to SPSS .sav files


By default, SurveyCTO exports data into .csv files, a comma-separated-value format supported by just about any spreadsheet, database, or statistical analysis software. If you're an SPSS user, you can now export instead to .sav files that include labels and variable formats for SPSS. You can use these automatically generated .sav files as they are, or use them as a starting point for your own back-end processing code.
This represents the newest file format that you can download and export your data in, along with Microsoft Excel, Microsoft Word, Google Earth, Google Maps, and Stata. Check out this guidance on exporting to SPSS.
Enough said? Update to 2.60 now!
Contextualize your data with export reports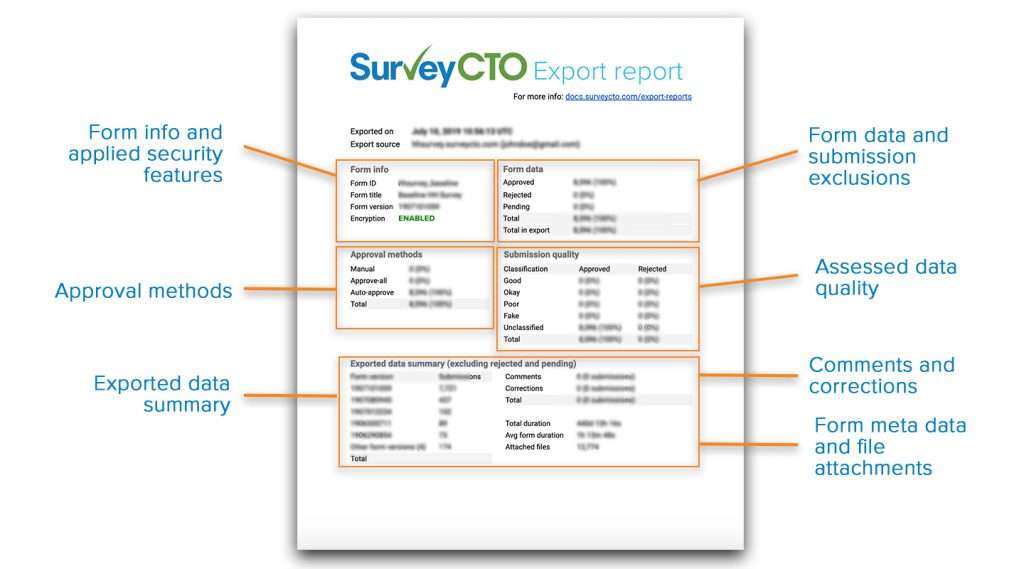 Raw data simply isn't enough. Our automatically-generated export reports help project managers, principal investigators, and other downstream consumers better understand their data and produce audit trails. These reports summarize data review and corrections classifications, assessed data quality, applied data security features, submission exclusions, file attachments, and other form details for each export. They accompany exports generated by SurveyCTO Desktop and the server console.
Edit and test your forms faster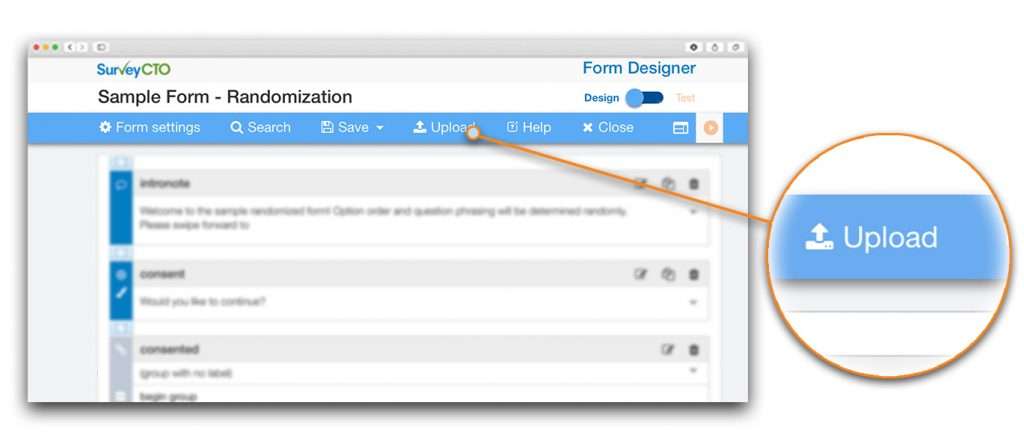 The workflow for manually editing and managing spreadsheet form definitions features time-saving improvements, including the option to directly upload into the form designer and the ability to save upload sources from Google Sheets so that uploading again from the same location is quick and easy.

The form testing interface is now even more powerful and easy to use, thanks to new field labels for field references, displayed relevance status to the Show current value pop-up window, and the option to show the expressions for calculate fields referenced in other fields or expressions.
Google SSO support and 31 more improvements to explore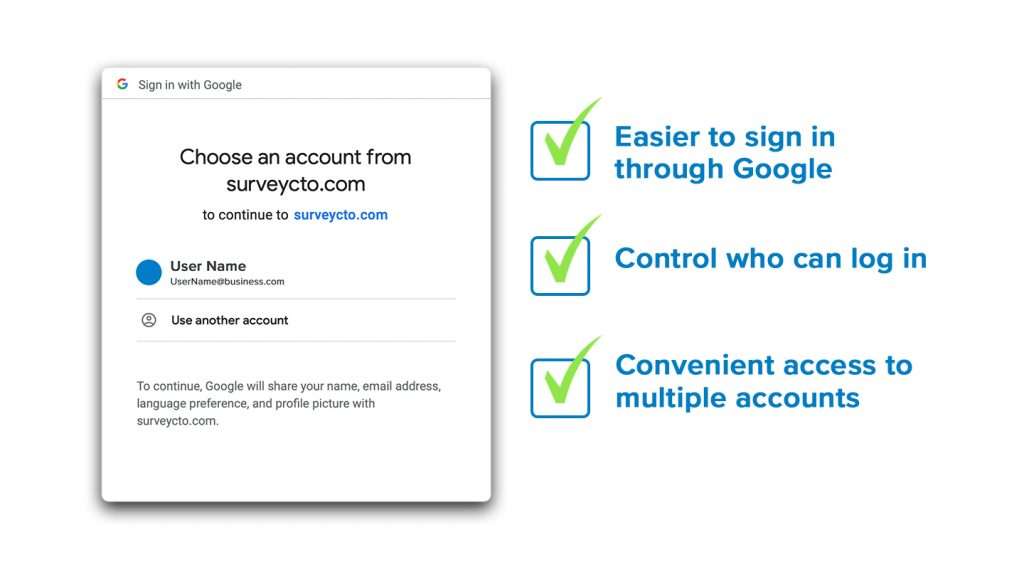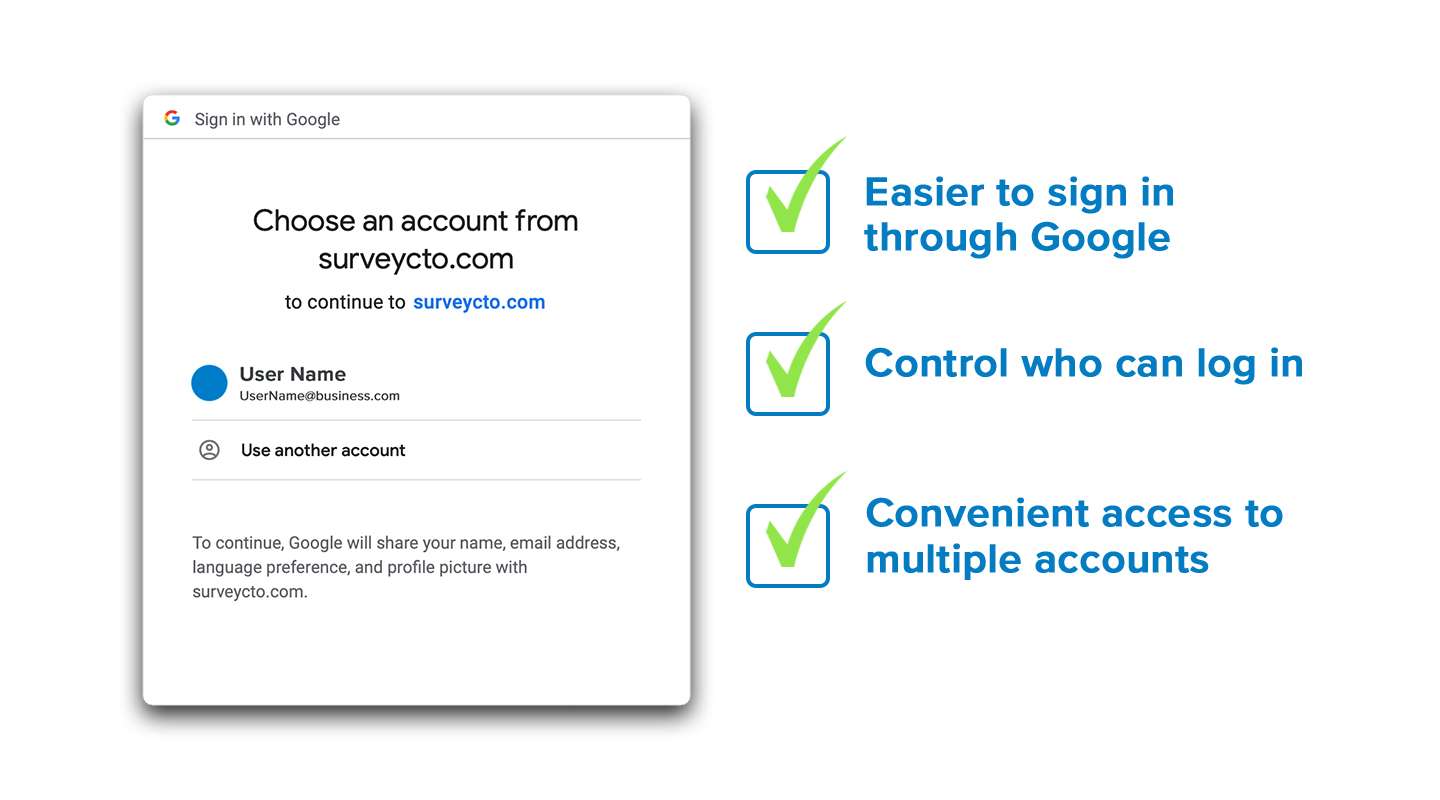 With 2.60, setting up single-sign-on (SSO) support for Google is easier than ever. Enjoy seamless logins with multiple accounts, and in the case of device loss or staff changes, simple user management to restrict or change user access.
We've also made lots of other improvements and fixes, including simplifying the process to configure automated quality checks. Check out the 2.60 video overview and full release notes to learn more. And as always, thank you for your continued support of SurveyCTO!
Update to 2.60 now!