The challenging circumstances of a global pandemic are affecting how all of us live and work on a near-daily basis. We're working to ensure that the SurveyCTO platform offers the tools you need to respond with speed and flexibility.
SurveyCTO 2.70 helps you adapt to evolving needs by enabling you to use field plug-ins that control the appearance and functionality of questions in your forms and overcome remote work limitations with new ways to securely and conveniently share real-time data with anyone. This version also expands your data collection possibilities with more powerful and flexible form programming and the ability to brand your work.
Given the endless possibilities that field plug-ins provide, especially in response to rapidly changing needs, we'll continue to build rapidly on this new flexibility, develop additional resources, and release additional updates. For more information on all the new features and improvements in this release, check out the full release notes.
Start a free trial!
Update to 2.70 now!
Enjoy endless possibilities with field plug-ins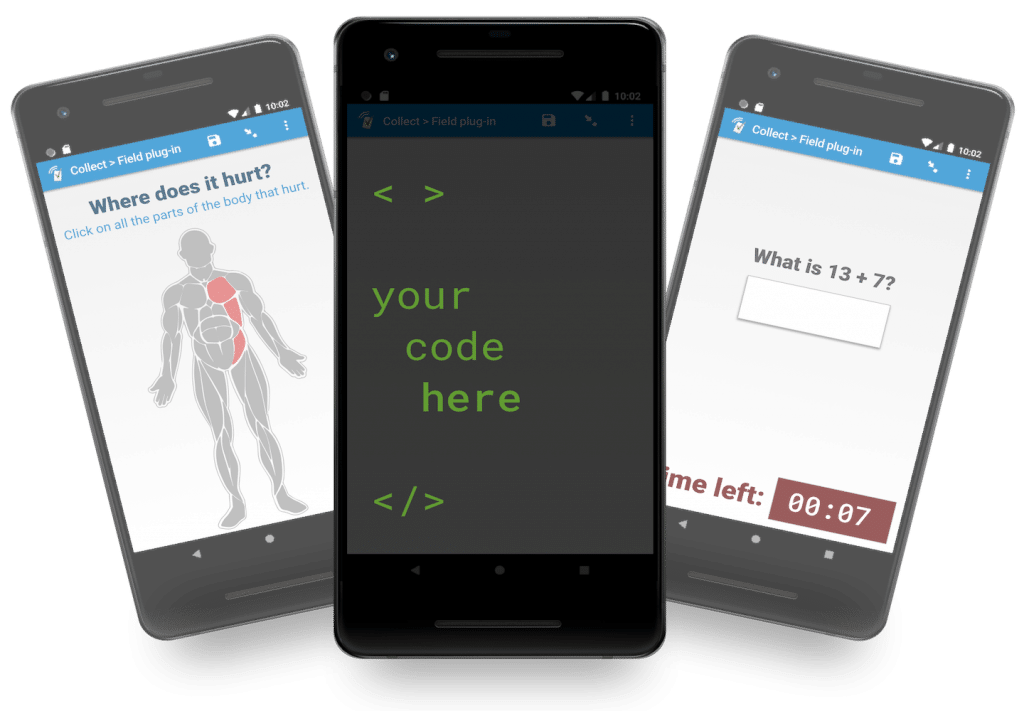 Need to make questions in your survey form appear and operate exactly the way you envision? Over the years, SurveyCTO has led the digital data collection space in developing innovative form design capabilities that both reflect and anticipate data collection needs in academic and policy research, impact evaluations, and project monitoring. Now, SurveyCTO is offering what no other off-the-shelf mobile data collection tool can: the power to fully customize how your forms look and operate.
Introducing SurveyCTO field plug-ins! Other tools might offer form customizations that you can only use with the projects they were created for, or that require additional support and costs. However, SurveyCTO support for field plug-ins allows you to control the appearance and functionality of questions in your data collection instrument, for any project, at any time. SurveyCTO field plug-ins also work whether your data collection is offline on both Android and iOS mobile devices, and/or online on web forms.
We've created a suite of field plug-ins in response to popular feature requests that you can integrate into your forms, as well as modify to meet your needs. For example, as part of our CATI starter kit to help users transition from in-person to telephone surveying, we've created a "dialer" plug-in which can automatically populate an Android device's phone dialer application with a phone number stored in a form. Here's what some of our other plug-ins can enable you to do today:
Show an image with clickable regions, and capture which region was selected.
Set up timed assessments where a timer runs out while answering a question. Additionally, general support for timers in plug-ins allows for timed assessments and experiments, such as the Early Grade Reading Assessment (EGRA).
Automatically generate SMS messages pre-populated with the message and recipient's phone number.
Interested in developing your own? You can also use common web technologies—HTML, CSS, and JavaScript—to create your own plug-ins for the exact functionality you need. The possibilities are endless! And we'll continue to create additional plug-ins and update available resources to help you make the most of this feature.
Learn more about how to build your own plug-ins and stay up-to-date on newly available ones and support resources in this blog post. We also encourage you to share what other resources you might find helpful by reaching out to us at info@surveycto.com.
Explore the SurveyCTO field plug-ins catalog
Conveniently and securely share real-time data with anyone—even if they're not a SurveyCTO user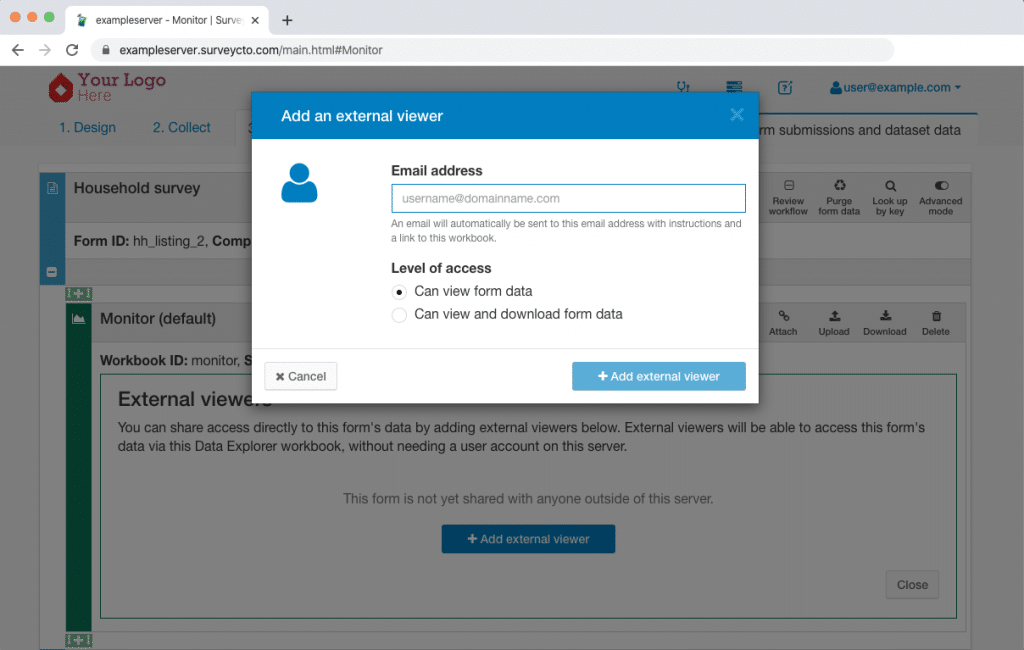 Your work likely includes a vast array of clients, stakeholders, and partners that all engage in different ways and work in different places. How can you control how to securely share different levels of data visibility with everyone invested in your project? And how can you provide secure access without cumbersome account setup and login requirements? With SurveyCTO, you can now offer access to real-time data without having to choose between convenience and data security.
This is possible through the Data Explorer, SurveyCTO's built-in data monitoring tool that allows you to quickly review incoming data at both the aggregate and individual submission levels. With just a few clicks, you can generate a URL that offers external viewers the ability to view data workbooks and filter individual submissions, as well as optionally download data in both .csv format and .sav format for SPSS. You can also share access via SurveyCTO Desktop, a powerful desktop application that allows viewers to export data with ease. Without having to set up and log into accounts, your external viewers can securely see the data you want them to and start learning from it faster. And with custom branding, a new feature described below, the data workbooks and export reports you share can feature any logo of your choice. Check out the product documentation for more information.
Harness greater power and flexibility when designing forms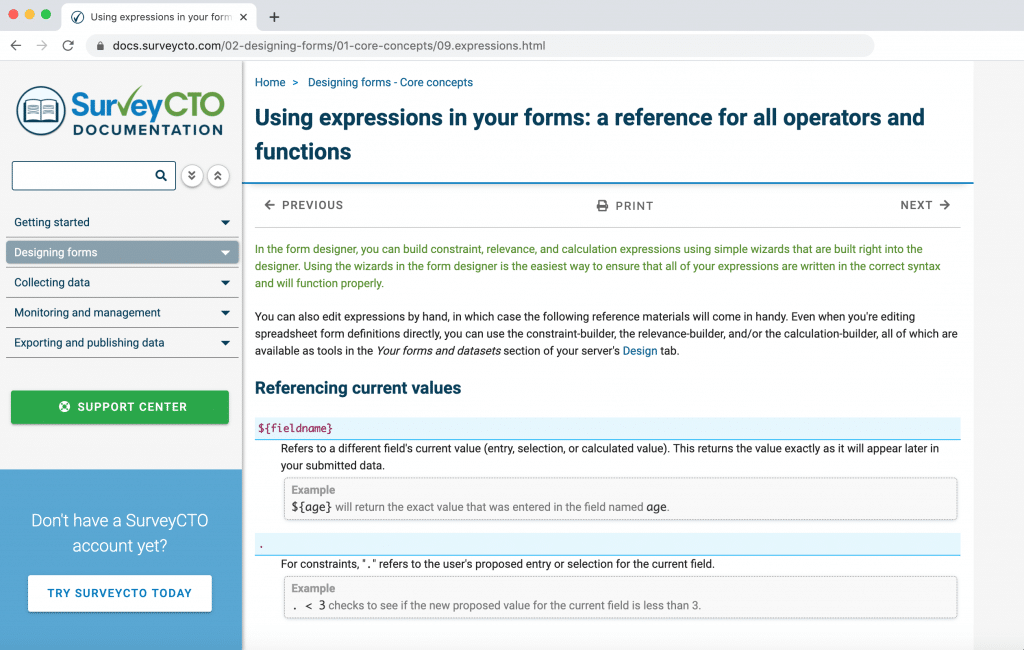 SurveyCTO makes it easier and faster to program and update your data collection instruments thanks to an expanded range of functions that you can use with custom expressions. With 20 new and improved functions and enhanced documentation, you'll enjoy greater flexibility and simplified steps when using SurveyCTO calculation, relevance (skip logic), and constraint expressions. For example, SurveyCTO now offers functions that allow you to protect subjects by mapping projects without revealing exact GPS points and more easily compare date and time values by converting them into decimals.
Read our Support Center guide and the full release notes for more details on the new functions we've introduced and the improvements we've made to previously available functions. 
Brand your work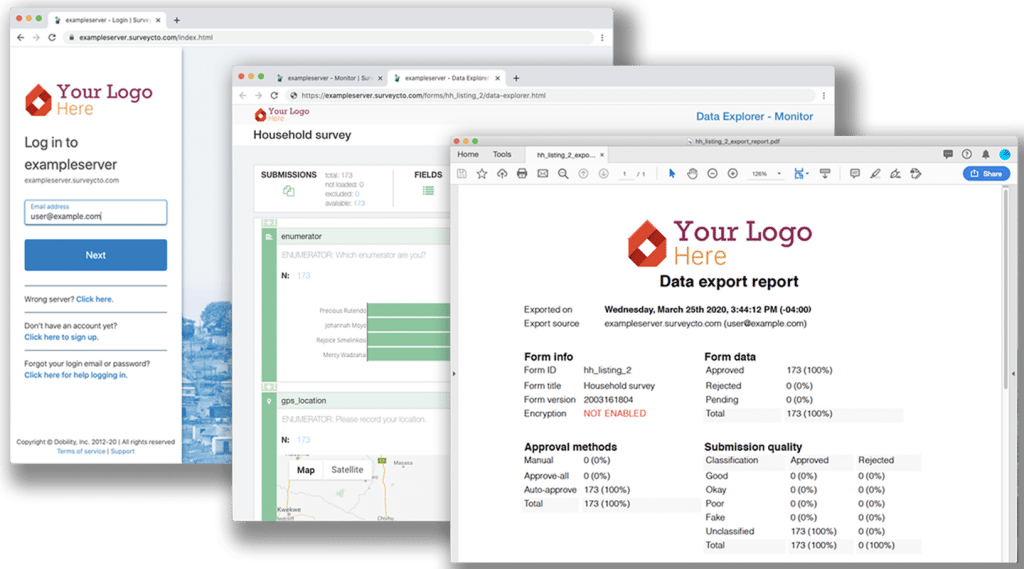 Sharing work with collaborators and partners? You can now brand your work in SurveyCTO with logos representing your organization or projects. Read the product documentation to learn how to add your logo to the following platform components:
SurveyCTO server login screen.
SurveyCTO server console, which houses your forms, the drag-and-drop form designer, testing interface, and a universal web interface for filling out forms online.
Workbooks generated by the Data Explorer, SurveyCTO's built-in data monitoring tool, that you can now share with anyone, even if they're not a SurveyCTO user.
Data export reports that accompany exports generated from the server console.
There are more improvements to explore in SurveyCTO 2.70! Check out the full release notes for a comprehensive list.
Update to 2.70 now!