Our priority over the last year has been to make SurveyCTO easier and more enjoyable to use: we redesigned our server console, we integrated with Statwing to allow users to instantly visualize their data, we rolled out web forms, and we added form version control.
Today, we're excited to give a sneak peek of our next major development toward this goal: an online drag-and-drop form builder. Users will soon be able to create their entire forms via a graphical interface in their server console: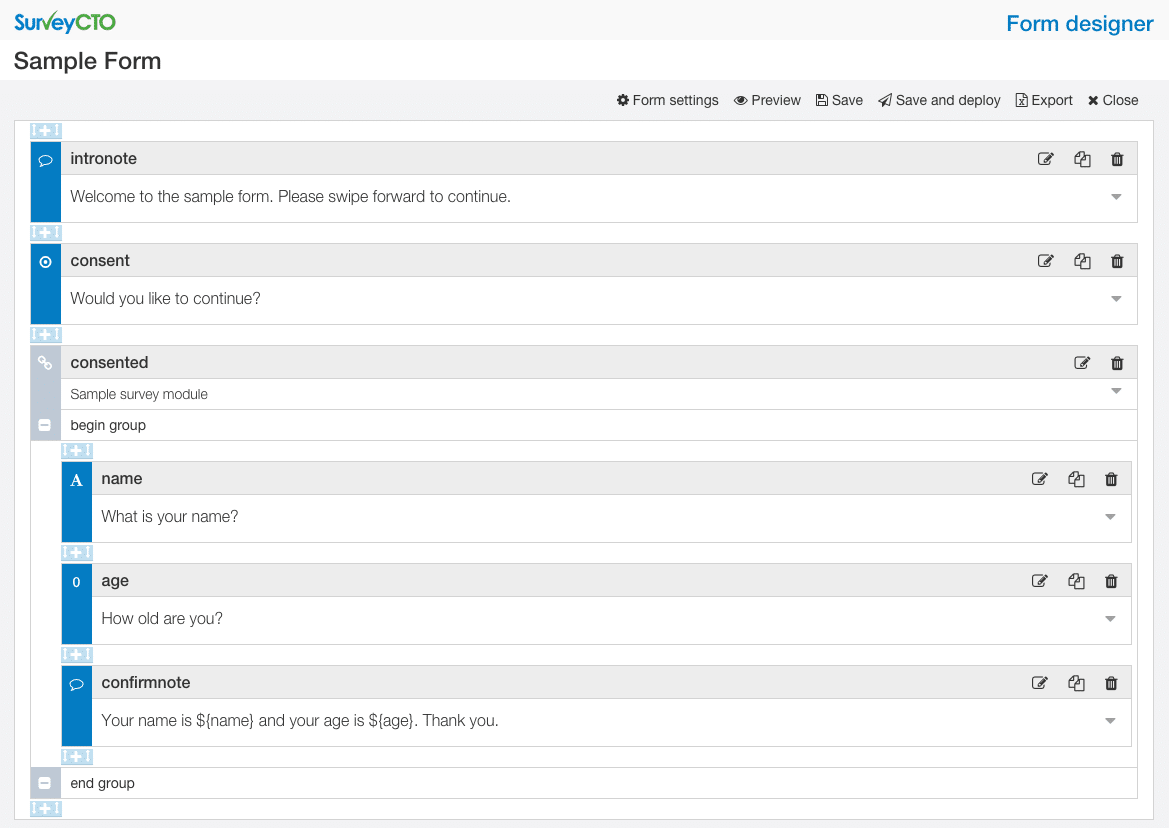 Until now, users had to create a SurveyCTO form using an Excel or Google Sheets template. Designing forms in a spreadsheet has many advantages, but for new users, especially those not comfortable with spreadsheets, using the template can initially be an intimidating process. The drag-and-drop form builder will make it much easier for new users to get started with SurveyCTO and allow more of our users to become self-sufficient more quickly.
Even advanced users will find the form builder a quick and easy way to create shorter surveys (we definitely found ourselves using the form builder more and more for our own work!).
Consistent with our philosophy of compatibility and reliability, the form builder supports all the functionality you are used to in the spreadsheet template.
Users will be able to create any supported question type:
Create groups, rosters, and hidden fields: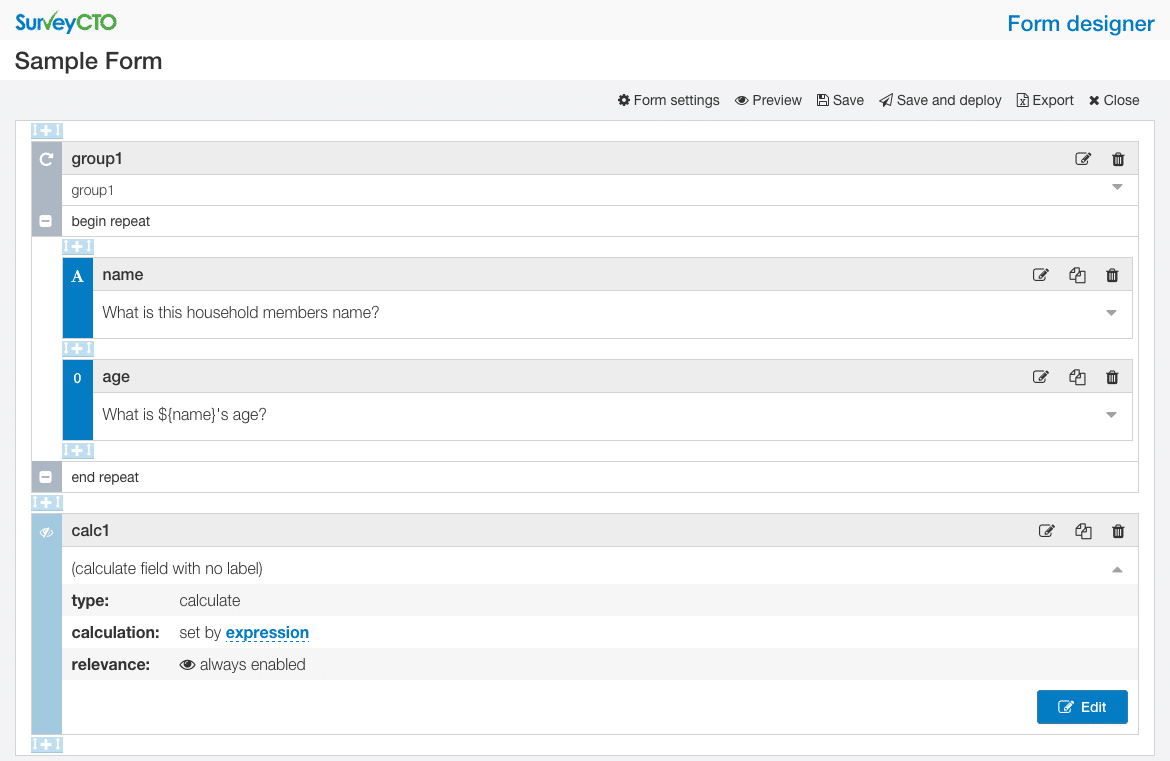 Add relevance conditions and field constraints: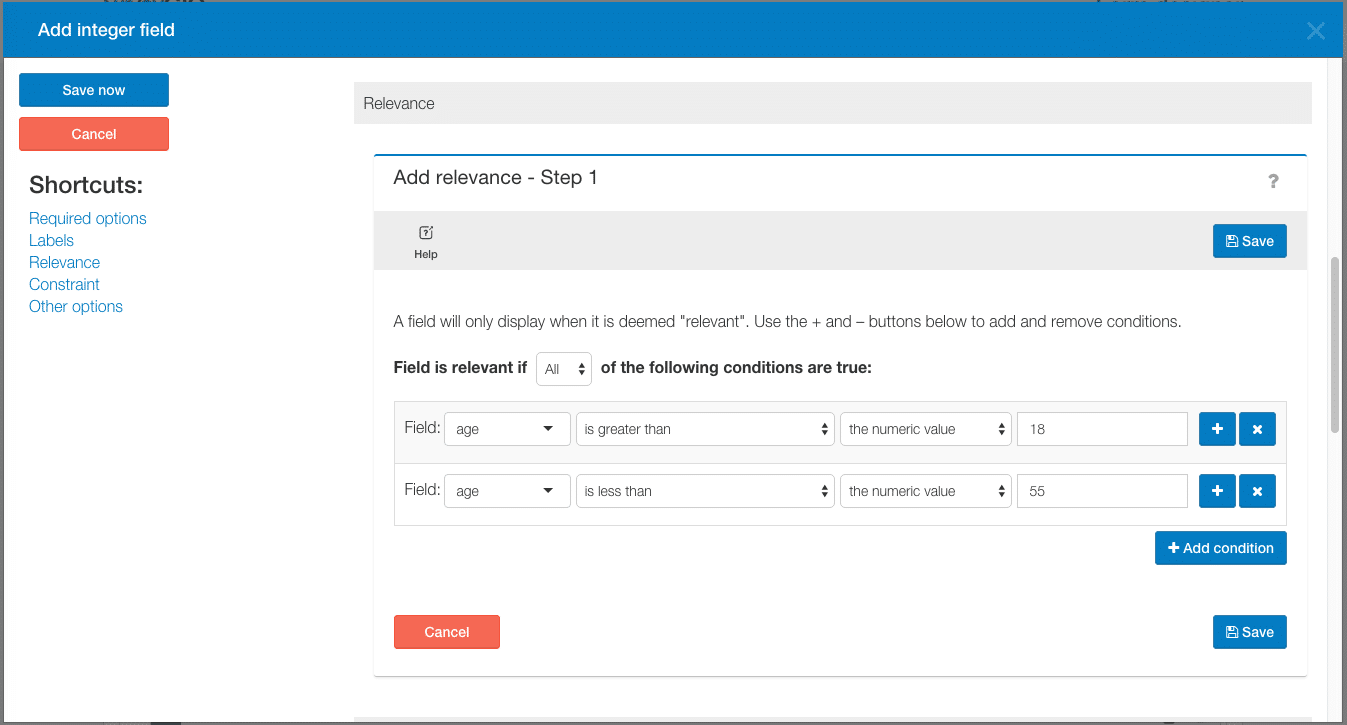 You can also edit and re-deploy the form if you need to make changes, preview the form before deploying, and download the form as an Excel spreadsheet.
In fact, the spreadsheet format and the form builder are interchangeable. Start a form in the form builder then download it as an Excel or Google Sheets file and continue to edit the form in the spreadsheet format. And upload an Excel or Google Sheets file into the form builder and the form will show up in drag-and-drop format!
This means you can switch back and forth between editing your form offline in Excel and online in the form builder. You can also easily share forms across teams or projects. Create a form in the drag-and-drop builder. Export it to Excel. Share the Excel file with a colleague who has a different SurveyCTO account. They can then upload this Excel file into their form builder and edit it as needed.
The form builder will even work offline, entirely in your browser. You will only need an Internet connection to save any edits you've made.
Coming soon
As always, we pride ourselves in offering the most stable platform out there and are busy rigorously testing the form builder as part of a limited beta release. We will be rolling it out to all our users in a few weeks (though even we've found it hard to wait; as our user base continues to grow, we know the greater usability of the form builder will allow teams to deploy and use SurveyCTO in entirely new contexts, and the sooner that happens, the better!).