In this blog post, we reference SurveyCTO Sync. Beginning September 10, 2019, SurveyCTO version 2.60 replaced SurveyCTO Sync with SurveyCTO Desktop, the safest and most powerful way to centralize your work, export your data, manage projects, and work offline. We also introduced an iOS app for SurveyCTO Collect.
The newest version of SurveyCTO, 2.51, is designed to save you time. Whether you spend most of your time at the beginning of the data collection process – designing and testing survey forms within the server console – or towards the end – managing and reviewing field-based surveys – 2.51 has a new suite of tools to improve the quality of your data in less time.
Rigorous form testing interface for better survey instruments in less time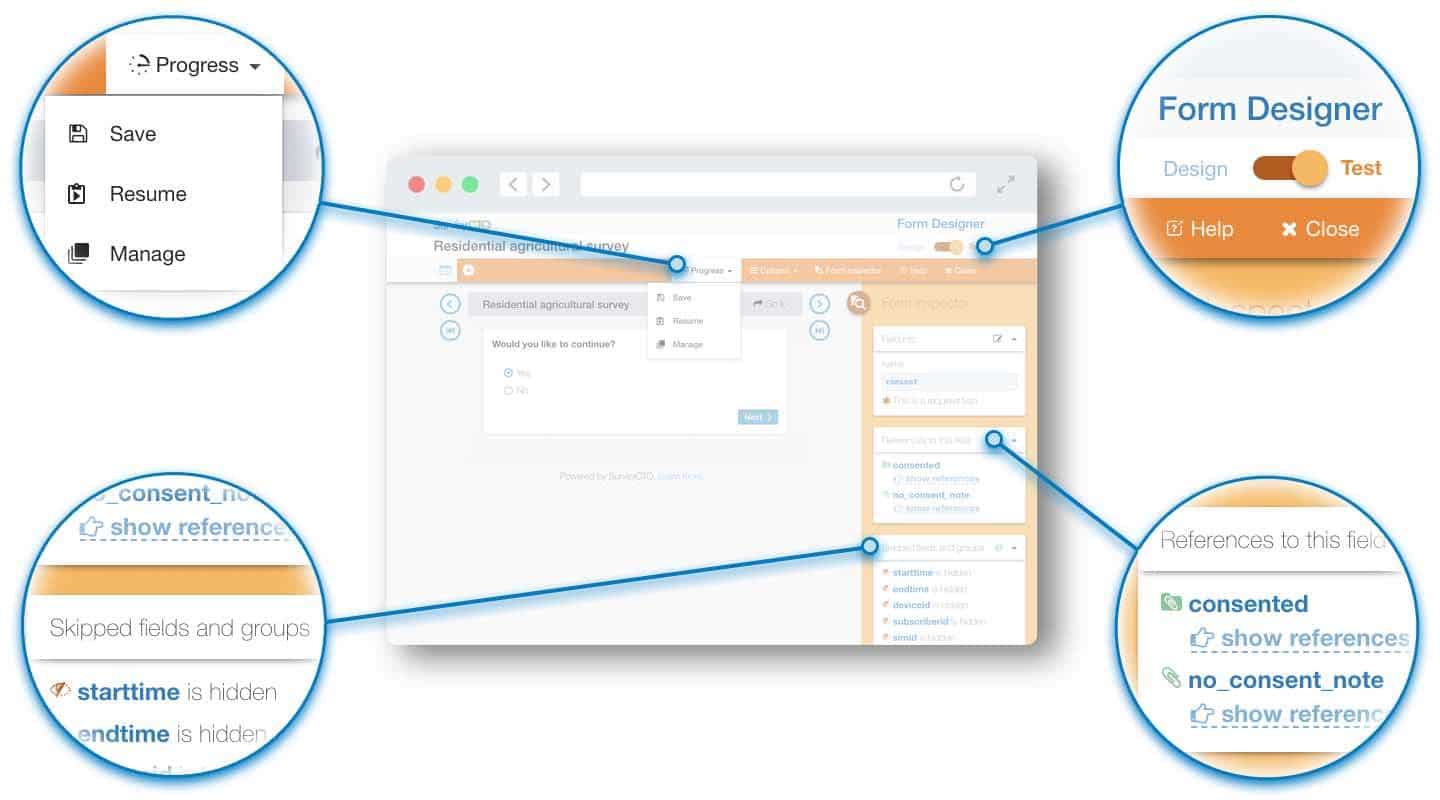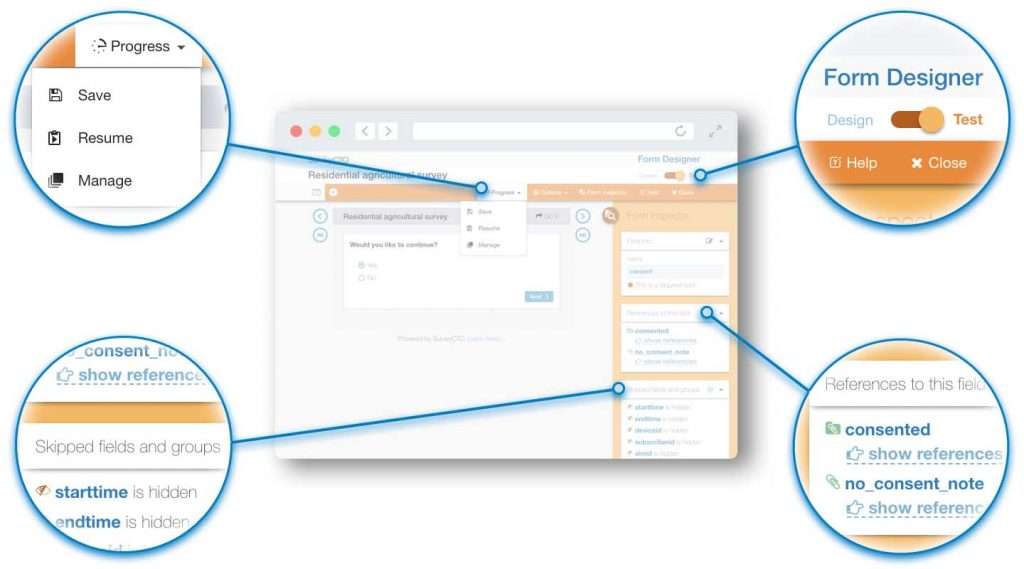 Careful and meticulous testing of your forms is a necessary, yet time-consuming part of the survey design process. To save you valuable time and improve the quality of your data, 2.51 introduces a new interface for testing forms which allows you to:
Preview how your form looks and works.
Toggle between the test and design views, to make quick fixes and other adjustments in real-time.
Use the Form inspector panel to guide and assist your testing, like skipping between groups and testing constraints.
Save and resume progress from earlier testing sessions so you don't have to re-enter any test data.
Submit real data while testing your form, to test downstream processes like the review and correction workflow, automated quality checks, publishing to outside systems, data exports, outside code to clean or analyse the data, and more.
Watch this video to learn more about the new form testing interface.
Solution to a persistent form programming challenge with effortless choice-order randomization options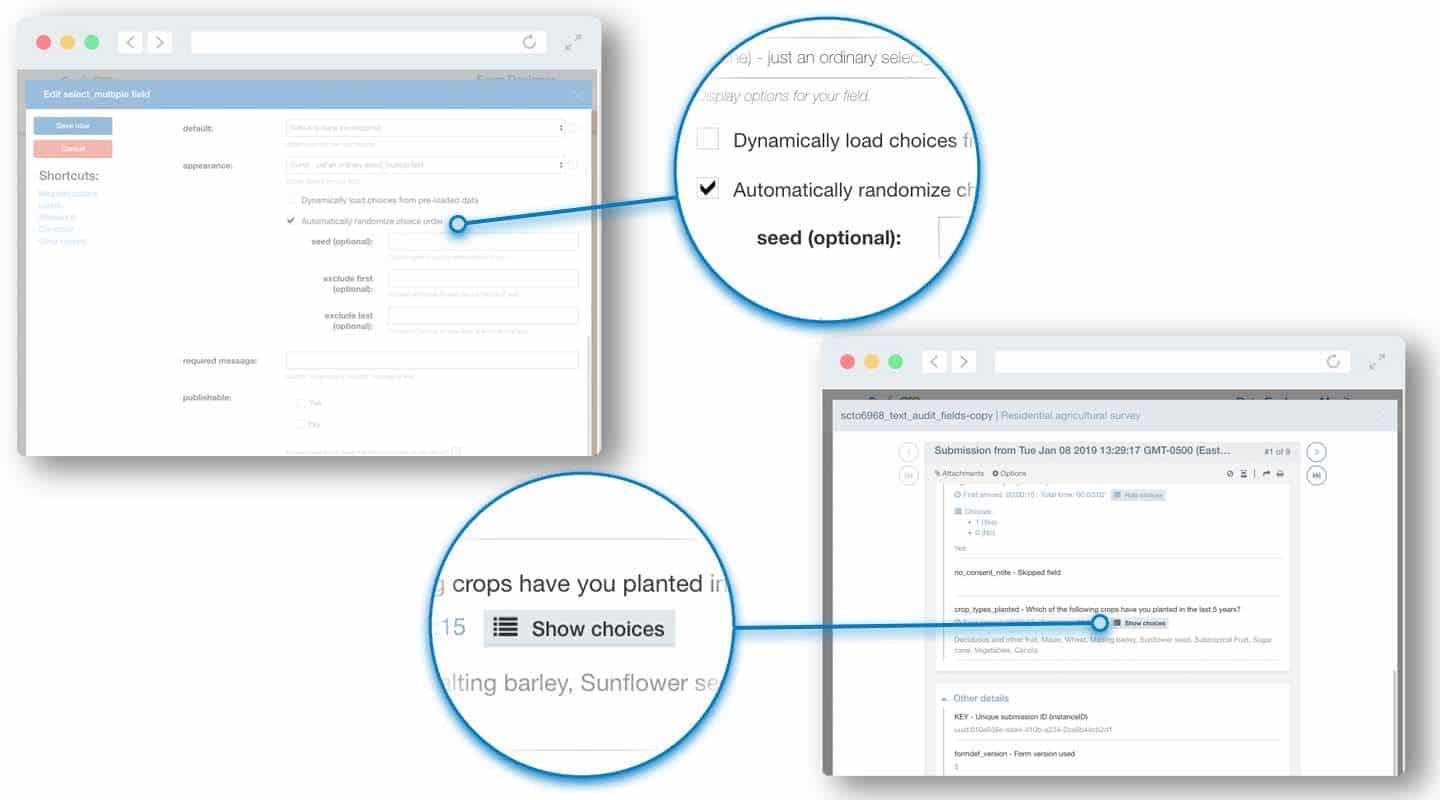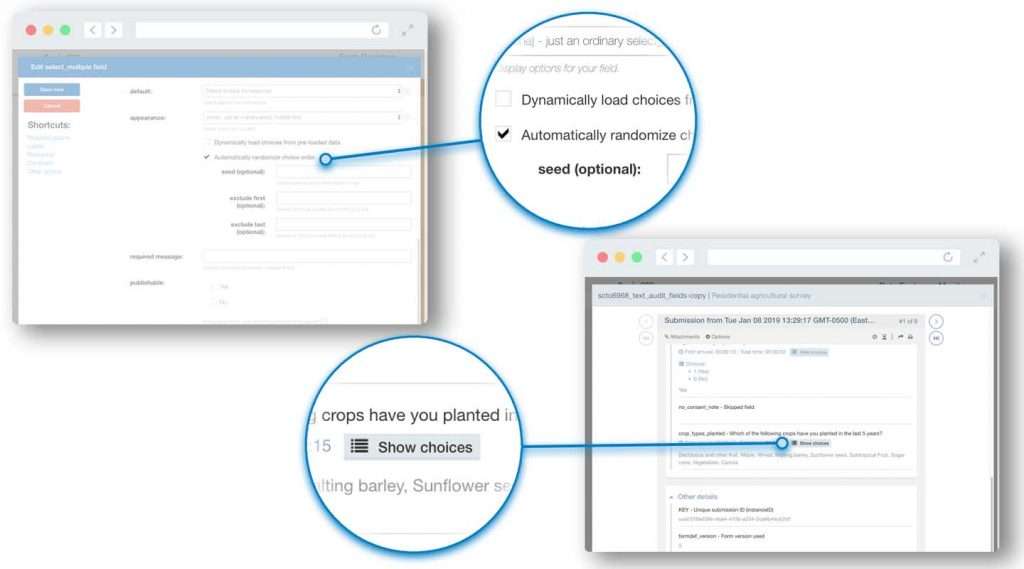 The most popular feature request by users, the option to add choice-order randomization to forms, is now available at the click of a button. When using this feature, you can choose to randomize all choices in select_one and select_multiple questions and exclude specific choices. 2.51 can also record the exact choices – and order – shown to each user as part of the form's meta-data, so you can analyze randomization effects.

Field-based survey review made easier with features for more thorough on-device review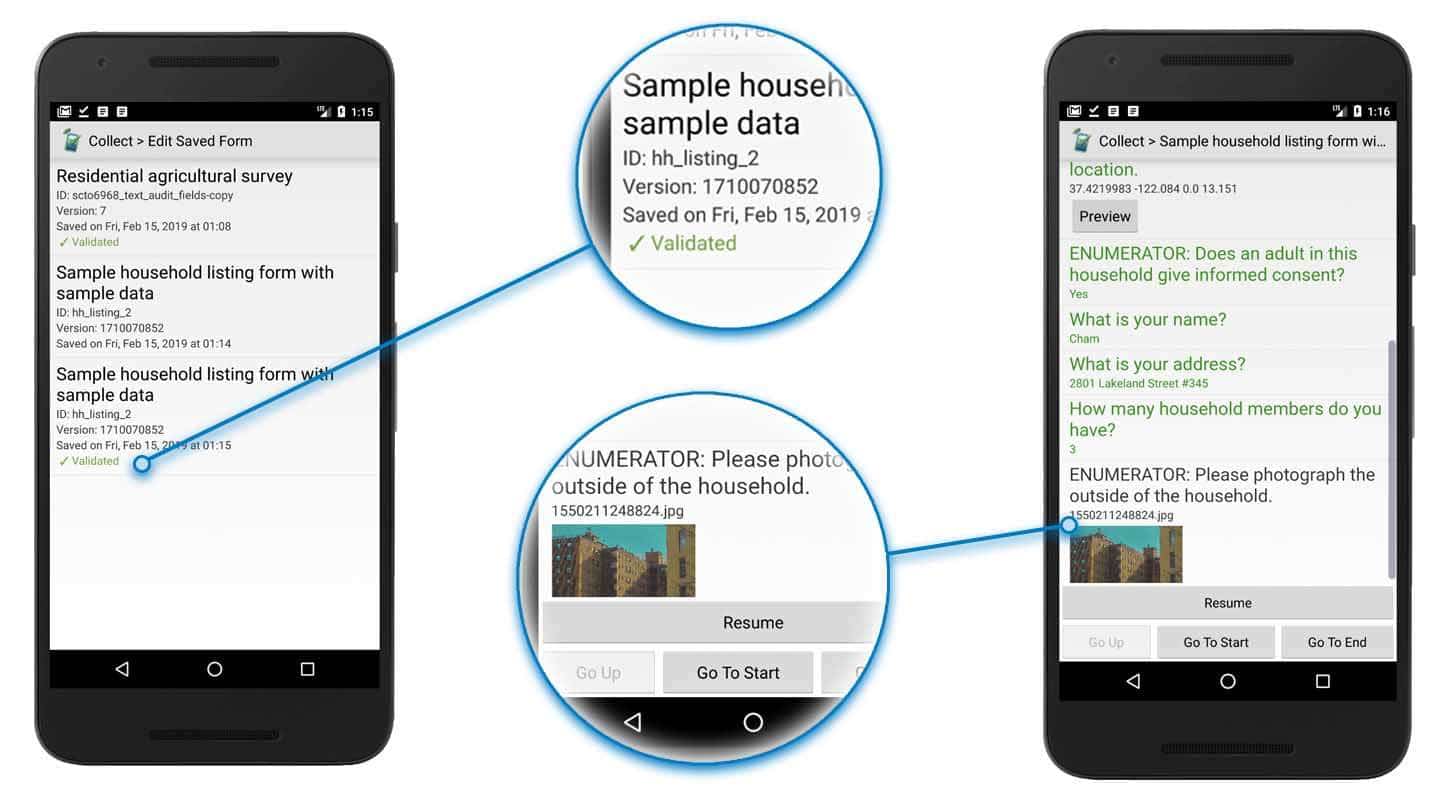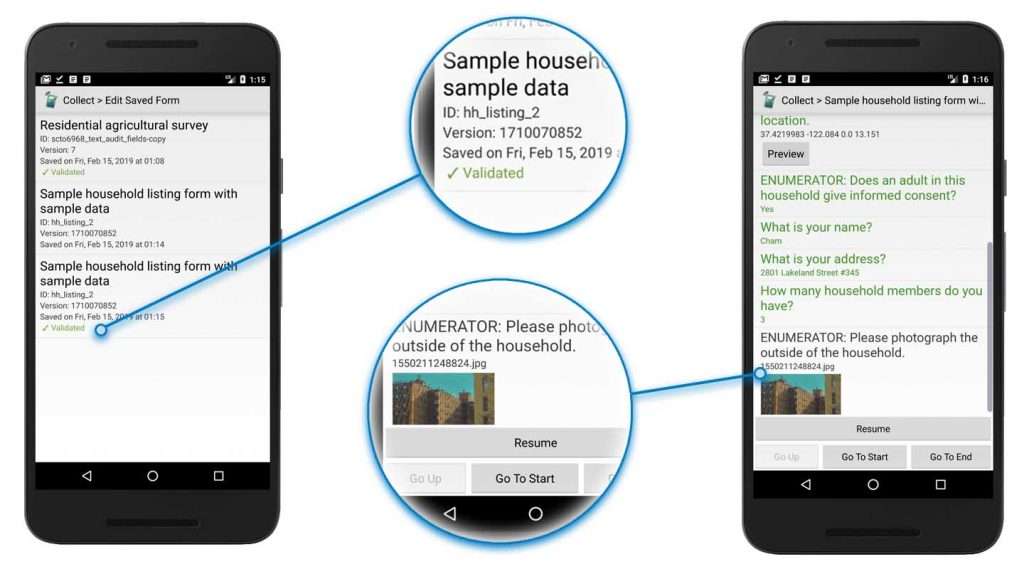 In addition to streamlining form design tools, 2.51 improves SurveyCTO Collect to better support submission review on mobile devices. Recognizing that completing field surveys is not always a linear process and may require multiple review steps on devices, we added features to:

Indicate when a submission has been fully validated and is ready to finalize and send to your server.
Expand the options you have to examine submission details – like map locations and images – within the review screen on the device.
Other improvements made to SurveyCTO include a new way to update a form-in-progress, support for higher volumes of submissions uploaded at one time, support for larger file attachments when using offline wi-fi sync, and more.

Options for automatic updates for immediate access to all new features and improvements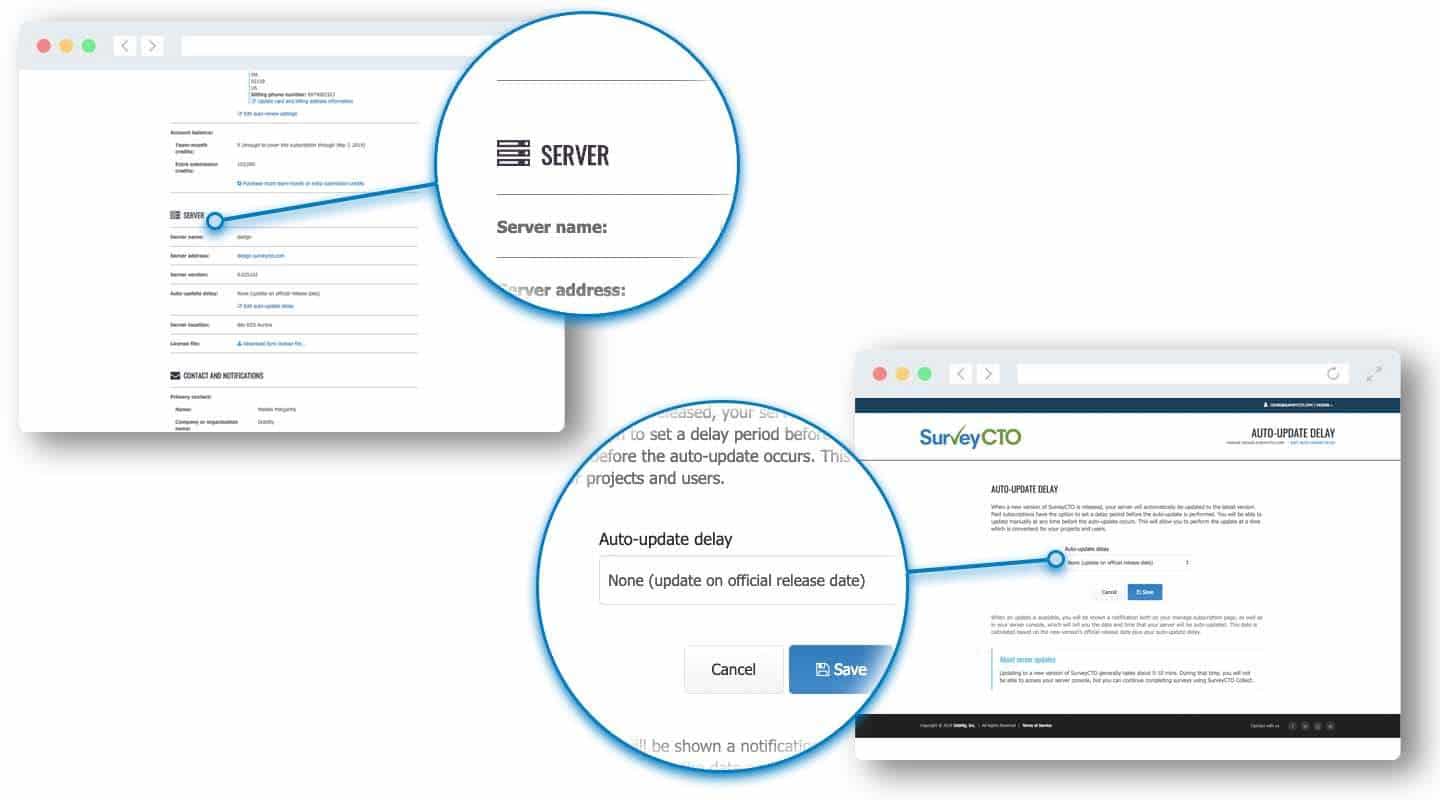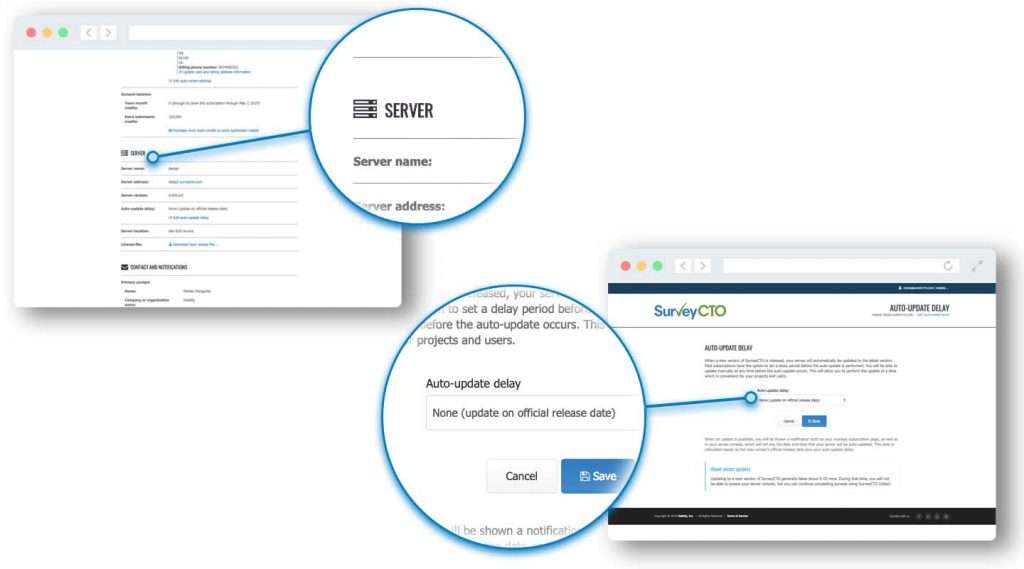 Automatic updates to the server console will now occur by default two weeks after the official release. However, paid subscribers have the option to change their subscription to update on the day of the release or delay the auto-update to 4, 8, or 12 weeks after the release date. Click on "Auto-update delay" under the "Server" section of the manage subscription page to select your preference.
You can update SurveyCTO Collect and SurveyCTO Sync anytime, in minutes. To update or install the SurveyCTO Collect app, go to the Google Play store; to download and run the new version of SurveyCTO Sync, navigate to the server console's Export tab or follow the steps in this support article.
There are still 28 other improvements to explore
Read the full release notes to learn more about 2.51. And as always, thank you for your continued support of SurveyCTO!
Start saving time today with 2.51
We want to hear from you. Email us at sales@surveycto.com or submit a support request with any questions, comments, or feedback.