Note: This blog post references an early version of SurveyCTO Collect for Android which is now available from the Google Play Store. Please see this blog post to learn more and download the latest version here.
Need better support for managing calls in your phone survey project? SurveyCTO Collect for Android now offers wide-reaching call management capabilities to more seamlessly manage calls and protect respondent privacy while conducting computer-assisted telephone interviewing (CATI).
These improvements to SurveyCTO Collect are part of a series of rolling product updates to introduce new functionality as quickly as possible. These updates are available as early release versions of SurveyCTO Collect, the most recent of which have introduced remote management and setup of enumerator devices and enhanced security with app-specific storage. You can get access to the latest early release version of the Android app here, and you can learn more about its features below and in this video overview.
Download the latest version of SurveyCTO Collect
Why should I use this early release version?
You'll get access to features not available in the current version of SurveyCTO Collect that offer enhanced functionality for phone surveys, including streamlined survey administration and respondent privacy protection. Even if you're not conducting phone surveys, you'll benefit from more powerful data collection possibilities.
What are the features?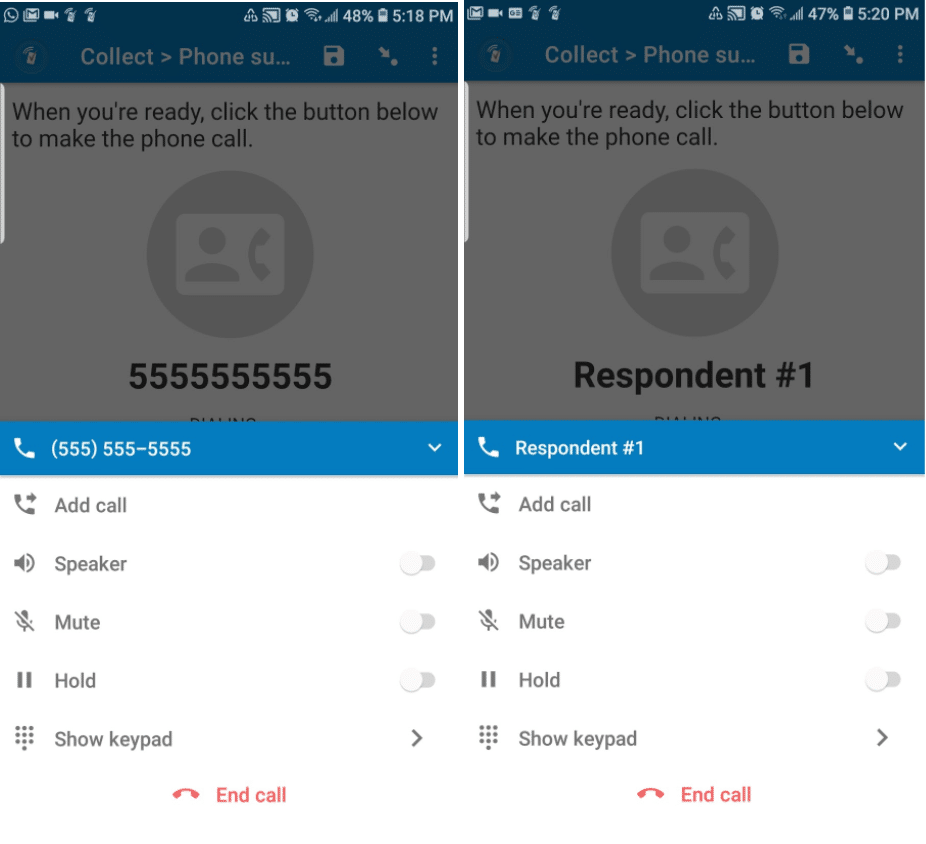 Setting SurveyCTO Collect as the default app for conducting phone surveys enables you to take advantage of these new features and improvements across any Android device:
Enjoy full call functionality directly inside your form: Use the new "phone-call" field plug-in to launch, receive, and control calls from any screen in the form (read this Support Center guidance for more information). Enable supervisors to remotely accompany surveys by adding a call and then merging the two calls. Easily call respondents back from any screen in the case of disconnection.
Keep phone numbers private: Hide respondent phone numbers from enumerators for greater security, and label phone numbers for ease of tracking and call management.
Track call duration: Capture the time spent on each call to easily monitor enumerator activity.
Generate more detailed call logs: For more powerful management of survey administration, get a full event log of all phone call activities while forms are being filled, including numbers dialed, call start and end times, and form activity.
Refer to this Support Center guidance for instructions and a video overview on how to set up and use these features. Refer to the full release notes for more details.
Using iOS? We've also released the latest version of SurveyCTO Collect for iOS and plan to continue to expand its functionality. You can download the latest version and learn more here.
How do I install it?
You can directly install this early release version via this public URL (click on "Download the early release version"). This version is not currently available in the Google Play Store, despite our efforts to submit it to Google for release. You can help! Click the button below to learn more.
Help us get Google's attention
How can I share my feedback?
We'll continue to build rapidly on this new flexibility and release additional updates as needed to meet evolving needs. Your feedback plays a critical role in helping us do so! Please share any feedback you have by submitting a support request (available to those with paid subscriptions). You can also email us at info@surveycto.com.
How can I learn more?
For more information, check out the release notes and Support Center guidance. To learn more about how to use SurveyCTO for phone surveys, explore the CATI starter kit and watch this webinar recording for a helpful overview.
If you're interested in field plug-ins for other platforms, you can check out this plug-in created by the Abdul Latif Jameel Poverty Action Lab (J-PAL) that enables calls and SMS messages to be launched using cloud telephony platform Exotel from within SurveyCTO forms (India-only for voice). You can also pilot this plug-in to launch phone calls via Twilio, a global cloud communications platform.
We've also launched the Safe People + Data Initiative, with generous support from users and partners, to provide methodologies and resources for safer data collection, in response to new challenges arising from the COVID-19 pandemic and the growing need for safety-focused innovation.
If you're a SurveyCTO user and need help with any issue, our support team is available 24×7. Go to the Support Center and click on the link to "Submit a support request." No question is too small.
Start a free SurveyCTO trial