Since April 2020, we've been making improvements to SurveyCTO Collect for Android in a series of rolling product updates to better support more robust and secure phone surveying, also known as computer-assisted telephone interviewing (CATI). This post offers an overview of all the new features we've introduced over the last five months, as well as updates to the iOS version.
The latest Android version is available to download in the Google Play Store. Read on to learn more about both the Android and iOS versions.
Download the latest version of SurveyCTO Collect for Android
What are the features?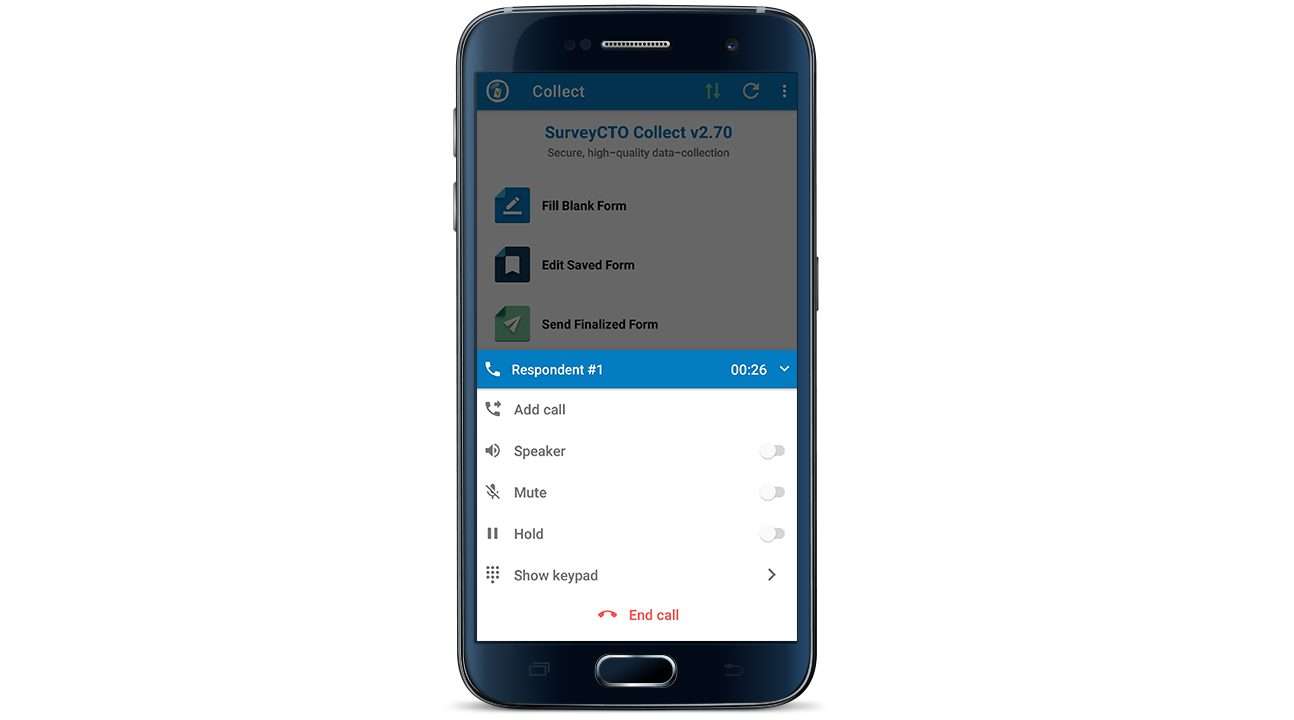 The mobile application SurveyCTO Collect for Android offers a wide range of CATI-related features, including the following:
Integrated call management: Enjoy full call functionality from any screen in your form to launch, receive, and control calls. Get a full event log of all phone call activities while forms are being filled, including numbers dialed, call start and end times, and form activity.
Audio recordings for survey management: Record both sides of phone calls during audio audits (recordings of some or all survey administration), and in sensor readings (device sensor readings that capture conversation and sound) for greater insights into how your survey is being conducted and higher levels of quality control (available with Android versions 4.4 up to 7).
Improved security on mobile devices: Enable all data to be stored in a private app directory within SurveyCTO Collect, inaccessible to other apps on the device. Set up an app passcode so that SurveyCTO Collect can't be opened without first entering the correct passcode.
Remote management of enumerator devices: Create default device configurations for specific user roles that include security settings, forms for auto-download, the cases dataset for case management workflows, and setup instructions that can be applied with one click using a quick setup wizard.
For more features, you can also connect your SurveyCTO forms to cloud communications platforms like Twilio and Exotel for phone number masking, high-quality recordings, call routing, and centralized billing. Check out this plug-in created by the Abdul Latif Jameel Poverty Action Lab (J-PAL) that enables calls and SMS messages to be launched using Exotel (India-only for voice). You can also pilot this plug-in to launch phone calls via Twilio.
Refer to the full release notes for more information and check out this video overview on how to set up and use the integrated call management capabilities.
Using iOS devices? We've also released the latest version of SurveyCTO Collect for iOS with expanded functionality. You can download the latest version and learn more here.
How do I install it?
You can install this directly from the Google Play Store or Apple Store for Android and iOS devices, respectively. Click here to download either.
How can I share my feedback?
Your feedback is critical for us to continue to improve SurveyCTO Collect and release additional updates to meet evolving needs. Please share your thoughts by submitting a support request (available to those with paid subscriptions). You can also email us at info@surveycto.com.
How can I learn more?
For more information, check out the release notes. To learn more about how to use SurveyCTO for phone surveys, explore the CATI starter kit and watch this webinar recording for a helpful overview.
If you're a SurveyCTO user and need help with any issue, our support team is available 24×7. Go to the Support Center and click on the link to "Submit a support request." No question is too small.
Start a free SurveyCTO trial