We're excited to announce two major developments at SurveyCTO: our new drag-and-drop form designer and our new Support Center. Read on:
The drag-and-drop form designer is here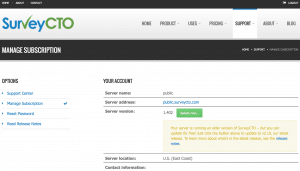 To get started with the new drag-and-drop form designer, just update your SurveyCTO version to 2.10 under Manage Subscription or, if you are a new user, sign up for SurveyCTO today. You can read all about the form designer in Faizan's sneak peek from earlier this month but there's nothing like trying it out for yourself!
Not only that, SurveyCTO subscriptions now support an unlimited number of users! Once you update to 2.10, be sure to add all of your team members onto your subscription.
Read the 2.10 release notes here.
---
Check out the new Support Center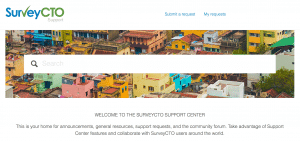 Big news part two: Our new Support Center is live. Visit the Support Center for announcements, general resources, support requests, and the community forum. We hope everyone will take advantage of Support Center features and collaborate with SurveyCTO users around the world!
To get started, introduce yourself in the Introductions post and start getting to know other members of the SurveyCTO community. Then post a Feature Request and let us know how we can make SurveyCTO even better.
Looking forward to seeing you online!
---
Read the latest SurveyCTO news

On our blog: Learn about how J-PAL North America is using SurveyCTO as part of an innovative partnership in South Carolina, how to collect quality data using relevance and constraints, and how to automate monitoring and workflow as part of your survey design.
Keep up with the latest SurveyCTO updates on LinkedIn, Twitter, and Facebook.