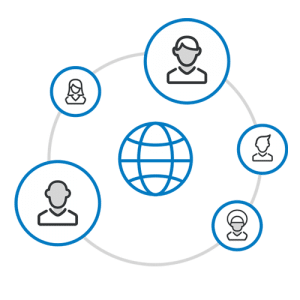 Here at Dobility, we are committed to exceptional support for SurveyCTO users. To that end, we are looking for an energetic and entrepreneurial individual to join our efforts to grow our business and achieve our social mission. Although we are a small, lean, and early-stage social enterprise, our product, SurveyCTO, has already been used by hundreds of teams in over 50 countries, and is growing rapidly.
For this position, we are looking for somebody to join our sales and support team. A pillar of our growth and a core part of our mission is not just to provide a great product, but also to provide incredible support and service; we are growing our team to improve our efforts on that front. The ideal candidate will be an excellent communicator with prior experience in outreach, sales, and managing relationships with prospective and existing customers.
Experience working in client management or on marketing and communications campaigns is a plus, but not required. The same goes for experience in a start-up and planning events.
Responsibilities include
Strengthening our customer relationships by being the main point of contact for prospective and existing SurveyCTO customers.
Maintaining consistent contact with prospective customers, help develop customer management and reporting systems, and respond to inquiries in a timely manner.
Managing multiple relationships and projects simultaneously.
Identifying business opportunities and collaborate on outreach.
Organizing events, including trainings, workshops, and lectures.
Ideal candidate profile
Strong writer and communicator in English.
Fast learner, able to independently problem-solve.
Obsessive about doing high-quality work.
Excellent multi-tasker.
Empathetic.
Preference for working in low-structure, fast-paced start-up environment.
Passionate about improving the world through one's work.
A plus: knowledge of the field research and/or international development spaces.
A big plus: strong writer and communicator in Hindi.
Location and hours
This is a full-time position in our India office, based in Ahmedabad, Gujarat.
Salary and benefits
Dobility offers competitive salary and benefits packages. The specifics will depend on the applicant's level of prior experience.
How to apply
To apply, please fill out this short online form: https://use.surveycto.com/collect/application_sales_customer_community
---
About the organization
Dobility, the company behind SurveyCTO, was founded by Dr. Christopher Robert, an early tech entrepreneur and CTO who left technology to live overseas, train in economics and public policy, then research and teach at Harvard's Kennedy School of Government. His experience on the ground made him realize that the research and development sectors badly needed better technology to gather and manage data. Dobility's mission is to help ensure that high-quality data is affordable, so that more decisions are based on good data (vs. bad data or no data).
Dobility differentiates itself in the market by providing unmatched reliability, affordability, and customer support. It is a fast-moving company with a motivated team that has spent time in the field to understand customers' pain points first-hand.
About the product
SurveyCTO is a survey and data-collection platform designed for the specific demands of doing research in developing countries and other challenging settings. It can be used online or offline, on web, tablet, or phone. Most often it's used by surveyors in the field to perform guided interviews with survey respondents ("Computer Assisted Personal Interviews"). It protects against fraud by recording how long surveys take, audio recording when suspicious behavior is flagged, and employing statistical algorithms to look for anomalies in the data. It's also an extraordinarily flexible platform that allows for advanced survey logic, pre-loading existing data into survey questions, and automatically merging incoming data into back-office applications like Excel or Stata.
SurveyCTO has been used to collect millions of survey submissions in over 50 countries by organizations such as the World Bank, Save the Children, Clinton Health Access Initiative, Innovations for Poverty Action, and many others.