NATIONAL EXIT POLLING IN MEXICO
Careful Planning, Smooth Execution
CHALLENGE
On June 7, 2015, Mexico held elections for their national Congress, and SIMO Consulting was contracted to perform exit polling throughout the country. This meant performing exit polls in urban and rural areas, in some high-risk communities, and in areas without reliable mobile Internet capability – plus reporting partial results throughout the day and final results immediately after polling stations closed. This presented a massive technical and logistical challenge for the SIMO team.
SOLUTION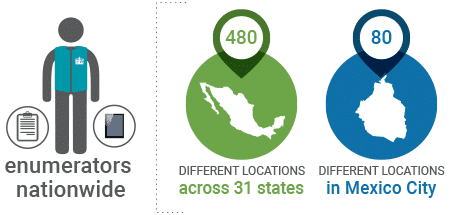 For analysis and reporting, SIMO configured SurveyCTO's integration with StatWing, so that aggregated data could be downloaded, exported to StatWing, and analyzed periodically, all with just a few clicks.SIMO Consulting, armed with SurveyCTO as their chosen technology for data collection, was up to the challenge. They devised a plan to deploy enumerators to 480 different locations across Mexico's 31 states, plus another 80 locations within Mexico City. Most enumerators would collect data electronically, using tablets and the SurveyCTO Collect app to fill out forms and, periodically, upload data to SIMO's SurveyCTO server. Those in high-risk or low-connectivity rural areas would fill out paper forms and periodically phone data into a SIMO data center, where telephone operators would enter that data into SurveyCTO and upload it to the server.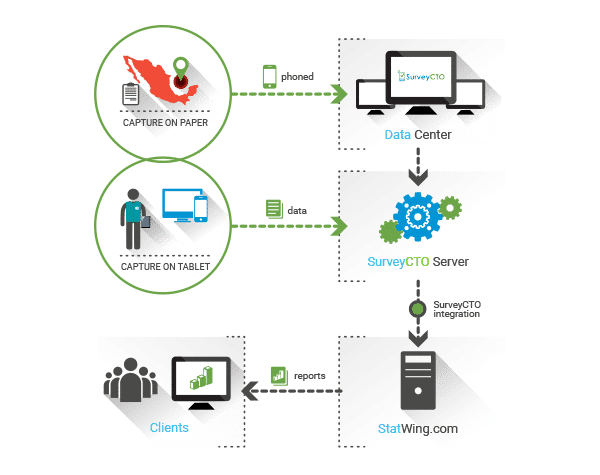 BENEFIT
With excellent planning and careful testing beforehand, election day went very smoothly. Enumerators conducted an average of 45 interviews per location with a total of over 25,000 interviews conducted nationwide. SIMO team members monitored incoming data throughout the day, produced preliminary reports for their clients at four pre-scheduled times, and posted a final report before midnight.
TIPS FROM THE FIELD
The SIMO team recommends that you always test thoroughly before deploying – especially when deployment will be high-stakes and time-constrained. In this case, the team conducted a kind of "dress rehearsal" the day before the elections: 560 enumerators filled out test forms and submitted them, all at once, to the SurveyCTO server. Because of the sudden load, the SurveyCTO server stopped accepting new submissions and slowed down considerably. After some panic and contingency planning, the SurveyCTO team was able to resolve the problem Saturday evening and the day of the elections went off without any issues. (The problem was a one-in-a-million vulnerability in SurveyCTO's back-end database server, triggered by the sudden flood of simultaneous submissions. The 1.402 release corrected the issue so that it could not arise again.)
* Photo credit: SIMO Consulting
PROJECT DETAILS
User: SIMO Consulting
Project: Exit polling for the 2015 Mexico national elections
Scope: Over 25,000 interviews throughout rural and urban Mexico