Get an inside look at how HiiL uses SurveyCTO to gather data efficiently, and turn data into insights that drive justice innovation.
The Hague Institute for Innovation of Law (HiiL) is a social enterprise with a mission to make justice more user-friendly for everybody. The organization was founded in 2005 to bring user-centered design and thinking to the areas of justice and policy formation. HiiL uses data to inform policymakers around the world on where gaps exist in the justice system and help them build innovative ways to make justice more accessible.
Dr. Martin Gramatikov, Director, Measuring Justice at HiiL recently sat with SurveyCTO to discuss how they use survey data to make justice friendlier and more accessible around the world. He also discussed how HiiL adapted their survey methods in SurveyCTO during the pandemic to still reach people in a safe way.
How HiiL uses data to make justice more user-friendly
Typically, formal justice institutions are overwhelmed with the cases that are of the most immediate concern. These cases are serious, but they are only a small part of the puzzle. "We tell policymakers and professionals they are dealing with only 10% of the justice needs of people," says Martin. From land issues to domestic violence, there are millions of issues that are never formally reported. Lawyers, police, and courts act as an option for people when an issue can't be resolved by themselves.
That's why HiiL looks at justice beyond the formal institutions. From community elders to informal tribunals, people have different ways of resolving problems outside of the legal institutions. HiiL's goal is to learn about those forms of justice, and figure out what's working for people.
Gathering data for justice change
As a small team with a big ambition to make justice work for everybody, HiiL needs data to learn more about the gaps between the formal institutions and the informal institutions.
To understand those gaps, HiiL uses survey data to discover the everyday problems that people face and conduct research in law and justice. Because HiiL sees justice as something that applies in people's everyday lives, the majority of their justice surveys ask respondents about daily justice issues. "We want to know what people have actually experienced in the past, and what they did to solve their problem," says Martin. HiiL only asks for data about personal experiences, which helps eliminate bias in the dataset and allows the team to document real experiences, not cases of hearsay.
All of HiiL's surveys are done at the national level with large sample sizes, and they always work with local data collection providers to go into the field and meet with people face-to-face. These local surveyors are preferred because they understand the culture, have the networks, and can speak the local languages. The surveyors, who carry mobile devices with SurveyCTO Collect installed on them, are able to connect with people all across a given country, no matter how rural. "Using SurveyCTO has a few advantages, but one of the biggest is that the data arrives almost immediately once an interviewer has synced their device," says Martin. The digital survey tools also reduce the need for data entry and reduce the risk of errors.
"Using SurveyCTO has a few advantages, but one of the biggest is that the data arrives almost immediately once an interviewer has synced their device."

Dr. Martin Gramatikov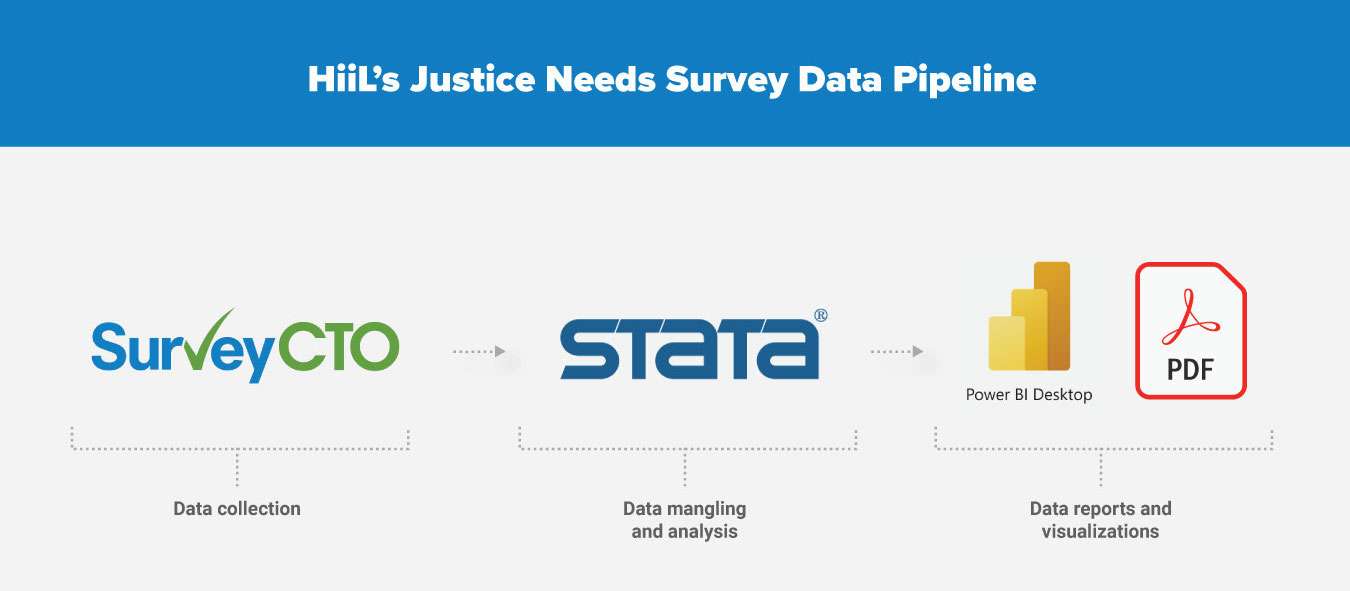 All of the data for HiiL's projects start with SurveyCTO, and the processing and analysis is done with Stata—a statistical software that lets users visualize data. The data is uploaded to Stata through SurveyCTO's integration with the software, which produces Stata data sets that are well labeled and organized. The HiiL team can then use Stata to turn the data into stories called "Justice Journeys"—maps of the justice issues people experience, what they do to solve problems, and what they avoid doing.
HiiL will turn the Justice Journeys into PDF reports that can be easily shared with policymakers and other stakeholders to highlight opportunities for justice innovation. HiiL also creates interactive PowerBI charts out of the data and embeds those charts into web interfaces for a dynamic experience.
Case study: how HiiL measured justice in Uganda during the pandemic
During the pandemic, HiiL had to rethink its data collection methods. It was hard to get people out on the ground, and certain projects, like the Justice Innovation in Uganda project, had more complicated survey designs that didn't translate well into an online environment.
One way that HiiL reached Ugandans during the pandemic was through social media surveys. The organization created web forms in SurveyCTO and used a unique two-wave methodology to ask respondents about their justice problems, then re-ask them how they resolved those problems a few months later. "We wanted to capture a before-and-after picture to see what problems people were experiencing, and how they were resolved a few months later," says Martin. The first survey wave took place from April to June of 2021. The second wave occurred from October 2021 to January of 2022.
Using case IDs and web forms to target the right respondents
One tool that was helpful for connecting the two waves was the ability to assign a unique ID to the SurveyCTO web form URL. Since every respondent in Wave One was assigned a unique case ID, the HiiL team could append that ID to the web questionnaire URL for Wave Two to create a unique URL that only the correct respondent could access.
This feature, which was originally designed for longitudinal surveys, proved to be useful for HiiL in connecting the data across their survey waves. It was easy after the first wave to connect respondents with simple concatenation in a spreadsheet and create a unique URL to get the base of their SurveyCTO web form. With this feature, HiiL could send respondents a URL that had their identifiers already included, which made comparing "before" and "after" responses easy.
"It's a very easy and friendly way to send out links to users. We could know who our user is, and connect their data with the previous wave of the study," says Martin. "We used pretty simple mail merge technology to do this, and it was a relief." It also helps keep data clean by eliminating duplicate entries, and ensured that only a specific user could fill in a particular question.
Using the right data collection tools makes justice innovation simpler
HiiL's ultimate goal is to bring innovative justice solutions to everybody. To achieve that goal, they need innovative technology that makes data collection simple.
"Tools like SurveyCTO help us standardize our data collection, and that saves us a lot of time and gives us economies of scale," says Martin. Standardized inputs and outputs guarantee a certain level of data quality, which lets the team get to the job of building Justice Journeys faster.
"Tools like SurveyCTO help us standardize our data collection, and that saves us a lot of time and gives us economies of scale."

Dr. Martin Gramatikov
Additionally, the intuitive platform makes it simple to run longitudinal or multi-wave studies like the one in Uganda without manually sorting through the data and losing time. The standardization also means the team can introduce their survey designs into new areas of the world with just a few minor adaptations, at a fraction of the cost.
"In the end, we're a small team with big goals, and every productivity win counts. We're happy we can focus on gathering the data and turning it into justice insights, not lose time in the collection process."
Make data collection more efficient with easy-to-use web forms and unique IDs
See how SurveyCTO helps you build better data processes.