Introducing advanced offline data collection
We are thrilled to announce the biggest improvement to SurveyCTO in years. In SurveyCTO 2.80, new features have leveled up our support for offline data collection, allowing complex and flexible multi-form workflows to work 100% offline. Local copies of server datasets on SurveyCTO Collect now mirror publishing on the server by using offline dataset publishing without a connection to the Internet. This means that data you've just collected using one form can be immediately available in another form, with no connection to the server required.
With these updates, SurveyCTO's case management feature has also been dramatically improved, adding exciting new capabilities. Through the power of offline dataset publishing, you can create new cases, update the contents of cases, and close them even without a reliable Internet connection. Support for these sophisticated workflow options aren't all that's rolling out with this latest version of SurveyCTO, either: Cases can also be transferred directly from device to device – while offline!
The above functionality can also be combined with a new long format server dataset publishing option for added flexibility. In combination with SurveyCTO 2.80's new advanced offline features, long format publishing offers simpler and more direct solutions that always work to a wider range of data architecture requirements. Numerous data collection workflows also become more efficient and less prone to error thanks to the seamless passing of data between forms and devices. Long format publishing will be available to all users in 2.80.
Using advanced offline functionality
So how does it work? If you're familiar with server dataset publishing, you know that this feature normally relies on forms being submitted via the Internet to datasets that live on your server in the cloud. With the advanced offline functionality available in 2.80, mobile devices can independently publish data to local copies of a server dataset. Data from those local datasets can then be pulled using our pre-loading functionality into forms on that device, making data collected in the field immediately available while working offline. When SurveyCTO Collect reconnects to the server, Collect's version of the dataset will synchronize with the server's version, keeping your data safe and accurate.
Want to get started right away? Get in touch with our team today!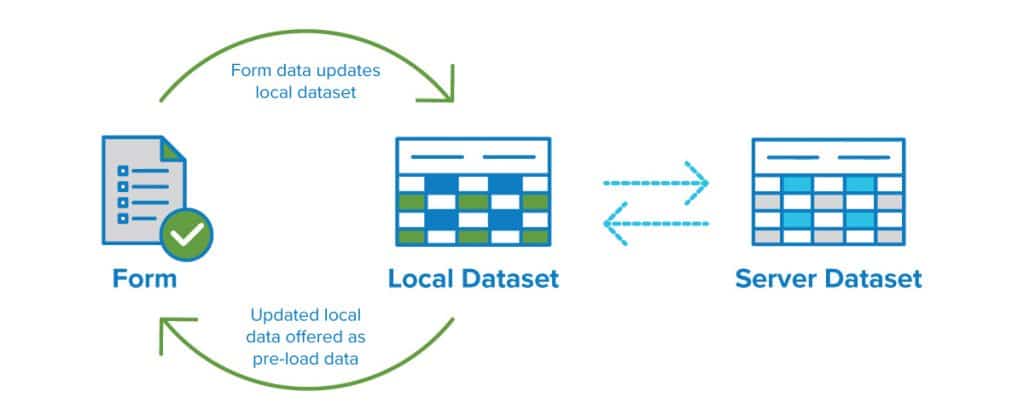 You can see how offline server dataset publishing works in this video:

Building on the offline server dataset publishing functionality, this update also introduces offline case transfers, where cases are sent from one device to another, no Internet required.
To see this in action, watch the offline case transfer video below:

Advanced offline workflow possibilities
SurveyCTO 2.80's updates create many new opportunities for organizing your data collection. Is reliable Internet challenging for your enumerators in the field? You now have additional options for managing this. Would having data from a household screening form immediately present in an individual-level questionnaire improve your organization's data collection system? That ideal offline workflow is now possible. Are advanced server dataset workflows new to you, and are you curious to learn more about how they might help you in your work? The best way to learn more is to see how these advanced workflows would function in a real-life scenario. To help you explore the power of 2.80, we have created two example workflows:
Community Health Workers: 

This workflow explains how to use SurveyCTO 2.80 for community health management in a rural community. You'll see how tracking the household visits and individual consultations  of Community Health Workers (CHWs) can be streamlined with offline server dataset publishing.

Youth training program: Use advanced offline features to manage a program for disadvantaged youth, complete with multiple forms for registration, program activities and follow-ups.
These data collection examples come with sample forms and datasets that you can deploy and test on your own. In addition to these templates, we have a product documentation article on designing advanced workflows that can further guide you in finding ways to use SurveyCTO 2.80 to its full potential.
Get in touch to get access
To use the advanced offline functionality, users will need to activate the features on their server once it is running version 2.80 of our server console. To discuss activating 2.80's advanced offline features, connect with our sales team today.