Educate! is focused on transforming secondary education in Africa through skills-based training – and has been using SurveyCTO for the past three years to improve and scale up its systems. We recently connected with Educate!'s Shauna Davidson, who shared more about their model, the students they are serving, and how they are integrating SurveyCTO with their monitoring dashboards.
Tell us a little about Educate! and its impact.
Educate! transforms secondary education in Africa to teach young people to solve poverty for themselves and their communities. We provide youth with skills training in leadership, entrepreneurship, and workforce readiness along with mentorship to start real businesses at school.
Our goal is to make this practical, skills-based model part of national education systems across Africa. In 2017 we're working in 120 secondary schools in Rwanda and 450 schools in Uganda, impacting over 25,000 students intensively, and reaching 360,000 youth more broadly. Educate!'s innovative model was proven to have massive impact in a randomized controlled trial: Educate! graduates earned DOUBLE the income of a control group and had a 64% increase in business creation. Our graduates change their lives and transform their communities, like Lillian Aero who employs over 100 AIDS-affected women.
---
"Using SurveyCTO greatly reduces the prep work for expanding to new places, all we need is a smartphone for our employees to enter the data."
---
We have been using SurveyCTO since May 2014 to collect data from the field about our programs, and we are currently using it in both Uganda and Rwanda. One of the main reasons we use SurveyCTO is that is allows our staff to download forms to their phone and fill them out without having to have access to internet while they are in the field.
Where are you in the project now?
We are in our ninth year of operating our program in Uganda and our second year of operations in Rwanda, and we have been using SurveyCTO for data collection for the past three years. The following are three of the biggest advantages we've found using SurveyCTO:
A reduction in human error during data entry: Previously data was tracked on paper, collected at the end of each school term, and entered manually all at once which resulted in errors during the data entry process. Having our staff enter data more regularly in the field was able to reduce those errors. In addition, we still use our paper tools in the field so that we can do verification against them to ensure the data entered was correct.
Receiving data in real time: Previously we had to wait for information to be collected at the end of the term, but with SurveyCTO we are able to receive data weekly from the field. This reduces management overhead, and allows us to make quick adjustments when we see anything questionable happening in the data.
Scalability: Educate! is focused on scaling quickly so that we can have the greatest impact possible. We grew from 252 schools in Uganda 2015 to over 450 schools in Uganda this year. Using SurveyCTO greatly reduces the prep work for expanding to new places, all we need is a smartphone for our employees to enter the data.
Receiving data in real time allows us to closely track program implementation, to identify early if there are any errors in the data or issues with the program. This has resulted in some interesting findings that have strengthened our data accuracy and our program. Here are a couple examples:
Educate! tracks the income from Student Business Clubs that we support in schools. Last school term, some of the numbers that were coming in looked very high. We were able to act early and do back checks before the term ended to verify the data against paperwork in the field, and we found out that the data was accurate!
Educate! Mentors, the frontline people that implement our program in schools, attend regular trainings to help with program implementation and increase their entrepreneurship and leadership skills. We collect attendance at these meetings through SurveyCTO after every meeting happens. This allows us to see right away if a mentor has continuously not attended meetings, allowing supervisors to address the issue quickly and better manage what is happening.
What are your next steps?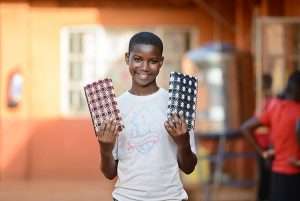 Educate! has some exciting ways we are currently working to improve our use of SurveyCTO that will enable us to continue to scale quickly, while keeping good track of data over a large number of schools in multiple countries. There is one aspect of our program that we track through SMS because it is reported weekly by Mentors who don't have smart phones: student attendance at weekly leadership and entrepreneurship trainings in schools. We are piloting how we can incorporate this into our SurveyCTO data collection so that all of our data will come through SurveyCTO. In addition, we are working towards integrating data that comes through SurveyCTO directly into our internal data monitoring dashboard so that it updates automatically (read more about this in the next question).
What are some of the innovative ways you're using SurveyCTO?
Educate! is working towards integrating SurveyCTO directly with our internal data monitoring dashboard so that it is updated automatically when we receive data from the field. Educate! has an internal dashboard that summarizes monitoring and evaluation numbers collected from the field.
---
"Look at how you can integrate SurveyCTO with other tools, like Tableau or Google Sheets, to visualize the data in real time and improve your consumption of it."
---
Currently Educate! downloads data from SurveyCTO every three days or once per week based on what it is, and integrates it into our internal dashboard. We are currently working on a new system that would link SurveyCTO directly to our internal dashboard and allow for daily updates. We don't know of anyone else that has attempted to do this with SurveyCTO. We have written a SurveyCTO module (specific code to interact with the SurveyCTO system) and shared it online so that other people can use it to do the same thing we are doing! We are starting user tests on the 29th of May in Rwanda.
Is there anything else you'd like to share about the project or survey design in general?
There are many things that we really like about SurveyCTO. One of the great things about using SurveyCTO is that it is based on an Open Data Kit, the standard way of programming forms for data collection, so it is easy to find people that have the skill base to work with it. A custom system would be a lot harder for other people to use. In addition, the quality of the data that we collect has improved because of the constraints we can put in the forms. For example, the date of birth for our Mentors should be less than 30 years old. To make sure we get the correct data we can restrict the data entry to numbers under 30. Finally, there is also an expiry point for the forms we use, which allows us to make sure our staff are always downloading and using the most updated version of the forms.
Any advice for others?
Look at how you can integrate SurveyCTO with other tools, like Tableau or Google Sheets, to visualize the data in real time and improve your consumption of it. These other tools provide a more scalable way of analyzing your data, instead of using Excel.