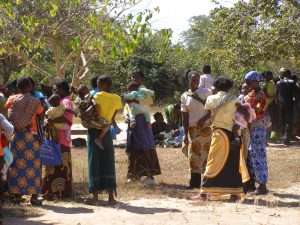 Boston University's Center for Global Health and Development (CGHD) is a multidisciplinary research center that focuses on global health and social development challenges. Several of their studies use SurveyCTO, and we recently connected with Dr. Davidson Hamer about his implementation research on infectious disease, particularly as it impacts mothers and children.
Can you tell us about the research you are currently undertaking in Zambia?
The project is studying the prevention of nosocomial bacteremia (that is to say, sepsis caused by bacteria originating in a hospital) and mortality among neonates at a tertiary referral hospital in Zambia. We saw very high case fatality rates in the neonatal intensive care unit (NICU) and suspected that most deaths associated with sepsis were the result of a contaminated environment.
Our goal was to step in with infection control interventions. During a one-month intervention period, we implemented:
Staff trainings
Alcohol-based hand-washing and encouragement of its use
Bathing babies in 2% chlorhexidine
Sending SMS messages to healthcare workers
Targeted cleaning of potential reservoirs of infection
For our analysis, we are using two years of retrospective data, six months of baseline data with microbiology, and then twelve months of data collection following the intervention. We are conducting our final data collection now, with data cleaning and analysis scheduled for this June.
Our goal with this and other research projects is to generate evidence that will be used by governments or the World Health Organization, for example, to improve or change policy and guidelines.
Sometimes the results of randomized evaluations surprise us. Is there anything in your research that you have found particularly surprising or counterintuitive?
This has happened numerous times and can sometimes be quite confounding. I previously ran a randomized controlled trial (placebo) testing monthly dosing vs. once per trimester dosing of anti-malarial drugs during pregnancy. We expected a significant benefit from monthly dosing based on a previous study in Kenya but we found no difference. We initially thought that something had gone wrong so we tested the blister packs several times to be sure that the placebo didn't have any active drugs. (It didn't.)
We also just published the results from a large trial on umbilical cord care in Zambia. Based on previous research in South Asia, we expected that treatment with chlorhexidine would be more effective at preventing infection than dry care, which is the current standard practice. But we saw no significant impact after analyzing the data from 38,000 babies. And then our colleagues saw similar results in Zanzibar with 34,000 babies, which helped bolster our findings. Unfortunately, negative findings are much harder to publish – so it has taken some time for our research to get out there.
Do you have any advice for younger researchers?
First, what are you interested in doing and where are you interested in working? Academic medical organizations and affiliated NGOs tend to be much more rigorous in terms of their study design and data analysis than local organizations and government ministries. Get experience working with senior people and learn from them. And when you're working in a developing country, you need good collaborators on the ground.
In Zambia, the CGHD established a locally-registered NGO that is staffed by two strong researchers with international training. They are driving the scientific agenda. This NGO has offered many opportunities for students and post-docs to gain international research experience. Having such an opportunity is important for a young researcher to understand whether they really would like to do global health research and it gives them experience that will help them be competitive in future job searches.