We're pleased to announce our first pre-built SurveyCTO form, in collaboration with Innovations for Poverty Action (IPA).
IPA is the home of The Poverty Probability Index (PPI®), a standardized survey tool for measuring poverty. PPI is a simple-to-deploy, 10 question addition to any survey that provides a statistically sound basis for estimating the likelihood that a household falls below the poverty line. PPI is available for 40 countries.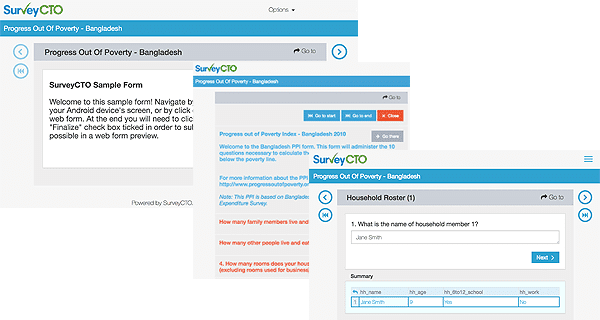 This pre-built form is based on PPI questions for Bangladesh. The form has the following features:
All 10 PPI questions for Bangladesh in a multilingual form design with question text options in Bengali and English.

Field validation and skip-logic is prepared, to make the form easy to navigate and logical to use.

Automatically calculated scoring of the likelihood that a household lives below the poverty line, compared to national and international standards. These likelihoods are displayed in scorecards at the end of the form.
Our hope is that this pre-built form will be immediately useful to those collecting data in Bangladesh. For those who are collecting data in other countries and are looking for a simple, standardised poverty measurement in other PPI countries, IPA has pre-built SurveyCTO forms for deploying PPI in other countries too, which you can enquire on by writing to ppihelpdesk@poverty-action.org.
Beyond being field-ready, pre-built forms are also a good resource for learning how to design your own digital forms. Like our other sample forms, this resource can help you make the leap from paper-based forms to digital. (Check out our blog post comparing the two options.) In this case, you can explore a form design which includes examples of the following features: skip-logic, constraints, HTML label formatting, hidden calculations and pre-loading from an external data source.
SurveyCTO is listed as a recommended tool for data collection on the PPI website. Also, for those interested specifically in PPI in the Bangladeshi context, see PPI's blog on deployment of the tool in Bangladesh.
If you would like to share pre-built SurveyCTO forms with the rest of the SurveyCTO community, please get in contact with amrik@surveycto.com.
Download this pre-built form from here and follow the instructions in the accompanying "read me" file.