Getting started with data collection Workflows should be simple. That's why we built the Hub.
Better data, better decision-making, better world.
We know how critical it is to find the right mobile data collection tools and use them to their full potential. Sometimes, though, deadlines and competing priorities can make learning all of a tool's features take a backseat. And if you go beyond standard, one-off surveys and rely on more complex data collection workflows that involve multiple forms and datasets, learning how to best set up your projects can be especially challenging.
One powerful solution to these challenges? Using templates. Working from pre-designed workflow templates helps you learn functionality, get projects started faster, and use your data collection tool more effectively–even if you're not an expert in it yet. 
So why don't more data collection teams utilize templates for workflow building? If you have experience with various tools for mobile data collection, you may know that many workflows–especially complex ones–are difficult to create good templates for. While a comprehensive, easily-accessible gallery of data collection workflow templates would be highly beneficial to many data collection platforms, most data collection tools do not offer such a feature. 
But we do at SurveyCTO.
Introducing Workflow templates for SurveyCTO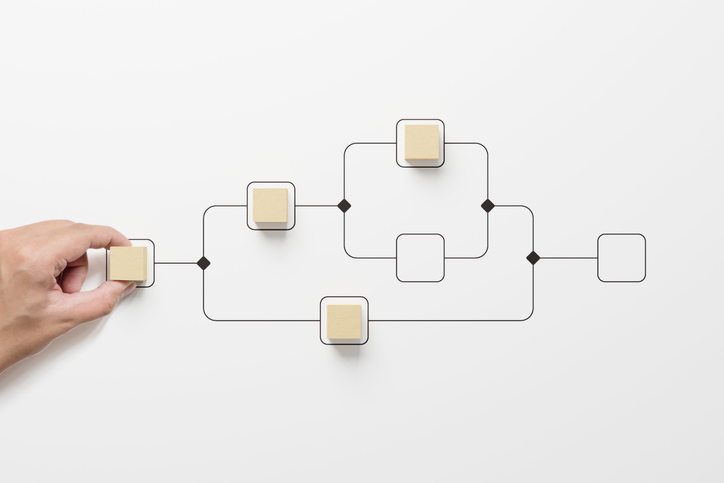 To help you get started creating and using data collection Workflows in SurveyCTO, we have created the Hub, SurveyCTO's central repository of pre-designed Workflow templates you can install in a few simple clicks. This brand new functionality will be rolling out over the next few weeks.
No matter what you use SurveyCTO for, there is a Workflow you can use in the Hub. From monitoring and evaluation to sample management, computer-assisted telephone interviews (CATI) to community healthwork and so much more, the Hub has templates designed by SurveyCTO experts for your type of work. All Workflows can be edited so that they fit your exact data collection needs.
The Hub is here to make learning SurveyCTO easier and faster than ever, whether you're trialing us for the first time or have been using us for years. Since Workflows follow best practices for collecting high-quality data, they are a great way to learn which SurveyCTO features can be used for your projects. Use Hub Workflows to hone your skills for form design and data collection project creation.
Better data, better decision-making, better world.
So how does the Hub work?
Easy-to-install, customizable Workflows
The Hub lives within the new Discover tab on your server console. It's important to note that while the Hub is available to all subscriptions, it may need to be enabled on paid subscriptions for users to view the Discover tab and use Workflows in the Hub. Account administrators for paid SurveyCTO subscriptions can enable the Hub by doing the following: 
Log into manage your subscription and use the green button at the top of the page to update your server. Otherwise, your server will be updated in the near future (with all server administrators receiving an email notification).
Once access to the Hub is established, admins can decide on and set their team members' access permissions for the Hub, based on their user roles. User roles are either determined by global or custom user roles, which is managed in the Your Users section of the Configure tab. The Hub has two related custom user roles: Hub Install, which gives a user full access to both install Workflow templates from the Hub onto their server and then use them, or Hub Access, which lets users view and interact with items in the Hub, but not install them.
If you do have full permission to access the Discover tab and install Workflows, you will see available Workflows and buttons for installation inside the Hub. Each Workflow comes with both a brief, high-level summary and a longer description of its purpose, how it might be used, and other important information.
Want to narrow options down? Workflows are organized by categories that describe the type of work they can be used for. You can filter Workflows to quickly find what you need by multiple fields, including category, summary, description and more. You can also sort Workflows to change the order in which they appear for you. 
Installation is a few quick steps. To use a Workflow, simply click the bright green Install button that appears next to each one, and follow the prompts.
All Workflows you choose to install must live in a shared or team group on your server console. During the installation process, simply follow the prompts to choose or add the group you want the Workflow to live in.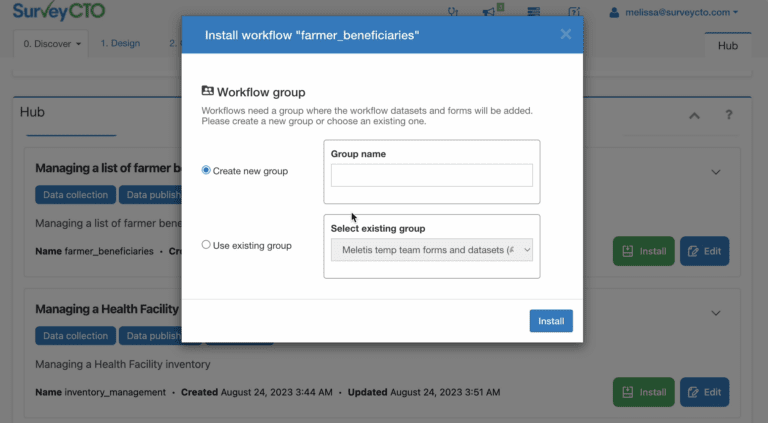 Installed Workflows will live in the Design tab on your server console. Workflows will not conflict with existing forms or datasets on your server, even automatically updating the IDs of their form and dataset IDs if necessary to avoid duplication.
Once installed, these templates function exactly like a Workflow you could set up manually in SurveyCTO. Preview forms using the Test view in your server console, or on your device using the SurveyCTO Collect app.  Workflows can then be modified as needed to best suit your use case.
Workflows are also designed to be easy to share for maximum flexibility. Click on the link icon next to a Workflow to link back to it from another location, or share it with teammates so that they can install and test the same Workflow.

Hub Workflows come fully set up and ready to go. If you're familiar with SurveyCTO or similar tools, you may know about server dataset publishing. It's the process that gets data gathered from forms or questionnaires into server datasets, which are essentially spreadsheets on a SurveyCTO server. 
In the Hub, server dataset publishing is already set up for every template that relies on it. Forms are already attached to server dataset(s) where necessary, and preloading of data from one form to another is already programmed for you as well.
What might using Workflow templates from the Hub look like for your industry? Check out these examples to get an idea.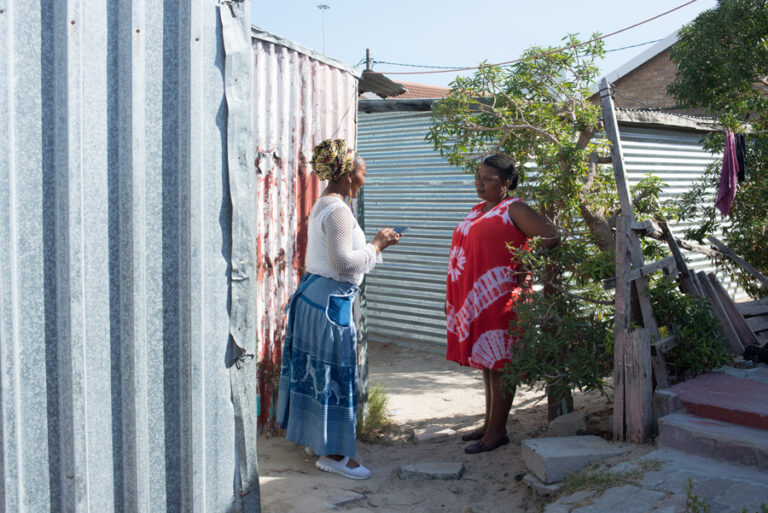 Picture this: You work in monitoring and evaluation for a NGO and need to evaluate a program's effectiveness.

Or you're managing household surveys for your organization and need to keep track of the status of respondents for your data collection project.

Maybe you conduct agricultural data collection and need to register farmers for an intervention program. 
Here's how the Hub would help you.
M&E professionals know how critical it is to regularly evaluate impact, activities, outcomes, and more for development programs at all levels. The Hub's Monitoring & evaluation of program beneficiary confidence Workflow sets you up for success in measuring program participants' confidence levels in their program by tracking it at baseline, midline, and endline observation points. Implement this template to generate actionable insights into a program's effectiveness and impact. Or, edit the provided form and use it to track other key program indicators
Simply install the Workflow, edit as needed, deploy the form and let your field team immediately start gathering data.

Learn more about SurveyCTO for M&E.
Agricultural data collection often requires keeping track of farmers who live and work in rural areas. The Hub's Workflow for Managing a list of farmer beneficiaries enables you to do just that by providing sample forms for farmer management and attendance for a local training on how to implement a new farming technique. Want to track a different type of intervention or program for farmers? Simply customize the Workflow to fit your needs.
Managing a sample of respondents is a common need for many types of research and data collection projects. In situations involving in-person interviews done by enumerators, that often means those enumerators need to travel to where survey respondents or data collection subjects live, and keep track of their willingness to be interviewed, their availability, and other critical factors.

Equip your enumerators and field managers to manage this important metadata using the Hub's Sample Management template, which comes with fully-configured datasets for enumerators and case management along with a sample form.
No matter your field or industry, making SurveyCTO data collection platform work for you is important. We know that every data collection project is unique. That's why all Hub Workflows are designed as templates, meaning you can not only edit them to fit your needs, but also use them as a jumping-off point for creating completely original new Workflows.
Using Hub Workflows as templates for your data collection needs
One of the most powerful aspects of the Hub is that while its Workflows are carefully designed for specific types of work, they are also made to be tailored to different types of projects, too. 
For example, even if you don't work in monitoring & evaluation, you could still use the M&E template in the Hub if you wanted to track baseline, midline, and endline observations for a different field or purpose. The sample management template is made for keeping track of households, but could be edited to track the availability and status of individual respondents, facilities, or other entities. If you don't work in agriculture, you can still customize the Hub Workflow template for farmer beneficiaries to maintain lists of other subjects (e.g. schools, clinics, vaccines, etc.) in a server dataset. Even templates that are highly specialized, like the Workflow for conducting EGRA assessments, still have plenty of options for customizing it to your work.

If you work in any field where you regularly collect and manage primary data, Hub Workflows were designed to be relevant to your projects through customizability.
Simplify your work with user-friendly templates. Switch to SurveyCTO.
Want to see how SurveyCTO can empower you and your organization to generate actionable insights through high-quality data? Start a free trial today, or request a live demo from our sales team to check out the new template gallery for yourself. With a paid SurveyCTO subscription, you get access to the creators of the Hub's Workflows 24/7 at our Support Center Helpdesk. They're here to support you in getting started and help you through the process of using or customizing templates to achieve your goals.
This release of the Hub and its Workflows is just the beginning of best-in-class templates from SurveyCTO. More solutions for even more industries and types of work are coming to your Hub. And we are working on ways to expand the usefulness of the Hub to make it even easier to create and publish Workflows for your organizations and get started even faster. You can contact sales if you want to learn more and discuss what would help you get up and running faster. 
Want to keep track of what we'll be adding next to the Hub? Curious to know when certain permissions will roll out? Be sure to follow us on social media (links below) and subscribe to the blog (link to the right) to stay updated.