Many practitioners have found it challenging to source a single platform that can be used for conducting the Early Grade Reading Assessment (EGRA) and collecting high quality data for research, M&E, and other uses. We're thrilled to offer new SurveyCTO functionality that makes it possible to more easily and consistently execute EGRA within your survey form. You'll be able to do so while taking advantage of SurveyCTO's data quality and security features, and alleviating the need to adopt multiple tools for your projects.
How can I use SurveyCTO for EGRA?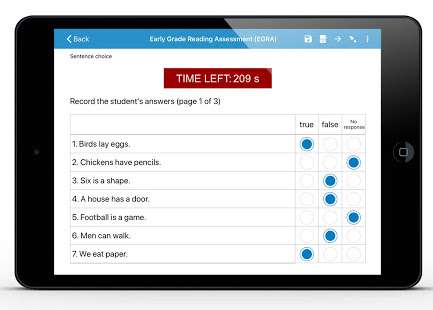 EGRA is made up of a number of standardized subtasks, such as familiarity with letter names and sounds, syllable identification, reading, vocabulary, and comprehension. Conducting many of these subtasks was already possible on SurveyCTO using field plug-in support. The new field plug-in we're introducing, egra-test, supports even more activities, including the following:
Letter identification: Measures knowledge of letter names and letter-sound correspondences in both upper and lower cases.
Familiar word reading: Measures the ability to identify individual words from grade-level text.
Nonword reading: Measures the ability to decode individual non-words following common orthographic structure from grade-level text.
Oral reading fluency with comprehension: Measures the ability to read a grade-level passage of approximately 60 words.
Need more control? The new field plug-in also provides powerful options to customize the testing experience to fit your specific project needs. By adjusting the field plug-in parameters, you can control how subtasks are executed, including how to start and execute tests, adjust for different-sized screens, end tests before completion or based on poor results, capture answers after the time has run out, and more.
Explore this Support Center guidance for an overview video, more details on the new functionality, and a sample form to adapt to your own needs.
How do I download the field plug-in?
You can find more information and the link to download the plug-in on this GitHub page. The plug-in is still in active development but it's ready to use.
Are there more resources?
If you're a SurveyCTO user and need help, our support team is available 24×7. Go to the Support Center and click on the link to "Submit a support request." No question is too small.