SurveyCTO has led the digital data collection space in developing innovative form design capabilities that both reflect and anticipate your needs. Now, SurveyCTO is offering what no other off-the-shelf mobile data collection tool can: the power to fully customize how your forms look and operate for any project, at any time.
Introducing SurveyCTO support for field plug-ins! Field plug-ins enable you to control the appearance and functionality of questions in your data collection instrument. There are two ways to make the most of field plug-ins using SurveyCTO. You can use plug-ins that we've created and will continue to create in response to popular feature requests, as well as plug-ins developed and shared by other SurveyCTO users. You can also use common web technologies (HTML, CSS, and Javascript) to create your own plug-ins. Either way, you'll benefit enormously with the freedom to customize your forms to meet your data collection needs. Read on to learn more and check out our Support Center guide and product documentation.
Not a SurveyCTO user? Start a free trial!
What are field plug-ins?
Plug-ins are a mechanism for extending and customizing a software platform. In SurveyCTO, field plug-ins override the default code that loads when a field in a survey form appears. SurveyCTO field plug-ins work wherever your forms do—whether offline on both Android and iOS mobile devices, or on web forms.
What field plug-ins are available?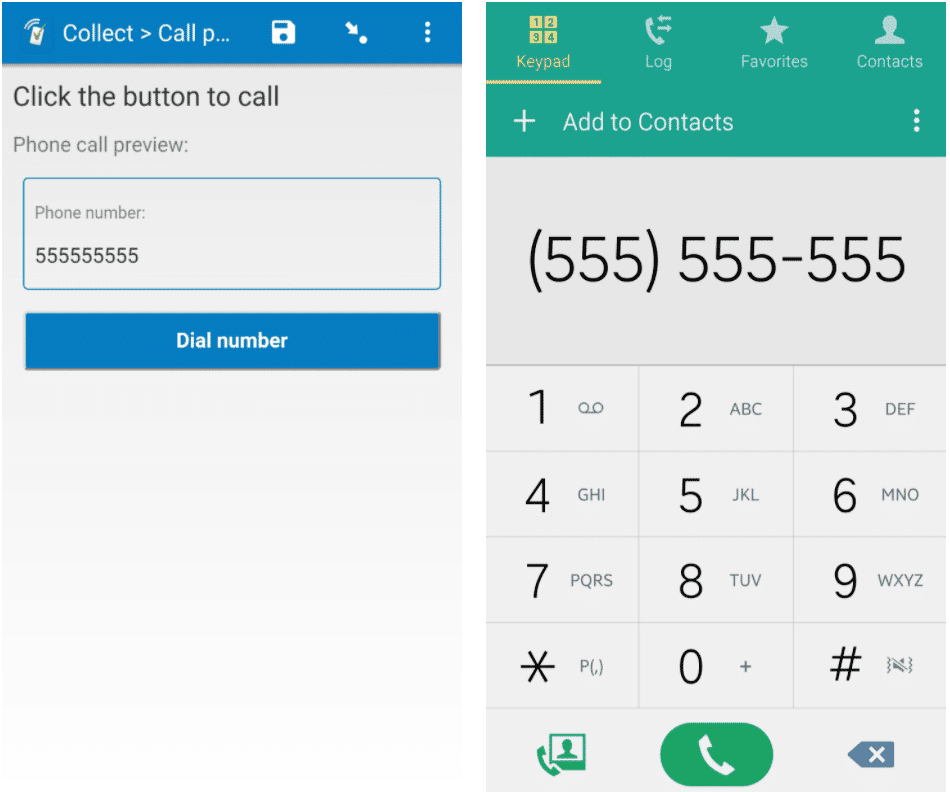 We've created an initial suite of field plug-ins to address pressing needs and many of our most popular feature requests. You can easily integrate these plug-ins into your forms, as well as modify them to meet your needs. Browse our catalog and take a look below at what some of them can enable you to do:
Automatically populate the phone dialer application on a device with a phone number stored in a form, ready to be called by the user. This "phone-call" field plug-in is part of our CATI starter kit to help users transition from in-person to telephone surveying.
Automatically generate SMS messages on a device pre-populated with the message and recipient's phone number, ready to be sent by the user. This "launch-sms" field plug-in is also part of our CATI starter kit.
Show an image with clickable regions, and capture which region was selected. 
Set up timed assessments where a timer runs out while answering a question. Additionally, conduct timed assessments and experiments, such as the Early Grade Reading Assessment (EGRA). (Learn more about administering EGRA on SurveyCTO here.)
Automatically generate SMS messages pre-populated with the message and recipient's phone number.
Position checkboxes/radio buttons on the right side of the screen if the form language is a right-to-left language.
We're actively expanding the catalog, and we'll include plug-ins created by other SurveyCTO users. Make sure to click on the "Follow" button in the catalog to stay up-to-date on new plug-ins.
Explore the SurveyCTO field plug-ins catalog
How can I create field plug-ins?
Anyone comfortable with HTML, CSS, and JavaScript can create field plug-ins. We've prepared comprehensive developer-focused resources with developer documentation, starter templates, and links to existing plug-ins that will help guide you as you develop your own. We also recommend that you refer to our Support Center guide and product documentation for additional information.
Once you've developed a plug-in, we ask that you please share the good news with us! And that you also consider sharing your hard work with other SurveyCTO users. Please contact us at info@surveycto.com so that we can discuss how to make your plug-in accessible to others.
How can I share feedback?
We plan on continuously adding to and improving upon our suite of plug-ins, so your feedback is important! If you have feedback to share on a field plug-in, we ask that you visit our user forum and post your commentary there. Critical feedback and compliments are welcome!
How can I get help?
For more guidance on using plug-ins, refer to our Support Center guide and product documentation. If you need help and have a paid subscription, feel free to submit a support ticket to our expert support team.