Dobility's CEO and President, Lawrence Li, and CTO Dr. Chris Robert discuss COVID-19's effect on the tech industry, and how SurveyCTO has adapted to meet dynamic user needs.
This is a recap of the December 9, 2020 webinar by Lawrence Li, CEO and President, and Dr. Chris Robert, Founder and CTO of Dobility. View the recorded webinar here.
COVID-19 policy requirements have transformed work and life for everyone, but especially the technology industry.
Lawrence Li, CEO and President of Dobility, recapped the staggering changes in everyday life as a result of the pandemic. Fitness communities have transformed into online communities, and even movie theaters are transforming as Warner Media announced it would simultaneously be streaming movies with theaters in 2021.
The smallest of changes in our life offline can translate to huge shifts in tech. A survey of more than 2,500 enterprise level decision makers conducted by Twilio showed that on average, COVID-19 had accelerated businesses plans to implement new communication systems and channels by six years. Li referenced a study that suggested "in the first eight weeks after coronavirus arrived in the US, ecommerce as a percentage of retail sales increased by 11 percent. More than the previous decade, combined."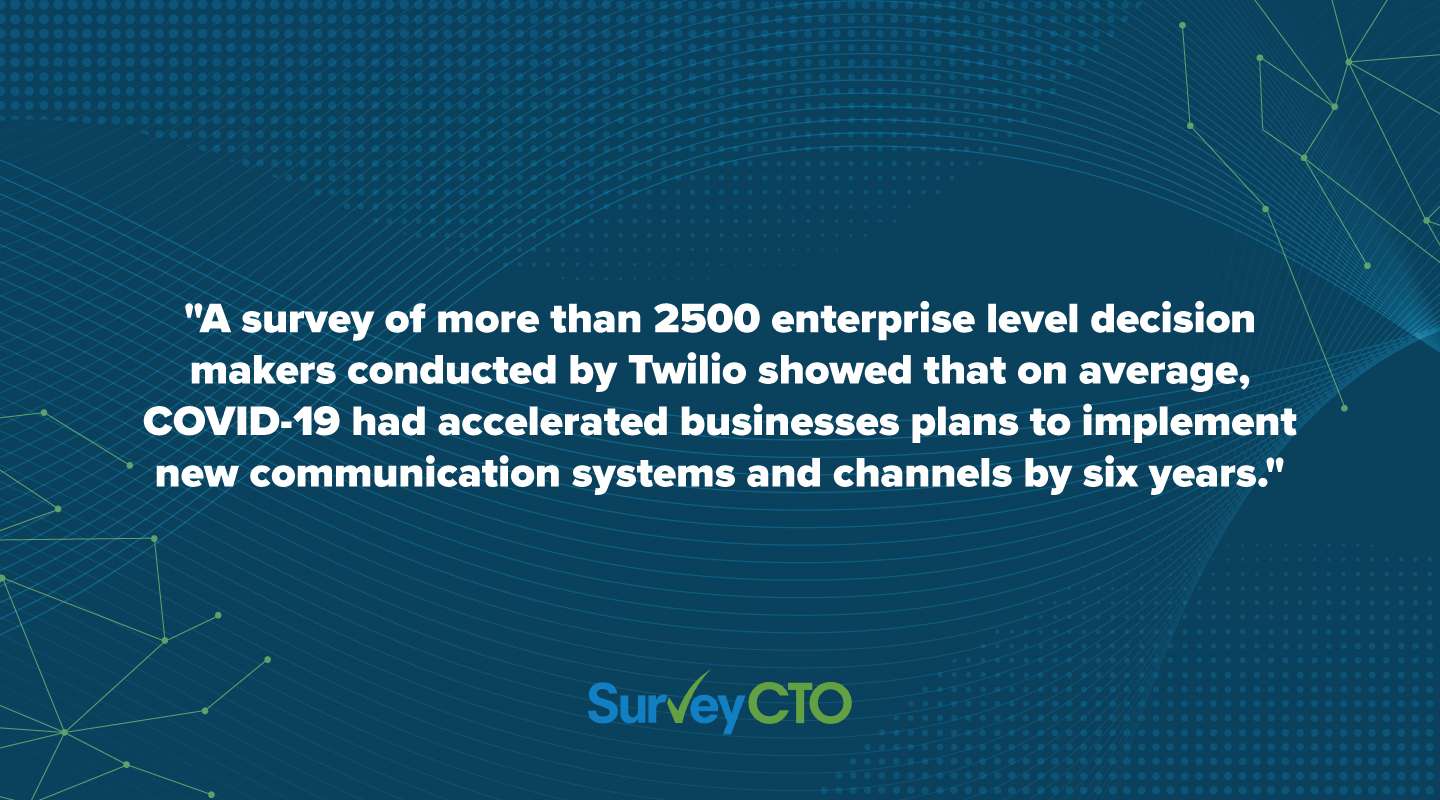 Even well-established companies are expanding their use cases. Zoom used to primarily serve B2B video chat. Now it hosts everything from birthdays and weddings to K-12 education.
How the pandemic hit the SurveyCTO community
Dr. Chris Robert, Dobility's founder and CTO, recalls the events in the world of research and data collection. "As a community the pandemic hit us in three pretty quick waves." According to Dr. Robert, the waves included:
First, international visits and training slowed down.
Then, in-country travel and in-person data collection slowed down.
And finally, a series of lockdowns put a sudden halt to in-person data collection, training, and even handing off mobile devices between collaborators.
"Centralized control and management of mobile devices suddenly became very, very difficult, which most of us couldn't envision happening before," says Dr. Robert.
"We had to find ways to keep data flowing." In a time when there's no precedent, data must be current.
There was an alarming dropoff in data collection in the initial weeks of lockdowns. Even as the overall numbers of data collection began to slowly ramp back up, Dr. Robert says, "We were all knocked out of our comfort zones and we had to find ways to adapt, to keep our work going and keep data flowing."
The pandemic accelerated our existing efforts to make SurveyCTO more adaptable. The main shifts in our approach include:
Shifting from organized product releases to rapid collaboration: We had to reorganize the way we did product releases. We adapted rapid collaboration—like sharing Google docs that were changing by the minute, and we relied on lots of community input to adapt to the changing needs of our users.
Changing the way we do business: We had to accept that a large number of users would have to close or suspend accounts to preserve grant funding. And we knew we'd have to extend free services to certain users to allow them to continue their work.
Shifting focus from "old" needs to emerging needs: We immediately changed our thinking about what we should be working on. We had to constantly pay attention to users' evolving needs so that people could keep safely and responsibly collecting data.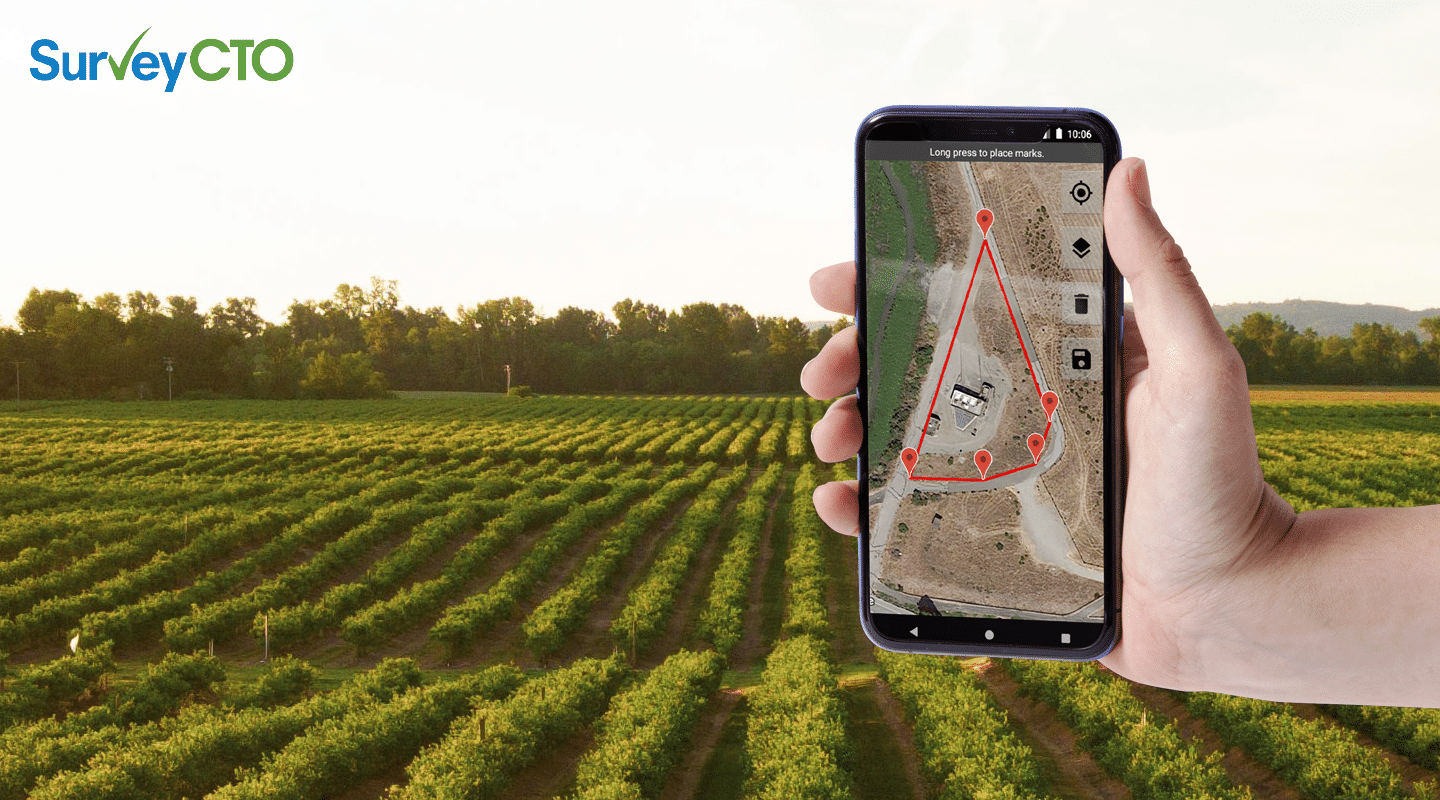 How Dobility adapted to COVID-19
These are some of the specific ways that the different teams at Dobility have adjusted their work this year to help SurveyCTO users adapt to COVID-19.
Telephone surveys, once a niche use case, became a primary use case
The SurveyCTO platform wasn't optimized for telephone surveys before the pandemic. Just like Zoom never paid much attention to the K-12 education market, we hadn't seen phone surveys as a major feature of our platform. But during the pandemic, the telephone use case has exploded into a primary use case, and our product team focused on optimizing it.
Facilitating remote onboarding and securing of enumerator devices
In addition to adapting to telephone surveys, the product team also focused on projects that would facilitate remote onboarding for enumerators and enumerator devices. We prioritized remotely securing enumerator devices so that data collection is safe and privacy is protected.
Collaborating with users to adapt the platform to challenging new workflows
While helping teams scramble to adapt their processes and workflows to the changing environment, the SurveyCTO support teams also championed a variety of projects to improve and adapt the platform:
We worked with a range of users to adapt the platform's core data set and case management capabilities to new workflows for successful telephone surveys.
Then, we packaged these workflows into documentation, webinars, and other resources.
We built, refined, and released a new series of field plug-ins to increase data quality and security.
Ramping up the volume of communication to share changes across SurveyCTO
The Dobility sales and marketing teams championed revisions to subscription limits. We organized all the work under the Safe People + Data Initiative. Plus, we ramped up communication (including this webinar series) to help users and people in our community make sense of new capabilities and evolving methods. We'll continue this increased communication in 2021 so users can stay informed about changes in the product and available resources.
How this year has changed our plans for the future of data collection (and what's coming in 2021)
In the tech industry, we get to help shape the post-pandemic world. Moving forward, our challenge is understanding what the impact on our community will look like in the "new normal." We know it won't look like the "old normal". But we're constantly learning how much the way we do things will change, and how much will stay the same. No matter what, there's a critical need for data to inform every program and policy.
Now that we're looking to the future, Dr. Robert focuses on this question: "How can we help users not only weather this initial storm, but also adapt to this?" We'll be sharing our full 2021 roadmap in the coming weeks, but these are the areas we're focusing on to facilitate both pandemic and post-pandemic data collection.
Web form interface improvements: We're focusing on localizing the interface to make web forms easier for enumerators to use. We're making desktop browser improvements, and creating new options for controlling the user experience when you're deploying web forms.
Telephone survey capabilities: "We rushed out a series of new telephone survey capabilities at a breakneck pace in 2020," says Dr. Robert. We know there are many ways that we can improve upon those capabilities, now that we're able to slow down and optimize telephone surveys.
Remote onboarding, training, and recruitment: We did a lot in 2020 to help with remote onboarding. In 2021 you can look forward to more improvements to remote training and recruitment.
Data quality and security: In 2020 we focused on behind-the-scenes data quality and enumerator experience. We plan to continue to improve data quality, including statistics, quality control, sensor metadata, and the potential for machine learning.
In a year when current data is more important than ever, we're looking forward to helping you continue to do great work.
While we don't know what post-pandemic norms will be in 2021 and beyond, we want to work with our users to shape SurveyCTO as your needs dynamically change. We will be reaching out to users to get their feedback and suggestions in the months to come.
We also want to encourage you to be proactive with your feedback, so feel free to share your comments and suggestions at any time. Send an email to info@surveycto.com or specific team members, submit a support ticket, or contribute to the feature request forum. We're looking forward to your ideas.
It's more important than ever to keep the data flowing
Sign up for a free SurveyCTO trial