In an effort to keep up with popular features and requested usage, we are continuously designing new plug-ins to help you streamline your research and data collection projects. We are proud to announce that our support team has just launched a new WhatsApp plug-in that will enable users to launch the WhatsApp app on mobile devices to initiate a call or send a message within any SurveyCTO form.
WhatsApp is popular the world over, especially in developing countries, due to its ease of use and lower cost. With that in mind, integrating this new tool into your surveys will allow you to make calls or send a message, and reach even more respondents without increasing project costs.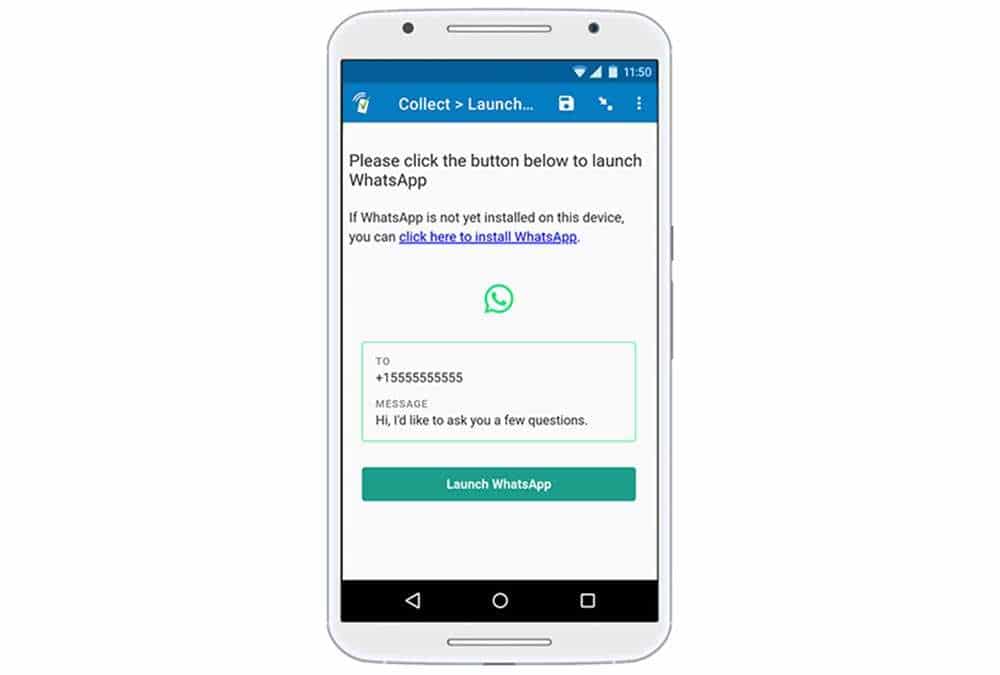 Integrate the new plug-in into your workflow for a more streamlined data collection process. Simply provide the number to call/message and the message to send if applicable. This plug-in will allow you to launch WhatsApp using pre-populated information from your form helping you improve your remote data collection and phone survey workflows. For example, you can use WhatsApp to obtain informed consent, send interview reminders, confirm follow-up interviews, and many other important communications for respondents. Find out how to use the WhatsApp plug-in here.
Using phone surveys to collect data is easier with SurveyCTO
SurveyCTO is committed to providing you with the best features needed to conduct surveys in the field. Since March of 2020, we've provided users with field plug-ins that allow them to format the appearance and functionality of questions in their data collection instrument. Users can simply attach the plug-in file in their form during the design phase of their survey. They can select one from our plug-in catalog or create their own from scratch or from one of our baseline plug-ins.
The mobile application SurveyCTO Collect for Android also offers a wide range of phone survey-related features, including integrated call management, audio recordings for survey management, and remote management of enumerator devices.
Get started today
Don't currently use WhatsApp in your data collection? Try the new WhatsApp plug-in and sample form now and see the benefits for yourself! You can also learn more about how SurveyCTO allows you to customize your data collection instruments to meet your exact needs with our various plug-ins by visiting our plug-in catalog.
New to SurveyCTO, but using WhatsApp?
If you use WhatsApp for calling/messaging your respondents and a separate data collection tool, why not use them both together on the same platform? Sign up for a free trial with SurveyCTO and see how streamlined your data collection can be with this integration.
Sign up for a free trial
Share your feedback
Have any questions or feedback? Email us at info@surveycto.com, we'd love to hear from you! Please let us know what other features can help you in your data collection or how the plug-ins can be improved.
If you're a paid or trial SurveyCTO user and need help with any issue, our support team is available 24×7. Go to the Support Center and click on the link to "Submit a support request." No question is too small.