All SurveyCTO users now have access to the updated SurveyCTO Collect where you can add a dedicated workspace in SurveyCTO Collect to keep your forms, data, and settings securely separated for different teams.
On July 18, we released server-side updates to give global administrators even more options when it comes to customizing settings to secure your data in SurveyCTO Collect.
Dedicated workspaces in SurveyCTO Collect
If you work on data collection projects for multiple clients, or if you outsource data collection to other organizations, our new workspaces are for you. Until now, you might have had different ways to separate forms, data, and settings across different projects and teams. Now you can easily create separate workspaces to keep SurveyCTO Collect organized. Workspaces are digital spaces that allow you to organize your survey work from individual projects within our mobile application and quickly switch back and forth between them.
Workspaces allow you to streamline data collection and keep respondent information more secure
When projects are organized into workspaces, not only do data mix-ups happen less frequently, but it's also easier to keep respondent data secure. Workspaces inside SurveyCTO Collect are especially useful if you:
Collect data for multiple clients.
Outsource data collection work to other organizations.
Want to keep multiple projects separated and organized.
As an enumerator working on a variety of forms under the same SurveyCTO subscription, you can now separate forms into workspaces and avoid any mix-ups.
As a manager or administrator, you can ensure your field team is working on specific projects (or filling out your forms) within your workspace, to keep everything in one place.
How to add a new workspace in SurveyCTO Collect
When you update to the latest version of the SurveyCTO Collect app, you'll find a new "hamburger menu" in the upper-left. Tap to open a new "workspaces menu". From here, any user can add a new workspace to hold a new set of forms, data, and settings.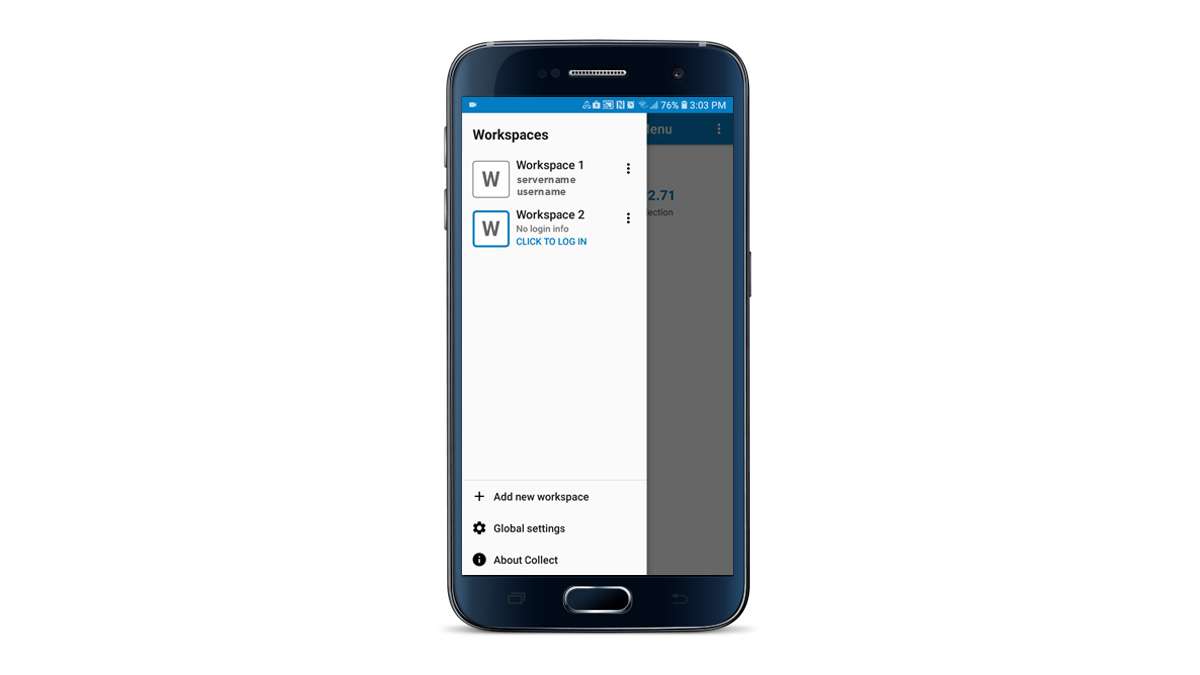 Customize security enforcement to meet your needs
As data collection becomes increasingly decentralized, it's critical to have control over certain mobile settings from the server-side. That's why SurveyCTO Collect now offers you even more options to lock down data and forms.
Require dedicated workspaces: You can now require device-side work to be kept separate from work for other servers by preventing devices from connecting to your server unless the workspace is marked as a dedicated workspace. Read more about how you can utilize workspaces to follow best practices on secure data collection.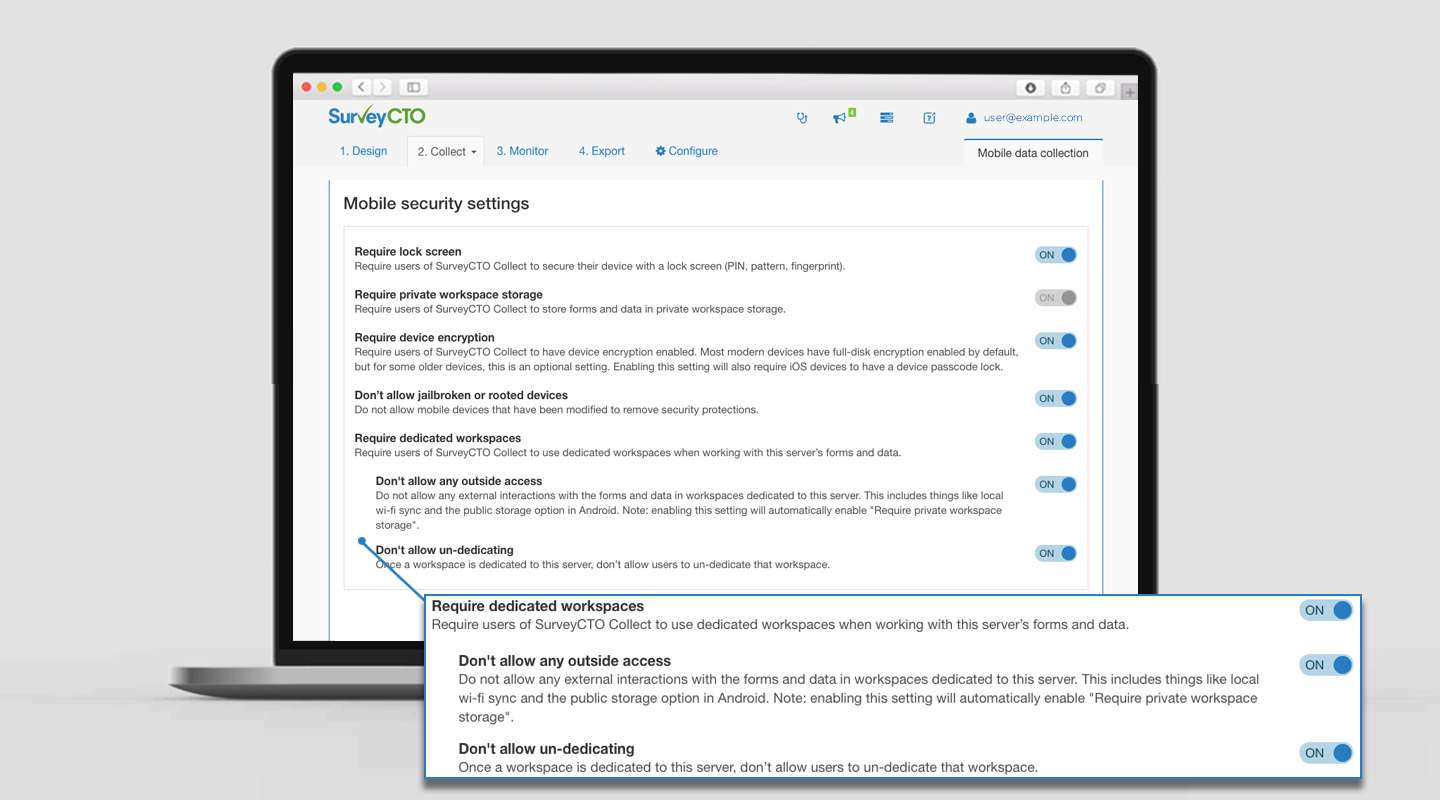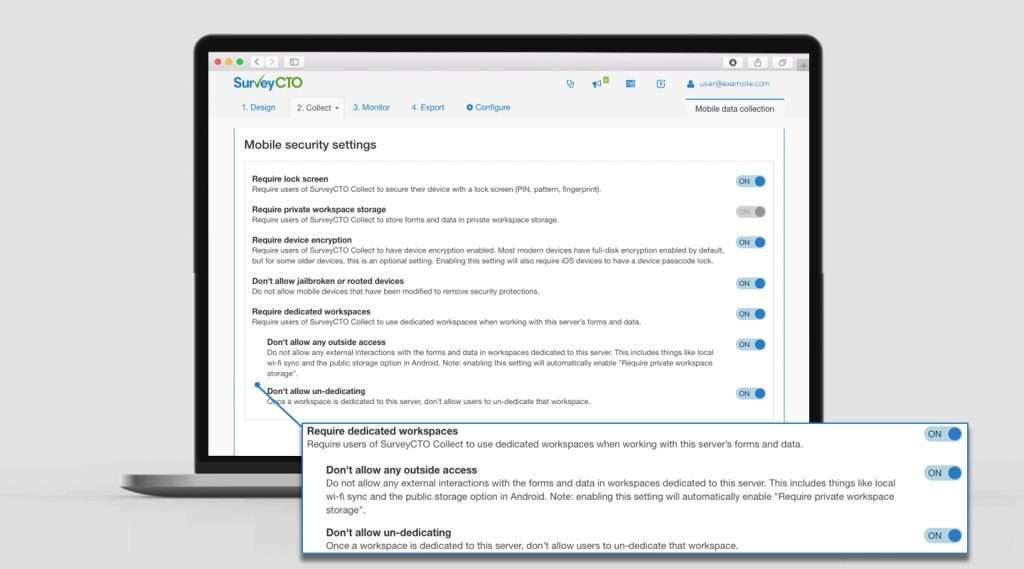 Require at-rest encryption: While most modern devices already have full-disk encryption, requiring at-rest encryption gives you additional protection by ensuring that all devices that connect to your server encrypt their entire file system, including dataset data, when the device is locked or off.
Don't allow jailbroken or rooted devices: Ensure all devices that connect to your server are running genuine software that hasn't been tampered with.
Prevent external access: Once you've enabled workspaces, you can be confident that the only way to access forms and data stored within a workspace is through the SurveyCTO Collect app, or by submitting data to your server.
Guard server access at the user role level: Require external authentication to help enforce organizational data access policies, and further restrict API access. For full details on advanced server-side security features, read our documentation on managing device security.
Not a SurveyCTO user yet? Sign up for a free 15-day trial to create workspaces and experience the simplicity of a survey platform with security best practices built in.
SIGN UP FOR A FREE SURVEYCTO TRIAL