According to UNESCO, 144 countries have closed schools nationwide in response to the COVID-19 pandemic, affecting over 1.1 billion students. Young 1ove, one of the largest youth NGOs in Botswana and a provider of evidence-based and life-saving education programs, took decisive and early action to ensure that students wouldn't be left behind. Read on to learn about how they're providing remote services to students and using SurveyCTO.
School closures can lead to long-term risks
While school closures in response to COVID-19 were designed to protect the health of students, they also introduced learning and long-term health risks. During crises and school closures, research shows that learning stagnates and falls. A joint study conducted by BRAC and Innovations for Poverty Action (IPA) in Sierra Leone during the Ebola crisis showed increases in out-of-wedlock pregnancy and school dropout. More broadly, lower education levels have been shown to result in adverse impacts on subsequent health behaviors and health status.
Young 1ove's response
Before schools in Botswana closed, Young 1ove rapidly mobilized its team to collect 10,000 student phone numbers in just three days. The next challenge was how to adapt their programs to text and call-based delivery methods. Young 1ove's traditional approach featured dynamic learning environments with physical activities and high personal engagement—no longer possible under lockdown. After reviewing the curriculum and soliciting feedback from parents, Young 1ove redesigned a learning plan that could be delivered via SMS.
Using a bulk SMS service, Young 1ove texts academic questions to over 3,000 students once a week. Enumerators use their own mobile devices to call parents weekly to check the answers, discuss any problems the students might have faced, and even provide instruction, guided by a survey form designed to take 20 minutes. They input responses into the mobile app SurveyCTO Collect, also installed on their personal devices.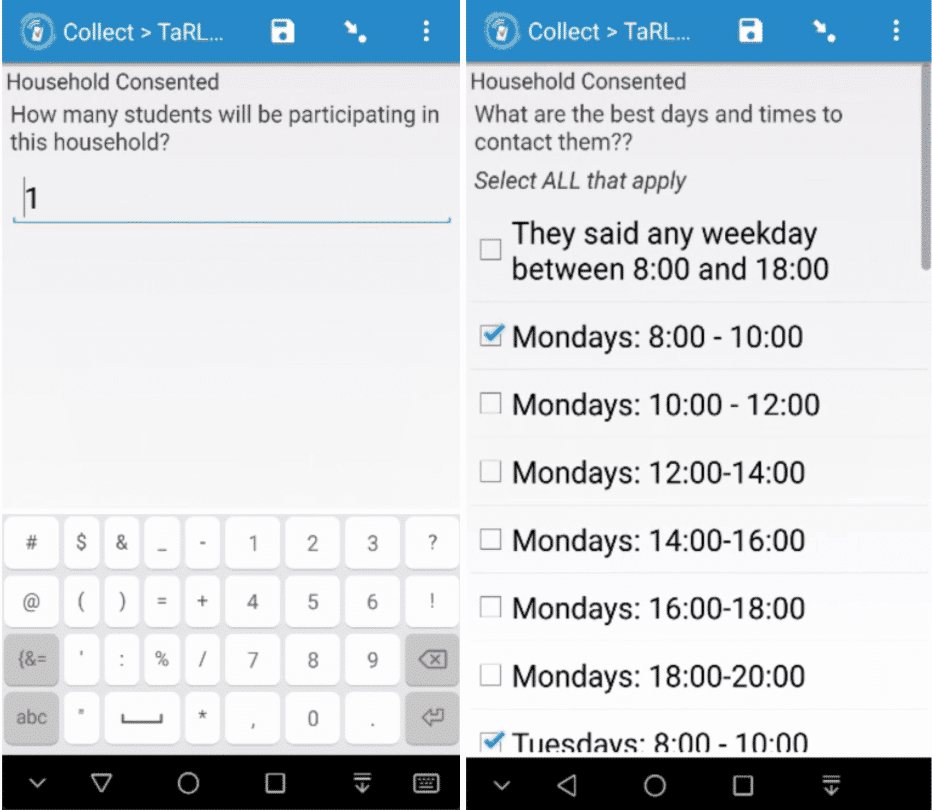 Launching this program required remote training of nearly 80 facilitators who shifted from leading in-person classes to engaging with students and families over the phone. Without sufficient internet bandwidth to conduct video training, Young 1ove held training sessions over WhatsApp on how to use SurveyCTO and deliver academic instruction over the phone. Being able to leverage and redeploy its current team, who already had rapport with students, as opposed to hiring new staff, greatly eased this shift to remote service delivery.
Program impact
This program has been launched as a randomized control trial (RCT) and is still in its first phase of pilot testing. At the program's start, many families were hesitant to participate; however, after strong demonstration of value and positive word-of-mouth, there is now a waiting list to sign up. Young 1ove has also used the initial results to propose a series of principles for phone-based assessments of learning.
Before the pandemic, Young 1ove's education program provided a large learning boost, reducing innumeracy from 30% to 6% across 4 out of 10 regions in Botswana. The organization hopes that the early efforts of 2020 can help mitigate the effects of the pandemic, and is planning to continue its engagement with beneficiaries remotely throughout the school-closure period.
Next steps
For many students in Botswana, phone-based interventions may be the only educational instruction they receive during school closures. Figures from a recent Center for Global Development article illustrate that only about 15-60% of households in low and middle-income countries have internet access. Comparatively, 70-90% of households own at least one mobile phone. This suggests that phone call and text-based interventions have unique potential to reach the masses.
Depending on the results of the pilot study, there might be opportunities to partner with the Botswana government and expand digital learning nationally and throughout non-crisis periods (e.g. summer and holiday breaks), as well as to adapt the approach to engage with teachers. Young 1ove has also launched a national radio show and is exploring television programming to provide linkages between direct phone-based support and mass media.
---
For more information on Young 1ove's work, reach out to Dorothy Okatch, Young 1ove's Advocacy and Communications Manager, at dokatch@young1ove.org. To learn more about innovative methodologies and resources for safe data collection that protects teams and beneficiaries, check out the Safe People + Data Initiative, brought to you by Dobility, the makers of SurveyCTO, and its users and partners.
Start a free SurveyCTO trial