While the COVID-19 pandemic has affected the entire world, it's made it even harder for poorer people, agricultural producers, and migrant workers to sustain income-generating activities and support their families. Udyogini is an NGO based in New Delhi, India that provides business development services to socially excluded women and producers in areas with poor infrastructure and socioeconomic indicators. The team at Udyogini has conducted a series of phone surveys using SurveyCTO to better understand COVID-19's impact on these groups in five Indian states. In this post, you'll learn more about their survey focused on livelihood impacts and their efforts to support the communities in which they work.
How was the phone survey conducted?
The phone survey project was mobilized to assess the impact of COVID-19 on rural and tribal livelihoods, particularly in the areas of agriculture, livestock, and self-employment. The survey focused on the following:
Unemployment and other COVID-19 effects on income sources
Status of food security, food access, and availability of essential items
Effect of the lockdown on livelihood practices and support required
Status of migrants who returned to the villages
With a team of 45 enumerators, Udyogini collected over 750 phone survey responses from late April to early May 2020, using phone numbers they obtained from previous work in those communities. The surveys and phone number collection were conducted with the consent of participants, and no personal information was shared with any third parties. The phone survey took an average time of about 30 minutes to complete. Enumerators called respondents using their personal mobile phones and simultaneously inputted the responses into SurveyCTO Collect installed on those same devices.
Due to their experience working in the villages, the enumerators were accustomed to interacting with the respondents and understanding their needs. While some team members already had experience using SurveyCTO for mobile data collection via in-person interviews in previous projects, the entire team was trained on using the platform for phone surveys. Team leadership conducted a day-long training session via Zoom on the entire questionnaire and the technical aspects of using SurveyCTO, as well as assigned the enumerators to conduct mock interviews to ensure their comfort with the process. During the course of the survey, they also held a follow-up training session to address any issues and facilitated peer support via a WhatsApp group chat.
What were the results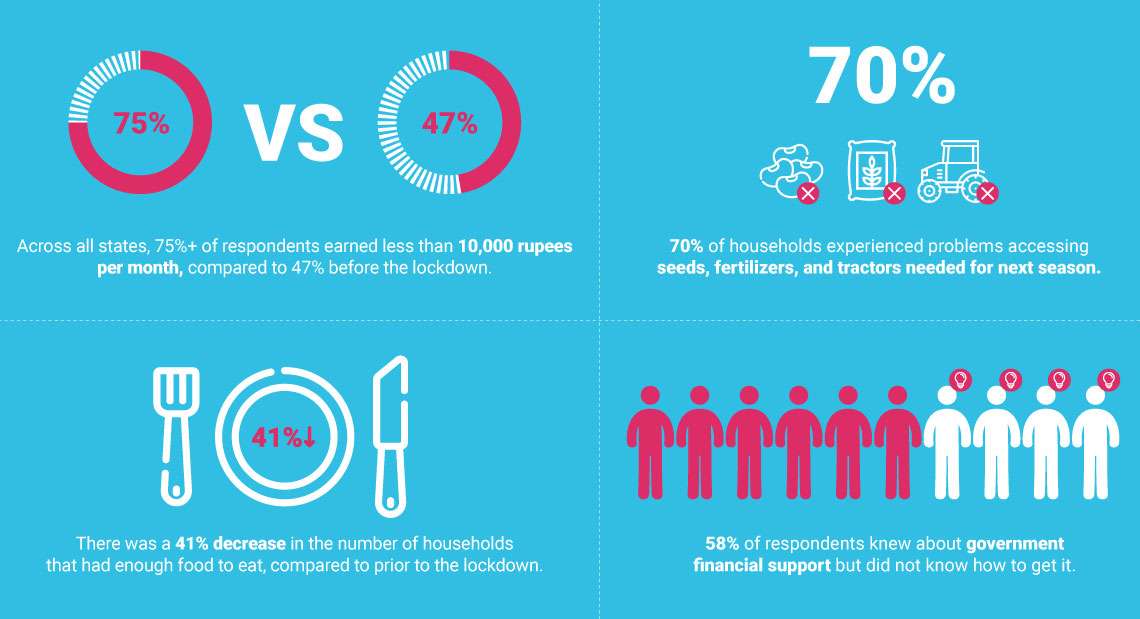 The results of the survey revealed the extent to which households had been impacted and the types of support they needed most. Here are some of the highlights that Udyogini is using to inform its own relief responses and advocacy to local authorities:
Dramatic loss of income across all states with more than 75% of respondents earning less than 10,000 rupees per month, impairing the ability to buy essential items. This is compared to an average of 47% respondents earning below this level before the lockdown.
Only 23% of the respondents had enough food compared to 64% before the lockdown, indicating the need for government distribution of rations for food security.
61% of the respondents reported that COVID-19 would affect their next crop, and 70% identified that there wasn't sufficient supply of seeds, fertilizers, and tractors. For respondents who rely on agriculture as their main livelihood source, this demonstrated the need for agricultural inputs to prevent an unproductive upcoming sowing season.
58% of the respondents knew about the availability of government financial support but didn't know how to get it, indicating the need for increased awareness and assistance in enrolling.
What's next?
Based on the survey findings, Udyogini launched a crowdfunding campaign to help rural communities bear the livelihood shocks imposed by COVID-19. They plan on spending the funds in the following ways:
Livelihood and income generation: Provision of high-quality agricultural inputs at lower prices, such as seeds and fertilizers, distribution of livestock feed and sheds, vaccination and deworming services to prevent livestock mortality, and skills training for at least one household member in an income-generating activity.
Credit support: Partnership with local authorities to launch public works for employment and advocacy to ensure that qualifying workers receive financial support from government employment programs.
Learn more
To learn more about the other survey projects Udyogini has conducted on the impact of COVID-19, including the challenges faced by their program beneficiaries, the needs of migrants workers returning to home villages, and their own staff's COVID-19 preparedness, please reach out to Ms. Meeshu Gupta, Senior Manager, MEL, at meeshugupta@udyogini.org and Ms. Namita Dimari, Associate, MEL, at namitadimari@udyogini.org. You can also check out their Facebook and Twitter pages for updates.
To learn more about how to use SurveyCTO for phone surveys, explore the CATI starter kit and watch this webinar recording for a helpful overview. We've also launched the Safe People + Data Initiative, with generous support from users and partners, to provide methodologies and resources for safer data collection, in response to new challenges arising from the COVID-19 pandemic and the growing need for safety-focused innovation.
If you're a SurveyCTO user and need help, our support team is available 24×7. Go to the Support Center and click on the link to "Submit a support request." No question is too small.