Informed consent is a basic ethical obligation for many research projects. Intended to protect survey respondents, the process consists of providing information about the study, responding to questions the respondents may have, and ensuring that they understand the information presented to them.
As in-person data collection becomes increasingly restricted, it's become critical for many projects to shift to remote survey methods, including telephone interviewing (CATI) and web surveys, as well as determine new ways of obtaining and recording consent. With SurveyCTO, it's now possible to obtain consent using SMS messaging, thanks to field plug-ins that offer the power to fully customize how forms look and function. We've also developed a CATI starter kit to guide users on how to use SurveyCTO for phone surveys and enhanced guidance on web surveys. Read on to learn about how this SMS functionality can help your projects adapt.
Sign up for a free SurveyCTO trial!
Requesting consent with SurveyCTO can be done using field plug-ins or bulk SMS services. Our recent Support Center guidance, linked in the sections below, offers more information on how to apply these solutions.
Using SurveyCTO's SMS field plug-in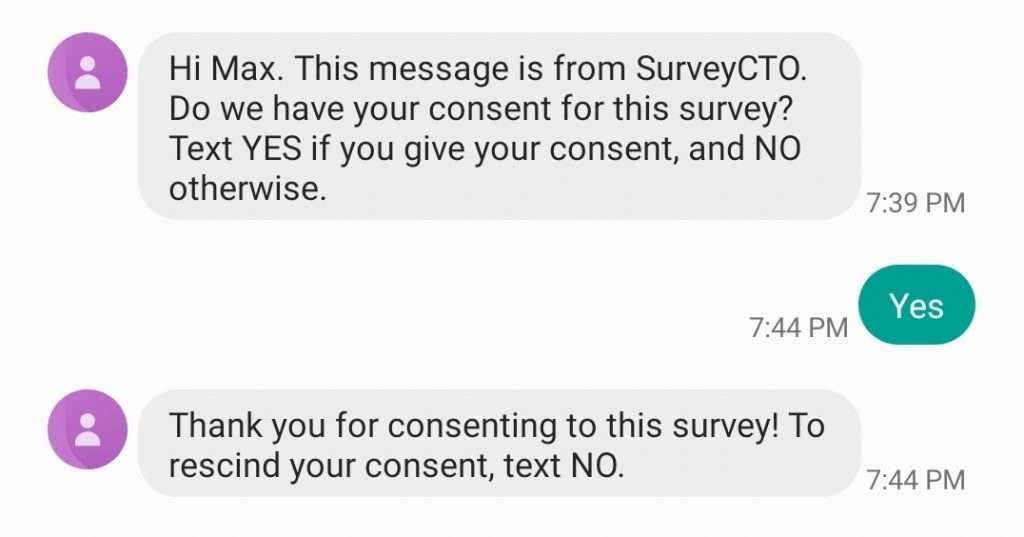 SurveyCTO's SMS functionality is delivered through field plug-ins, which enable full control of the appearance and functionality of questions in survey instruments. With the "launch-sms" field plug-in, the message field on an Android or iOS device can be pre-populated with the consent statement, as well as response options that respondents can send back. When used with CATI projects, the enumerator can call the respondent, read the consent statement, and then send the SMS message with that statement and a request for a response. Once the response is received, the enumerator can take a screenshot and attach it as an image to the form associated with that respondent.
While this approach is relatively easy to set up, it's not optimal for sending simultaneous messages to a large number of respondents. Check out this Support Center article for more information on how to sequence this approach and on its limitations.
Using bulk SMS services
Bulk SMS services make it easier to send and manage large numbers of SMS text consent requests and can be used as a complementary or alternative approach to using field plug-ins. This Support Center article offers guidance on the following considerations for using these services:
The type of keywords that are available for respondents to indicate consent (e.g.,"YES").
Ability to personalize SMS messages with respondents' names.
Setting up integrations with SurveyCTO to load consent response data into forms and Zapier to schedule respondent follow-ups, filter unclear responses, and publish data to other platforms such as Google Sheets.
The support guidance also includes a representative list of feature-rich and inexpensive bulk SMS services to explore further.
Additional resources for adapting projects
To learn more about how to use SurveyCTO's CATI starter kit, watch this webinar recording for a helpful overview. We've also introduced improvements to SurveyCTO Collect, including robust features for phone surveys, enhanced security, quick setups, and remote device management.  We'll continue to build upon these functionalities to create more resources that meet evolving needs.
Need help?
If you're a SurveyCTO user and need help with SMS messaging or any other issue, our support team is available 24×7. Go to the Support Center and click on the link to "Submit a support request." No question is too small.