We're thrilled to announce a new integration with DevResults, a web-based application built specifically for organizations implementing international development programs and delivering humanitarian assistance, and SurveyCTO, a premium mobile data collection platform for researchers and professionals working in offline settings.
This integration allows users who collect data in SurveyCTO to streamline their analysis and reporting with DevResults' management tools for data organization, monitoring, mapping, and collaborating. It also facilitates greater interoperability and allows users the freedom and ease to work across multiple platforms for their range of data collecting, reporting, and visualization needs.
The SurveyCTO-DevResults integration delivers on both platforms' commitment to increasing data quality and providing the highest levels of data security. Users of the integration benefit from SurveyCTO's sophisticated quality controls to connect their highest quality data to DevResults' advanced M&E software for impactful decision-making. User data is protected by SurveyCTO's end-to-end encryption and GDPR-compliant setups, as well as DevResults' secure software development, hosting infrastructure, and operational protocols that mitigate risk.
Read on to learn more about how this integration can enhance your M&E efforts, and refer to both the SurveyCTO Support Center article and DevResults help content for detailed guidance on how to set up and use the integration.
What does this integration do?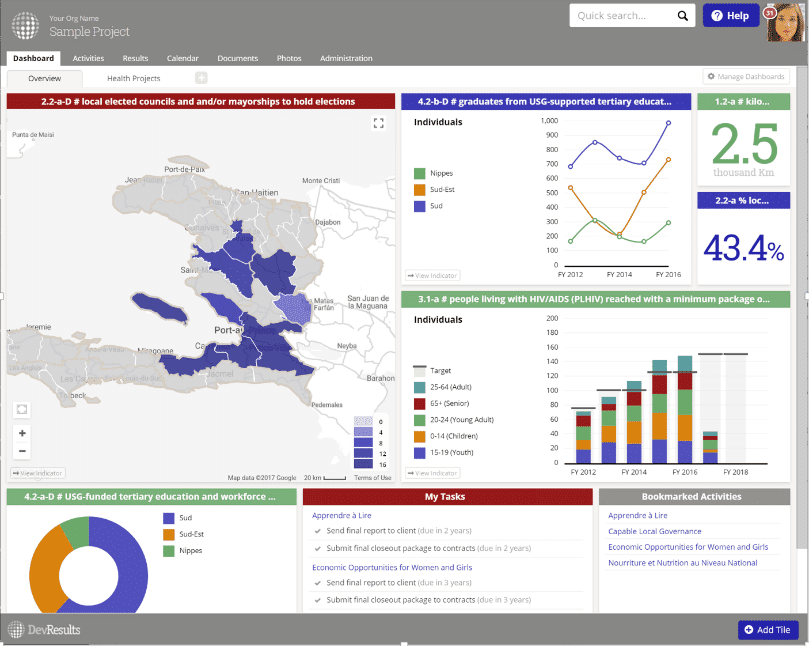 With this integration, SurveyCTO users can conveniently import their data into their DevResults data tables and create, edit, and update the following reporting and management tools:
Dashboards that present project performance at-a-glance.
Visualizations of indicator results data.
Interactive maps with custom layers.
User-designed reports and tables.
We encourage you to refer to both SurveyCTO's guidance and DevResults's help content for more information on the integration.
Are there other integrations?
Both platforms support interoperability. With SurveyCTO, you can choose from three options to connect your data to the external tools of your choice for further analysis and visualization: exporting your data in multiple formats, using automated integrations, or developing your own integrations.
You can refer to the SurveyCTO integrations page for a broad overview of all the integration options. And the product documentation has more specific information on the following:
In addition to SurveyCTO, DevResults offers built-in integrations with third-party tools, such as Microsoft's Power BI platform. DevResults also provides documentation and assistance to users for accessing and utilizing its public API (RESTful HTTP with JSON input/output) as part of its service agreement and Help Desk support. The documentation for this API can be found in the DevResults Knowledge Base here.
Have any questions?
For more information on SurveyCTO, reach out to info@surveycto.com, or for technical user support, submit a support request. For more information on DevResults, reach out to info@devresults.com, or submit a help ticket.